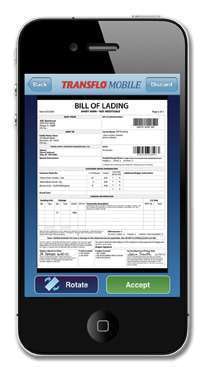 Pegasus TransTech, a provider of document scanning applications to the transportation industry, released an enhanced version of Transflo Mobile, an application that allows users to capture and send high-quality images of proof of delivery documents, logs, invoices and receipts using a smart phone.
The most notable update to Transflo Mobile 2.2 is in-motion restriction. Transflo Mobile will now detect when the device is in motion and will not permit usage and exchange of information while moving. There is a passenger option that allows usage for team driver scenarios.
More than 70 percent of drivers today use "smart" devices with mobile subscriptions, putting them ahead of the national trend. With such widespread use of smart phones in the industry, there is a growing concern that mandated business apps can lead to carrier liability issues. Pegasus TransTech says it was mindful of this concern and worked with carrier and broker customers to add this new in-motion restriction feature and help improve driver safety.
Transflo Mobile has been downloaded by more than 100,000 users to transmit delivery documents same-day, helping both the driver and carrier to get paid faster.
 "Driver safety is important to us, as is helping our customers reduce business risks," said Frank Adelman, Pegasus TransTech president and CEO.   "Our newest version of Transflo Mobile demonstrates our ongoing commitment to providing fleets and brokers with high-quality, enterprise grade mobile applications."
Transflo Mobile works with Androids, iPhone 4, 4S and 5 as well as the iPad Mini and the iPad 4. The application is available for free download in the Apple iTunes App store or Google Play.  Drivers and carriers who previously downloaded the app can select Update in the App Store to upgrade their Transflo Mobile app to the latest version.