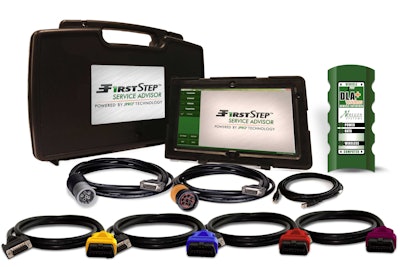 Noregon Systems has introduced its total vehicle diagnostics and repair system, which includes two new products: Noregon First Step Service Advisor and the JPRO Command Module for Mack and Volvo trucks. The products were released Sunday at the Technology & Maintenance Council (TMC) annual meeting in Nashville.
"Over the past two years, Noregon has conducted extensive in-shop studies confirming the need for a total vehicle diagnostics and repair solution," says Greg Reimmuth, senior vice president of sales and marketing for Noregon. "The primary discovery was that 57 percent of all trucks that were repaired and sent back into service had significant, undiagnosed fault codes or vehicle issues that were not detected using traditional diagnostic and repair processes. We have also developed metrics showing that only around 15 percent of all non-warranty repairs require OEM software. The large majority are fixed with the diagnostic trouble linked to troubleshooting and repair information, parts and a wrench."
During his presentation at TMC, Reimmuth released results of a Noregon study showing the traditional one-component-at-time diagnostic approach utilizing OEM software, referred to as "serial diagnostic routines" does not allow total vehicle health visibility, is time consuming, and can result in the misdiagnosis of a root cause. One common example found is when a reported problem with component performance was actually identified as an issue with a related body or chassis controller. In this case, Noregon says it would require a total vehicle scan to identify the root cause of the problem.
"There are 38,000-plus fault codes on today's trucks," says Reimmuth. "The typical approach is for technicians to use multiple, separate OEM tools in their diagnosis of vehicle issues only when a dash light or driver complaint points to utilization of the respective suspected component diagnostic tool. So they tend to isolate on the things reported on the work order since doing a total vehicle scan with multiple tools is not possible in some cases or practical in a large majority. So while they are fixing an obvious issue on one component, it is highly likely that issues, some serious, on other components exist and go unnoticed. The bottom line is that most of today's shops and technicians don't have the visibility they need to properly identify and repair vehicles."
Noregon has responded with a three-step total vehicle diagnostics and repair solution that begins with initial triage, continues through the diagnosis and repair process and confirms that the vehicle is ready for service.
For step one, the triage process, Noregon is introducing the First Step Service Advisor.
Powered by JPRO technology, Noregon says First Step is a tablet-based diagnostic solution that gives service writers and shop foreman the ability to connect to a truck, in less than a minute, and receive a complete vehicle health report on the vehicle's electronically-controlled components.
The company says the product includes:
Provides a complete snapshot of vehicle health
Displays 38,000+ detailed OEM fault code descriptions on all Class 7 & 8 makes and models along with medium-duty Ford, GM and Sprinter vehicles
Automatically captures VIN, ECU serial numbers and thousands of data points
Allows user to record vehicle information from a vehicle walk around inspection
Unique fault guidance feature shows severity of fault and the effect on the vehicle
Noregon says First Step also provides benefits during the inspection process, including:
Automatically documents vehicle health information avoiding manual entry during estimating process
Provides customer with documentation of vehicle health information before repair
Identifies all vehicle components and OEM diagnostic trouble codes quickly and easily within one screen
Tablet and JPRO DLA+ Wireless adapter allows full mobility without being tethered by a cable to the vehicle.
Provides the best opportunity to prioritize and correctly route repairs based on root cause of the complaint and other potential vehicle issues.
Noregon says step two of the total vehicle diagnostics and repair process is Noregon's JPRO Commercial Vehicle Diagnostics.
JPRO has been on the market for years and is used by technicians in the shop when diagnosing trucks. JPRO Commercial Vehicle Diagnostics (CVD) works on all heavy-duty makes and modules and scans the entire vehicle and provides technicians with detailed OEM diagnostic codes, the company says. Technicians use that information to find the root cause of the problem and begin the repair process.
Since JPRO CVD is used in several applications (from one shop independent repair garages to the nation's largest fleets) Noregon has officially changed the product name from JPRO Commercial Fleet Diagnostics to JPRO Commercial Vehicle Diagnostics.
Noregon is releasing JPRO CVD 2014 v1. In conjunction with the release of 2014 v1, Noregon says it also is releasing the JPRO CVD Command Module for Mack trucks and Volvo trucks.
JPRO CVD Command Module – Mack and Volvo, is an add-on module used in conjunction with the JPRO Heavy- Duty module and is designed for fleets who want to combine the all makes, all models functionality of the JPRO Heavy-Duty software module with bi-directional testing and controls for 2007 and newer Mack trucks and Volvo trucks with Mack and Volvo engines, the company says.
In addition to reading and displaying fault codes, Noregon says the new Command Module can be used to perform critical commanded tests and bi-directional testing and functions on 2007 and newer Mack and Volvo engines including:
Manual regeneration of diesel particulate filter (DPF)
Cylinder cut out test for fuel injectors
Set road and cruise control speed tests
Set parameters for idle shutdown times
Reset trip data
Noregon adds the software also generates trip report information, including: total running time and distance, fuel economy, average driving speed, idle times, hard braking and other data related to vehicle driver performance.
For fleets who work exclusively on Mack trucks or Volvo trucks, and do not need the all makes, all models functionality and solution provided by JPRO CVD, Noregon says it is offering a "stand-alone" software module called Truck Diagnostic System. Both Truck Diagnostic System and The JPRO CVD Command Module for Mack trucks and Volvo trucks are sold as annual subscription-only software modules. The software remains active, and regular updates and tech support are provided, with a current subscription. Activation requires a one-year minimum Electronic Users License Agreement (EULA), the company says.
The third step of the total vehicle diagnosis and repair process uses Noregon's JPRO Next Step Service Information Module., the company says.
The Noregon JPRO Next Step Service Information Module was first introduced in early 2013. Next Step, which is sold as an annual subscription add-on module to JPRO CVD, automatically ties diagnostic trouble codes to repair information, the company says. Once a diagnostic trouble code (DTC) is found, technicians click on the Next Step logo (located on the JPRO launch bar within the home screen) and a new window opens containing service information associated with the specific DTC. From there, Noregon says technicians take the "next step" from a DTC to repair information.
The company says repair information includes:
-Mitchell 1 REPAIR-CONNECT.net troubleshooting information covering most heavy-duty diesel engines including: Cat, Cummins, Detroit Diesel, International, Mack, Volvo and Mercedes.
-OEM trouble shooting guides for Eaton Fuller transmissions, Meritor WABCO, Bendix and Haldex.
"For years, JPRO has offered our customers the ability to scan the entire vehicle and get detailed diagnostic information on all makes and models," says Reimmuth. "We have now taken the power of JPRO, or what we like to call the 'JPRO engine,' and have used that to develop First Step and Next Step to give our customers a complete, end-to-end, total vehicle diagnostics solution. And our studies support that this approach boosts technician efficiency, increases vehicle uptime and ROI and improves customer satisfaction. Our solution keeps trucks on the road and making money."