Click here to see all of CCJ's coverage of news from TMC.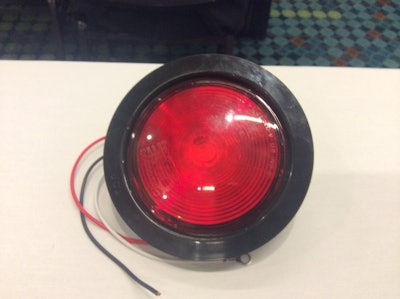 Optronics International has completed development and testing of its new LED SuperLamp technology – the result of more than two years of work.
The new lamp sets a new standard for strength and durability for truck lighting, says Brett Johnson, Optronics president and chief executive officer.
"This is the most robust light on the market today," Johnson said. "In theory, LED lights are lifetime lights. SuperLamp allows LED to fulfill that promise through our combination of advanced electronics and our proprietary chemical coating for resistance to ultraviolet light damage."
This coating is designed to be highly resistant to petroleum distillates such as ethylene and propylene engine coolants, diesel fuel, battery acids, brake fluids as well as transmission fluid, organic solvents, methanol, detergents and urea.
Internally, Johnson says SuperLamp LEDs have been designed from the ground up to resist transient voltage, electromagnetic interference and electrostatic discharge. Additionally, the lamps feature sold-state, surface-mount technology that allow them to function even if the unprotected circuit board is completely submerged in water.
Optronics also introduced its new LampLock anti-theft lighting system at their TMC press conference Sunday. This new system is simple and easy to use, Johnson says, and designed to quickly replace four-inch stop/turn/tail lights as well as 3/4-inch marker lights.
LampLock features a specially designed single-diode LED lamp with an integrated anti-theft ring. A special locking system ensures that once the lamps are snapped into place, they are impossible to remove without destroying them.