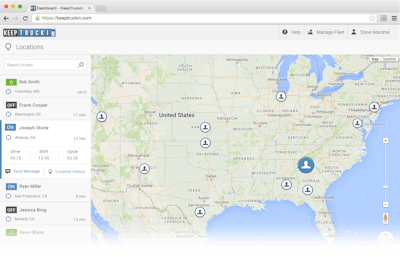 In advance of the latest estimated electronic-logs mandate release date from DOT — tomorrow, Oct. 30, with enforcement expected two years after publication, barring challenges  — the makers of the KeepTruckin logbook smartphone app and small-fleet back-office dispatch software have announced availability of their Code of Federal Regulations 395.15-compliant electronic log.
The device, as previously reported, is expected to come with a $20 monthly service fee per unit and a $0 lease arrangement for the hardware for all users. It will communicate with drivers' user interface in the KeepTruckin app on their smartphones wirelessly.
Following the barely two-year-old KeepTrucking logging app's launch in 2013, in part seeded by funding from Google Ventures, "150,000 drivers and 5,000 fleets trust us with their logs" today, says CEO and cofounder Shoaib Makani.
Another $8 million in venture funding from Index Ventures and Google was announced recently, but Makani attributes the quick growth primarily to the app's utility to users.
"To all of our users who have told others about KeepTruckin — we are grateful," he says in a blog post published Oct. 28 at the company website. "We care deeply about the men and women who spend their lives on the road to keep our country moving. It is a privilege to build tools that make your lives easier and more productive."