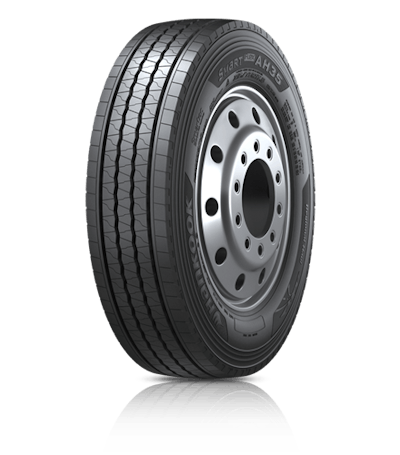 Hankook Tire rolled out three new truck tires at the Mid-America Trucking Show in Louisville, Ky., Thursday.
Included in the rollout is the SmartFlex AH35, a new all-season road tire designed for variable road conditions and is aimed at helping truck drivers achieve higher mileage per gallon and improved traction.
Anita McGinnis, Hankook's east region commercial director, says the tire's special tread design and multi-three-dimensional sipes offer drivers high mileage and enhanced traction. The tire's optimized carcass structure leads to a smoother ride and better handling, and the improved bead profile allows for better retreadability, she adds.
Hankook also showcased its all-position e3 Max AL21 all-position tire and TL21 trailer tire. Both are long-haul offerings designed to provide longer mileage by decreasing uneven wear. The AL21's optimized lateral kerf provides better traction and prevents tearing and cracking while smooth lines at the edge of the grooves provide optimal footprint to help the TL21 increase fuel efficiency. McGinnis says a side decoupling groove is designed to resist irregular wear, improve durability and promote stability for better performance.
McGinnis says one of the key differentiators between the AL21 tire and other premium competitors in its space is that affords unlimited retreadability for up to seven years.