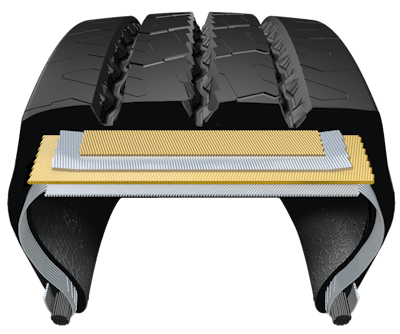 Continental, at the North America Commercial Vehicle Show in Atlanta Tuesday, highlighted its new intelligent-capable regional steer tire, which rounds out its revamped steer portfolio.
The Conti HSR 3, the company's newest steer tire, will replace the HSR2 in the regional steer line and deliver higher mileage than its predecessor. The Conti HSR 3 is built on the Conti 3G, third-generation, casing for improved durability, scrub resistance and retreadability and features an enhanced belt package versus the HSR2.
Continental Vice President of Sales and Marketing Tom Fanning said these engineering improvements have enabled the new tire to withstand highly concentrated pressure and increases penetration resistance. Built for increased stiffness, HSR 3 reduces heat build-up for improved wear and longer mileage, also extending the casing life for enhanced retreadability.
The Conti HSR 3 is currently undergoing field testing, including a refrigerated food service fleet in Pennsylvania whose trucks travel roughly 600 miles per day, stopping at multiple store locations.
Fanning says Conti projects 220,000 miles of wear in this application versus upwards of 180,000 in competitive tires.
Also being spotlighted Tuesday was the company's newest tire monitoring solution – ContiPressureCheck Solo, a trailer TPMS system. The system notifies the driver of tire pressure issues in realtime while keeping the trailer system separate from the tractor.
"We're giving the tire a voice," Fanning said. "We now communicate information from the tire to inside the truck and even outide the truck."
ContiPressureCheck Solo is comprised of three major components. Battery-powered tire sensors, which has show a lifecycle of up to six years or 400,000 miles, are mounted on the inner liner of each tire and can be retrofitted into existing tires. Intelligent tires with sensors preinstalled can be ordered directly from Continental.
The Central Control Unit, mounted on the trailer, receives data from the tire sensors and activates alerts as-needed. The notification light, mounted in an industry-standard position and visible in the driver's side mirror, is activated if low pressure is identified in any of the trailer's tires. Multiple levels of low pressure alerts ensure notifications reflect the severity of the issue.
Proper air pressure improves tread life by 15% and casing life by 20%, Fanning noted.
Trailers equipped with telematics systems can also transmit tire data into the telematics dashboard, allowing back office support personnel to view trailer TPMS information remotely. Integration with Truck-Lite Co.'s Road Ready trailer telematics system is already available.
As a stand-alone trailer TPMS, Fanning says the system is ideal for drop-and-hook scenarios since a connection to a specific tractor isn't required.
ContiPressureCheck Solo, Fanning said, was designed to meet greenhouse gas emissions and fuel efficiency standards from multiple regulatory bodies, which are currently pending implementation: GHG Phase 2 for Trailers set forth by the Environmental Protection Agency (EPA) and National Highway Traffic Safety Association (NHTSA), and CA Phase 2 GHG Trailer Rules set forth by the California Air Resources Board (CARB) which go into effect in 2020.
Both sets of regulations currently contain provisions for certain trailers to install either a tire pressure monitoring system (TPMS) or an automatic tire inflation system (ATIS). Continental's new trailer TPMS, used in conjunction with LRR tires, Fanning noted would bring the rig into GHG 2 compliance without having to install aerodynamic devices.