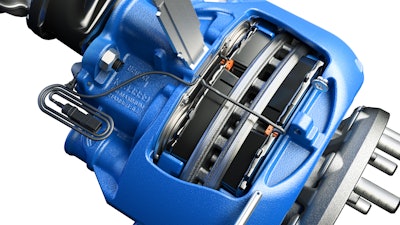 Bendix, at the North America Commercial Vehicle Show in Atlanta Wednesday, introduced pad wear sensing on its ADB22X air disc brake (ADB) for tractors and trailers.
Wear sensors, via telematic link, provide a signal to fleets when a pad is nearing its replacement period, allowing carriers to better plan maintenance and reducing the need for technicians to measure friction material.
Keith McComsey, Bendix Spicer Foundation Brake director of marketing and customer solutions, Wheel-End, noted wear sensing technology "removes the guesswork from ADB pad replacement," and allows fleets to address the issue before it causes damage to the rotor.
Bendix's ADB sensing suite consists of two sensors per wheel-end mounted to the pads that indicate when pad thickness is wearing down. The system records a diagnostic trouble code and signals a fleet's office via is telematics platform – if the truck or trailer has that capability. It can also be set up to alert technicians through a remote diagnostic unit.
McComsey said there are more than 3 million Bendix ADBs on the road and next year, and expects to see ADBs on nearly 35 percent of North American Class 6-8 wheel-ends. Since 2014, North American market share for air disc brakes has doubled to more than 25 percent, with the Bendix ADB22X accounting for about 80 percent of that share.
Earlier this year, McComsey said Bendix implemented improvements to the ADB22X that included a new adjustment mechanism engineered to increase robustness against vibration, while improving the running clearance between the friction and rotor.
Production of new dryer set for next year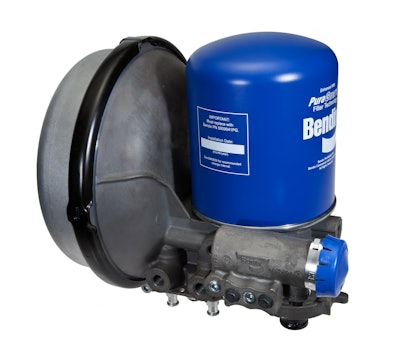 Also Tuesday, Bendix showcased its new AD-HF full-function air dryer. Production is set to launch production of the AD-HF in early 2020.
Richard Nagel, Bendix director of marketing and customer solutions, Air Supply and Powertrain, said the the purpose-built redesign produced a robust, two-piece high-strength aluminum casting that is more than 7 pounds lighter than its predecessor – the AD-IS – while also facilitating future remanufacturing.
It features an integrated purge volume reservoir, eliminating the need for a steel tank. Extensive use of improved materials and surface treatments have made the AD-HF more corrosion-resistant to road treatments like salt and chemicals. Nagel said Bendix also engineered the casting for better flow characteristics, which increases the AD-HF's application capabilities through improved dryer air flow capacity. Finally, the new casting has an increased number of porting locations with optimized port spacing to help reduce installation time.
The standard AD-HF incorporates 200cc of integral purge volume and there is an optional extended purge version with 300cc of integral purge volume.