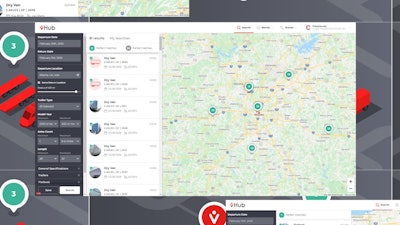 A new trailer positioning solution was introduced to the trucking industry at ATA's Technology & Maintenance Council (TMC) Annual Meeting Sunday in Atlanta with the introduction of the vHub trailer repositioning and sharing marketplace.
Designed for private fleets, for-hire carriers, trailer rental companies, and OEMs, Vice President Francis Roy says vHub was founded by assed-based lending company Finloc 2000. Roy says Finloc has served the trailer industry for more than 40 years and has determined over the years that one of the most common issues plaguing the trailer market is connecting unused trailers with carriers needing to add capacity. Roy says vHub seeks to address that issue, and aims at cutting down trailer repositioning costs to turn unused trailers into revenue generating equipment by making them available to short term renters in a secure, trusted, digital community.
"vHub is redefining how the transportation industry operates by creating a community that generates revenue while reducing deadhead mileage and repositioning costs," he says. "Like many online marketplaces arranging or offering lodging, we are using digital technologies to create a trailer sharing community that brings value to all stakeholders on the platform."
The company launched in Canada last April has already registered more than 4,000 trailers and booked more than 20,000 rental days of trailer usage. The solution will be officially available in the United States on Wednesday.
Roy says the vHub solution works on desktop computers and mobile devices and was built to be intuitive and user friendly. With vHub, Roy says fleets should no longer have to hunt for an open unit or rent a trailer to move a load.
"Don't drive a hundred miles, don't make a bunch of phone calls. Make a couple clicks and you're there," he says.
Within the marketplace, matches can be sorted by location, routes and destinations, and the number of rental days that a trailer is needed or available. The collaborative trailer repositioning and sharing platform showcases all trailers that are available for one-way and round-trip rentals. Users can offer or rent dry van, refrigerated, flatbed or specialty trailers in less than five minutes.
Additionally, Roy says each trailer owner sets its own rates and manages details on trailer availability. Owners have the ability to evaluate all potential renters before and after a transaction. vHub handles invoicing and payments and transfers rental funds to the trailer owner. vHub also integrates with telematics solutions in order to calculate distances traveled and automate billing. The confidentiality of all information and transactions on the platform is protected using the SSL encryption protocol.
The vHub marketplace can be used by drivers to document trailer condition, including taking photos of any trailer damage prior to departure, and to record pick up and drop off locations and times. The application also can function without an Internet connection, storing data for later retrieval.
"We created vHub by combining our multi-decade expertise in the financing of new and used heavy vehicle equipment with the technological advances in collaborative marketplaces," says Sebastien Blouin, CEO. "With over 100 Canadian trailer owners successfully registered on vHub, we are excited to now bring to the U.S. an immediate solution for the repositioning and use of under-utilized trailers. The acceptance of community marketplaces is on the rise because users are understanding the true value of collaboration for their businesses. vHub is a perfect example of a collaborative strategy that is a win-win for all parties."
The platform is currently designed for conventional trailer types (dry van, reefer, flatbed and dropdeck). Roy says vHub will not support specialized trailers Wednesday at launch.