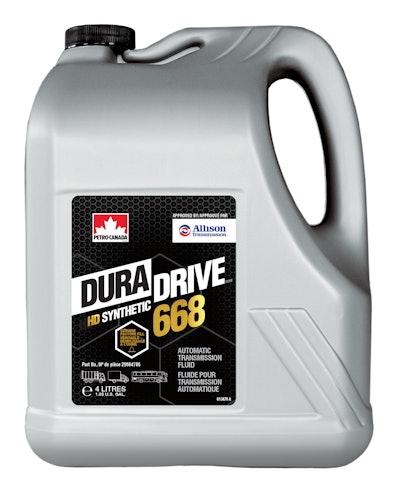 Petro-Canada Lubricants on Tuesday debuted its newest transmission fluid – the only fluid compatible with Allison Transmissions' new drain standard (TES 668) set to take effect Jan. 1 for its on-highway automatic transmissions. 
Specified for on-highway vehicles, including vocational applications, DuraDrive HD Synthetic 668 is fully backwards compatible for all Allison transmissions requiring an approved TES 295 fluid, and has been selected as the first-fill supplier TES 668 automatic transmission fluid for all Allison transmissions effective next year.
Petro-Canada Lubricants Transmission Product Specialist Sonia Hevia said the new formulation reduces wear, unplanned maintenance and increases component lifespan, while oxidation control – enabled by Petro-Canada Lubricants' 99.9% base oil purity – leads to longer fluid life by shielding components from damage caused by sludge, varnish and corrosion.
Enhanced anti-shudder performance and torque control has been extensively proven, Hevia said, through "thousands" of hours of clutch friction durability testing in temperatures as low as -40 degrees, and leads to smoother acceleration in demanding applications. Improved protection of friction plates and gears extends the life of transmission components and performance life for the transmission, preserving its residual value.
DuraDrive HD Synthetic 668, the company said, is also suitable for use with Voith and ZF transmissions for standard drains, adding it is "currently in the process of testing the fluid to obtain extended drain approvals from OEMs beyond Allison Transmission."