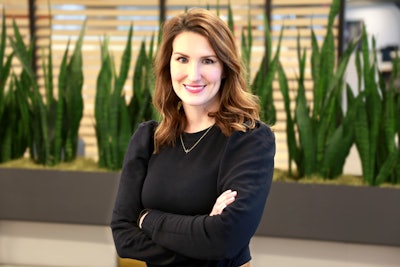 U.S. Xpress
Julie Van de Kamp grew up around the transportation industry, which led her to work at a few trucking companies while in college. She took a job in pricing at U.S. Xpress (CCJ Top 250, No. 19) post graduation, though she wasn't sure she wanted to maintain a career in the industry when she started out. But she fell in love with the trucking industry as she grew to understand its contribution to the American economy and the many different problems that need to be solved daily.
Van de Kamp was promoted this month from senior vice president of customer experience to president of U.S. Xpress' dedicated division.
She is one of 25% of executives (director, vice president, senior vice president and C-suite) who identify as female at USX – a company that is known for its diversity initiatives and that was recently recognized as a 2022 CCJ Innovator for its diversification strategy that included innovations aimed at non-English speaking applicants.
Now she is helping pave the way for other women – including 11% drivers and 43% office/shop team members – at the company as an executive sponsor of its Women in the Workplace Employee Resource Group.
She said her hard work and dedication, in addition to her experience as a woman, has contributed to her success not only at the company but in an industry that is primarily made up of men.
"I'm a working mom, but I think everyone faces times when they're like, 'Why are you going home with your sick kid instead of your husband if you're going to have this job?' But I think that stereotype goes just as far the other way. If a man is like, 'I need to be home with my sick kid,' they're like, 'Well, why isn't your wife or the kid's mom doing it?' So I do think there are different experiences," she said. "My experience has really been that occasionally I do have a different viewpoint because I have different life experiences, and I think women's brains do often work differently. I also think some of that has to do with my personality profile, whether as a woman or a man. I understand what's important and get that viewpoint as a parent more than I think anything I could have learned necessarily at work."
She has taken her experience as a woman and a mother and applied it to her career, allowing her warmth to shine through and spending more time on things that matter because there isn't time to spend on things that don't, she said.
And U.S. Xpress sees the value in that, illustrated by her advancement over the years.
Following her role in pricing, she worked within network management and brokerage and has been responsible for business development, the customer experience group and the sales team. In her new role, she is responsible for leading operations for the dedicated division, which services some of the nation's largest retailers.
She has also experienced success industry wide.
Van de Kamp won Supply and Demand Chain Executive's Women in Supply Chain Award in 2021 and was named a Top Woman to Watch in Transportation by Women in Trucking in 2020.
While she recognizes many women face stereotypical challenges in the industry, her experience has been different, which she said speaks volumes for USX as a company. Taking maternity leave, for example, was a non-issue.
"Transportation is pretty traditional; let's just be honest about that. It's not the most forward-thinking always in every situation. I'll travel, and I'll go see our customers, and I'll go to conferences, and there aren't that many people that look like me; there are a lot of middle-aged men, frankly," Van de Kamp said. "I think seeing that need for women within our organization who might be battling a little bit of a different career path, or juggling different things between their personal lives and work, or thinking through how it feels to travel differently as a woman than it might feel as a man … I think having a place that fosters an inclusive environment to support each other was really important."
That's why USX launched its Women in the Workplace employee resource group.
At 22, when Van de Kamp started at USX, she said she didn't have a plan for her career. But she eventually had the opportunity to create a career plan and a personal development plan to determine what she wanted to do longer term, which she said has served as a huge impetus to moving her career forward. Now she's mentoring women at USX in the same regard, helping them identify their career goals because "having it documented really helps create at least awareness if not accountability."
The women's group, which was the first of five other employee resource groups at USX, was not in place when Van de Kamp came on board 15 years ago. The program, which functions alongside a veterans group, faith-based group, multicultural group and PRIDE group (LGBTQ+ initiatives), was launched just under two years ago.
"It has been probably the most rewarding thing I've done in my career, if I'm being honest: maybe not professionally rewarding but personally rewarding," Van de Kamp said. "It's a really great group of women and men in our organization talking about how we empower, engage and energize women in our organization and show that the face of a trucking company, or an employee here, or someone working in transportation isn't always what you're used to seeing – that it can be someone like me or the other women in the group."
She said the group plans to give focus in the future to recruitment efforts in addition to supporting existing women employees at USX in advancing their skills and leadership potential. That could look like partnering with local schools to attract young women to the transportation industry, she said.
"I think it's also the competing for talent. Here in Chattanooga, Tennessee, we've got some other big Fortune 500 companies in our own backyard, and people may not always consider transportation as an industry that they'd want to explore," said Brad Carmony, vice president of brand communications at USX. "So I think giving the tools and resources and illustrating to candidates that we support you, whether you're a female, or you're black, you're Latino, or you're gay, or you're trans, it makes us a more inclusive, accepting work environment that is competing for talent against really top-notch organizations."
Women in the workplace can use their unique experiences to their advantage, but Van de Kamp said the key for women in general is to work hard, let your work speak for itself and be authentic in doing it.
"I think I spent a little bit of time in the beginning of my career trying to overcompensate for being a woman and for being young because I was very often the only woman and the youngest person in the room," she said. "So I tried to be especially professional, and as I got further in my career and became more authentic, I think more of my strengths and talents and the warmer side of me that I had kept hidden a bit has been a huge asset for me and has hopefully been an asset for the teams that I've managed and worked with and those who I work for."