Modern Transport
Pittsburgh
Combining culture with technology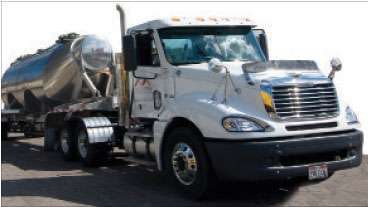 Modern Transport builds upon crash avoidance system to develop award-winning safety program
Losing a college friend in his mid-20s in a heavy-duty truck crash is something that Patrick Cozzens frequently recalls in his role as president and part owner of Modern Transport, a Pittsburgh-based national bulk hauler. When Cozzens came on board at Modern six years ago, the company was dealing with the fallout from a couple of its own rear-end crashes. In one of his first executive moves at the fleet, Cozzens – along with input and full cooperation from ownership – decided to build on Modern's long-standing safety culture with a goal of expanding it, focusing specifically on reducing rear-end collisions.
Modern has 24 terminals along the East Coast and as far West as Colorado. The company hauls bulk materials from sand pits, limestone mines and rail sidings to manufacturing plants. About 60 percent of its traffic is on highways with 55 mph speed limits, with the other 40 percent hauling on rural routes.
Modern Transport developed an award-winning safety program by taking its technology-based system further through driver participation and education.
Like most fleets faced with safety concerns, Modern's first instinct was to turn to technology to solve the problem. After researching a variety of safety technologies, the company selected a radar-based rear-end collision avoidance system. "We were really pleased with the blind-spot monitoring it offered us, but the primary benefit was the following-distance monitoring," Cozzens says.
Impressed with the system, Modern equipped all of its 275 trucks with the technology. The system provided an audible warning if drivers were within 3½ seconds behind the vehicle in front of them. After Modern had run that system for about a year, the company realized it was difficult to quantify how well it was working.
"We weren't having crashes, but downloading the data was problematic," Cozzens says. "You had to go to every truck and download the data with a laptop. When you have 24 terminals around the country, and many of our trucks are double-shifted, it was very difficult." Modern tried designating a staff member to oversee data collection and bought several laptops. The effort proved haphazard – data from some trucks would be downloaded weekly, while other trucks might get downloaded once a month.
A bigger problem was what to do with the information once it was in hand. Knowing what the drivers were doing on the road was good, but Cozzens quickly discovered that transforming raw data into a useful safety strategy was the real challenge he faced if Modern was going to make its technology investment pay off.
Going further
After some thought, Cozzens decided to create performance criteria based on the safety data and began posting driver safety performance results publically in Modern's terminals.
"Our culture has sort of taken over the technology to some extent."
– Patrick Cozzens, president
Modern also installed a new policy requiring drivers to spend no more than 3 percent of their total drive time at an unsafe following distance interval of less than 3½ seconds behind the vehicle in front of them. If they were above that number, they had 30 days to fix it, and if they didn't, they faced termination. "We actually followed through and terminated five or six drivers," Cozzens says.
The new policy had an almost immediate impact on fleet safety. "The in-cab warnings worked well, but the real improvement came when the drivers saw their names and monthly rankings – from best to worst – on the terminal walls," Cozzens says. Modern also tied financial incentives into the rankings by granting safety bonuses to top performers.
The next step was implementing a dedicated education program to complement the technology in the trucks. "We wanted to create a dramatic and emotional program to really drive home the need for safety in this regard," Cozzens says. "We really tried to frame this in a way drivers could easily understand."
One fact that made an impact on drivers was that a 2,000-pound pickup truck would have to exceed 300 mph to generate the same velocity and impact force that an 80,000-pound truck generates at 70 mph when it hits another vehicle. "We combine that type of education with several videos that really tug at their heartstrings showing the impact on families' lives and truckers' lives who have been involved in these types of accidents," Cozzens says.
A final step was partnering with Modern's insurance provider, Great West Casualty, to create an aggressive value-driven driving program. "We've taken that program to heart," Cozzens says. "This program teaches our drivers to operate with a set of core values like honesty, integrity and respect for the value of human life."
After six years, the following distance program has had a positive fleetwide impact in a number of ways. Cozzens says Modern's SafeStat warnings fell below 25 in all SEAs within 18 months of implementation and have remained there since. For four consecutive years, Great West Casualty has recognized Modern as a Platinum Award winner, which goes to only the top 5 percent of the insurer's carriers. During that same time, the company has grown its annual miles by a third, while its total net insurance expenses have dropped to half of what they were six years ago.
Even better, the following-distance program put Modern ahead of the game in terms of Compliance Safety Accountability and has allowed the company to stay there; Modern has no exceptions in any of the seven Behavior Analysis and Safety Improvement Categories. "Our drivers know that we care about them and the people on the road around us," Cozzens says.
Modern's revitalized safety program has come a long way from its origins in following distance. "We've really evolved," Cozzens says. "Our culture has sort of taken over the technology to some extent." The company now utilizes real-time in-cab positive-reinforcement coaching systems, and it recently governed all trucks at 62 mph.
"Now the risk of a rear-end collision is even lower, and we're now able to tie safety in with driver fuel economy incentives," Cozzens says. Some terminals now are achieving fuel economy averages of more than 7 mpg as a direct result of the company's safety program. "It's worked out really well for us all the way around," he says.
CCJ Innovators profiles carriers and fleets that have found innovative ways to overcome trucking's challenges. If you know a carrier that has displayed innovation, contact Jeff Crissey at jcrissey@ccjmagazine.com or 800-633-5953.