WIL-TRANS
Strafford, MO
The road to recovery
Wil-Trans revamps CDL training, apprenticeship program to bring in, retain new drivers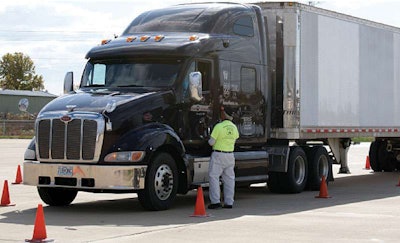 Route 66, the original American highway, once linked Chicago to Los Angeles and many small communities in between. While no longer a viable route for interstate commerce, the old road became a symbol of adventure and freedom.
Today, people who are considering a career in the transportation industry still may get their kicks on Route 66 in Strafford, Mo. That's where they can find Wil-Trans, a nationwide refrigerated fleet that has been training entry-level drivers for 15 years.
Wil-Trans organized an onsite public school to train drivers while providing them with federal and state financial assistance.
For years, the 175-truck company had focused its training program on drivers that it recruited from CDL schools. But Wil-Trans was having difficulty retaining drivers who also had met with recruiters for other companies while in school and had entered the industry with unrealistic expectations.
"The first time drivers had a bad day, they would hang up and call the other carriers that were in (school) to visit them," says Darrel Wilson, chief executive officer. "As things went on, those guys became tougher for us to use. We had a ton of turnover. Drivers had their CDL, but they were certainly not ready to go trucking."
High turnover also made it difficult for Wil-Trans to get a return on investment for its training and apprenticeship programs. So instead of recruiting drivers from schools, the company began to recruit and train new entrants with its own instructors and equipment. Drivers could earn a CDL after three weeks of training, followed by a three- to four-month apprenticeship program. As part of the agreement, drivers could pay for CDL training by working for Wil-Trans.
This new approach offered an improvement in that Wil-Trans could spend more time with drivers earlier to determine if they indeed were in for the long haul. "We were not just teaching them how to get a CDL," Wilson says. "Drivers were learning a lot more about the industry to get a better idea of what they would be getting into."
Between 35 and 40 percent of current Wil-Trans drivers have gone through the company's training and apprenticeship programs. After 18 to 24 months of experience, they are the fleet's safest and most fuel-efficient drivers.
The downside of the program was that Wil-Trans still had financial exposure because drivers might decide early that the trucking industry was not the right fit and walk away with free training. "It was a constant source of irritation," Wilson says. "If a guy leaves us, they do not want to pay for schooling. We were constantly at odds with drivers."
Public school training
Wilson recently decided to take a different approach. In April, he – along with others at Wil-Trans – organized a new public school: Route 66 CDL and Apprenticeship Inc. The entity would conduct training exercises using Wil-Trans property but have a separate office, training rooms and employees.
Part of the process of starting the new school was to get financial aid for students. The school has been certified by the Veterans Administration to use the G.I. Bill for tuition and for students to receive monthly benefits up to $1,000 during the apprenticeship program. The school also has a relationship with the Missouri Career Centers to receive financial aid as part of an unemployment program.
Tuition for the school is $4,000. If a student does not qualify for financial aid, the school will offer students a significant discount. Today, if a driver decides to leave the school, he does so after tuition is paid. "We shake hands and leave on good terms," Wilson says.
When drivers graduate from the school with a CDL, they can begin an employee apprenticeship with Wil-Trans. The goal is to train between four and six students per week, starting in January.
Based on past experience, Wil-Trans should see a retention rate of between 70 and 75 percent for drivers who complete its training and apprenticeship programs. Route 66 is not just a recruiting tool for Wil-Trans, however.
"I think it is a win-win for everybody."
– Darrel Wilson,
Wil-Trans CEO
"It is our hope that Route 66 can partner with veteran-minded carriers and handle the entry-level driver training and assist them in developing and the certification of an apprenticeship program of their own," Wilson says.
Moving on up
The apprenticeship program moves through three "seat" classes. The entry-level "C-seat" driver starts at 10 cents per mile. During this period, a student driver is with a trainer for 20,000 miles. The student also communicates regularly with an assigned fleet manager about his progress. Both the student and the trainer submit weekly evaluations to the fleet manager.
After 20,000 miles of safe driving, a driver moves to a B2-seat. Pay climbs to 12 cents per mile while the driver is evaluated for another 20,000 miles. The driver continues to ride with a trainer but spends more time behind the wheel learning to drive in a team operation. The apprentice also comes to Wil-Trans for weekly evaluations and testing on following distances, pre- and post-trip inspections, safe driving and other skill areas.
The B1-seat comes next, and pay rises to 14 cents per mile for the next 20,000 miles. The driver continues to drive team with a trainer. For the last week – or 5,000 to 6,000 miles – the driver runs solo.
If the driver has a successful week running solo, he moves to an A-seat. Wil-Trans upgrades drivers, two at a time, to the A-seat status. Starting with a C-status, drivers now have completed 60,000 miles. The two – or more – drivers now are sent through a complete orientation process for Wil-Trans and are assigned to team operations. Drivers split 38 cents a mile running team. During periods when one driver takes time off, the other driver runs solo at 36 cents per mile.
Most drivers are making $1,000 per week at this early stage of their career. Wil-Trans also pays a weekly fuel and safety bonus. Drivers run as a team for 100,000 miles, after which they have the option to run solo as a company driver or become an owner-operator.
Wil-Trans has found that running student drivers in team operations helps them earn more money and enjoy more home time. "Drivers don't have an issue with that," Wilson says. "We've found it to be very beneficial."
The student training program with team operations also helps the company increase equipment availability. "If we can have 90 percent availability on a daily basis, that really makes a difference to the dynamics of our operations," he says. Wil-Trans also rewards drivers for longevity; for every five years of service, the company pays drivers a $10,000 bonus.
Route 66 is on track to become a profitable entity quickly, but employees feel like they are serving a higher purpose. They see the effect of their efforts on a daily basis.
A guy who is unemployed and struggling walks into Wil-Trans. A few weeks later, he is wearing a new pair of boots. Several months later, he starts talking about how his new career is helping his family. He looks revitalized since he went to Route 66.
"I think it is a win-win for everybody," Wilson says. "It is making obvious changes for families as well as making an impact for the company."
CCJ Innovators profiles carriers and fleets that have found innovative ways to overcome trucking's challenges. If you know a carrier that has displayed innovation, contact Jeff Crissey at jcrissey@ccjmagazine.com or 800-633-5953.