CCJ Innovators profiles carriers and fleets that have found innovative ways to overcome trucking's challenges. If you know a carrier that has displayed innovation, contact Jeff Crissey at jcrissey@ccjmagazine.com or 800-633-5953.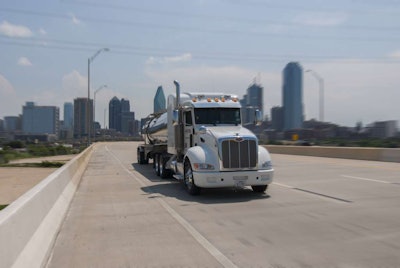 For a nationwide bulk liquid carrier serving some of North America's largest petrochemical companies, safety is paramount. When an accident occurs, not only are the goods being hauled often flammable – which can increase the severity and scope of the incident – but big oil companies with deep pockets also are prime targets for vicarious liability lawsuits. Due diligence by such a shipper in the carrier selection process is critical to ensuring a safe and efficient link in their product supply chain.
Andrews Logistics has staked its claim in the bulk liquid and chemical hauling market with its safety approach. The asset-based bulk liquid and hazardous materials transportation company has won numerous safety awards from the National Tank Truck Carriers, as well as customer awards from BP, ConocoPhillips, Chevron and others.
In 2010, Andrews Logistics was cited by Commercial Carrier Journal as a CCJ Innovator for developing a systematic safety approach with a driver-led safety management system that the company launched in 2007. Since then, Andrews Logistics' accident rate has decreased steadily.
The tenets of safety
After analyzing when accidents and spills have occurred in the past, Andrews Logistics focused its Target Zero campaign on eight specific criteria for drivers, terminal managers, dispatchers and other company employees to maintain:
Focus on work responsibilities 100 percent of the time.
Encourage, promote and hold yourself and coworkers accountable for safety.
Make the use of personal protective equipment (PPE) a habit.
Follow all company procedures during loading and unloading. Protect the environment.
Communicate all safety concerns. If you are unsure, stop!
Do not use your cell phone while driving or performing your job.
Follow all federal, state and local traffic laws. Do not drive fatigued or speed.
Drive to stay alive. Do not drive distracted. Andrews Logistics and your family want you home safely every trip, every time.
Andrews Logistics has grown to become a leading bulk liquid hauler with 14 terminals serving 48 states, Canada and Mexico via a cross-border operation. Currently, the company has 300 drivers, 340 trucks and 600 tank trailers.
Its niche is hauling finished petrochemical products, such as 5W30 motor oil and transmission fluids, from manufacturing points to distribution centers and automotive manufacturing plants. The company also has grown its business in the dry van dedicated contract carriage market, with 120 dry van trailers now in operation.
Andrews Logistics and its competitors in the bulk liquid market are not immune from the industrywide driver shortage. In fact, hazardous materials haulers face a greater challenge due to stricter hiring guidelines and extra training required when delivering goods.
"We are delivering product that isn't in a package – we are delivering it into complex pipes, fittings and connections," says Darron Eschle, chairman and chief executive officer. "We may have three or four different products in a trailer delivering to a site with 20 or more storage tanks, each with different products. That actual delivery process requires a lot of training so that we don't load the product into the wrong storage tank and create a spill, or we dump 5W30 into a transmission fluid storage tank and contaminate the whole load."
A new approach to safety
In an effort to build on its already lofty safety record, Andrews Logistics last month announced its new "Target Zero" campaign to completely eliminate the factors that contribute to accidents, spills and contaminations.
"When you have 300-plus trucks rolling 500 miles per day and 21 million miles per year and think, 'Wow, only one or two accidents or spills,' that sounds like a pretty good number," says Eschle. "And the truth is in our industry, that is a good number. But my point is we don't need our goal to have only one or two incidents per year. Even though we have a safe history, it's not good enough. The only acceptable goal in my mind is to have zero accidents."
Andrews Logistics' safety and risk management team began the Target Zero concept by analyzing past accidents, spills and contaminations to discover any commonalities among them. For example, contaminations and spills never happen when loading product into the tanker at the receiving point.
Analysis of accidents that resulted in injury or equipment and property damage revealed that almost all of them occurred when the truck was traveling above 56 miles per hour. The company then identified the root causes of those accidents, including fatigue and distraction.
The safety and risk management team then developed the eight directives for the Target Zero campaign [see "The tenets of safety"] that it now preaches daily to its entire organization – drivers, terminal managers, dispatchers and front-office personnel.
Eschle also sent personal letters to the homes of all Andrews Logistics associates and family members explaining the program and how family members can get involved to help drivers focus on safety even during their personal time at home.
"Safety not only has to be emphasized at work – it's a lifestyle behavior that can be practiced while driving, at home and in other everyday environments," says Griff Odgers, Andrews Logistics vice president of safety and risk management. "Proper safety behavior can minimize risk, whether it's at work or at play."
To create awareness for Target Zero, Andrews Logistics now reviews the eight directives at each safety meeting and distributes educational materials. Target Zero posters and banners are visible at all terminals and office locations, and the company has created stickers and patches to be placed on the outside of truck doors, hardhats and uniforms to remind employees of what they are doing and why they are doing it.
"We want them constantly reminded so that any time they are doing something that goes against the eight directives of Target Zero that it gives them thought to stop and correct themselves," says Eschle.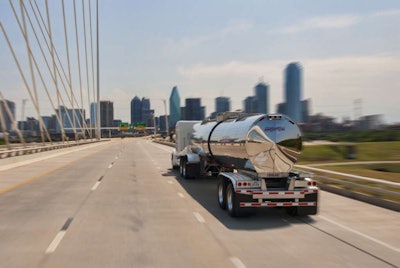 Andrews Logistics' driver training program requires new hires to complete a weeklong training period with a "master driver." But management realized that in that week, the new hire might only complete two or three bulk liquid deliveries to customers. The company since has established a new delivery training program with the use of test tanks and test scenarios to better prepare new drivers with 20 or more practice deliveries before they finish training.
To help measure and improve driver performance, Andrews Logistics recently implemented onboard computers that provide visibility into driver behavior to identify patterns that increase the possibility of accidents. It uses scorecards to engage drivers in a positive discussion about ways they can lower their chances of being involved in accidents in the future.
"We tell them, 'Hey, we care enough about you that we're concerned that the way you're driving beyond a shadow of a doubt has increased the possibility that some day you'll have an accident. You can't afford one, because it could kill you or someone else,' " says Eschle.