CCJ Innovators profiles carriers and fleets that have found innovative ways to overcome trucking's challenges. If you know a carrier that has displayed innovation, contact CCJ Editor Jeff Crissey at jcrissey@ccjmagazine.com or 800-633-5953.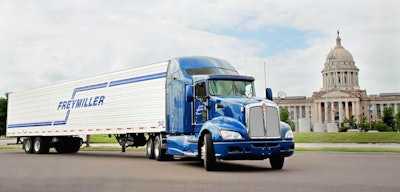 Last winter, Don Freymiller, chairman of Oklahoma City-based Freymiller Inc. (CCJ Top 250, No. 214), was driving down the road and listening to all the truck driver recruiting advertisements that frequent XM Radio.
Facing the same driver availability issues that plague so many truckload carriers today, Freymiller realized his company was missing an opportunity by not placing ads on satellite radio stations. But he also noticed that the various ads sounded the same, all promising more miles, money and home time.
Suddenly, Freymiller had an "a-ha" moment.
"I wanted to differentiate Freymiller and do something different that was for the drivers and not just about recruiting," he said.
Freymiller Radio is born
Freymiller called longtime friend Eddie Kilroy, producer of XM Radio's Willie's Place (formerly Hank's Place) station, whom he'd met 12 years ago.
"I remember I was listening to his station, and I called in and told him I was on I-40 headed to Nashville with a load and wanted to say hello to all my Freymiller drivers," says Freymiller. "Kilroy called me back after his show that morning and said, 'Who are you? My switchboard lit up with callers saying you weren't a trucker, that you were the owner of the company!' "
Freymiller still enjoys hauling the occasional load to get out and meet drivers on the road, and during his phone call with Kilroy late last year, he relayed his desire to start his own digital radio station for truck drivers. Kilroy put him in touch with Pat Fant at Houston-based RFC Media, and Freymiller Radio was formed last February.
The company hired Kilroy to produce a four-hour trucking-themed country music show every weekday from 8 a.m. until noon from its corporate headquarters in Oklahoma City. Drivers are invited to call in and talk to Kilroy on air. RFC Media produces and prepares the drop-in messages and advertisements from the refrigerated carrier to its drivers.
"We use the drop-ins after every two or three songs to say thanks for being in the industry and that we appreciate it if you drive for us," Freymiller says.
The company chose digital radio for its universal reach, something that XM Radio lacks.
"Most new trucks today have Bluetooth, so all a driver has to do is download the Freymiller Radio app on their mobile device and play it right over the truck's radio," says Freymiller. "Drivers don't have to pay $15 per month for a subscription, and they can easily take the app from truck to truck without having to set up an account. Whenever they want, they have access to country music playing 24/7 with a trucker theme behind it."
The company uses the Freymiller Radio station to recognize employees for safe driving awards, even bringing employees into the studio to congratulate them live on the air.
Getting the word out
While the genesis of Freymiller Radio was to create another way for Freymiller to stay in touch with its company drivers, the station quickly evolved into an industrywide effort that creates two-way communication to encourage trucking professionals to stay in touch and be heard.
"We want to salute all drivers on the highway, not just Freymiller drivers," says Freymiller. To get the word out about Freymiller Radio, the company has added signage to the back of its trailer fleet inviting other drivers to download the app and tune into the station.
The company pushes Freymiller Radio out on its Facebook page and Twitter account, and also will set up remote live broadcasts at truckstops across the Midwest to engage with drivers personally on the road. Last month, the station broadcast live from the show floor at the Great American Trucking Show, owned by CCJ's parent company, Randall-Reilly.
"We recently had country music legend Mickey Gilley come into our studio for three hours," says Freymiller. "He has a huge fan base, and he put the word out on his Facebook account. Every month, our number of listeners is steadily growing."
Freymiller also is getting the word out to its shippers and receivers so they can hear the message the company is relaying to its drivers on the importance of their role in the nation's supply chain.
"We want the general public to hear this as well, because you don't have to be a driver to listen to our radio," says Freymiller. "We are trying to put the awareness out there about trucking's essential role in our economy."
Going the extra mile
With a fleet of more than 500 drivers, communication between corporate headquarters and employees can be a challenge, especially with assets spread across 48 states. Freymiller Radio is just the latest example of the lengths Freymiller executives go in order to create a family environment, no matter how widespread.
The company promotes a true open-door philosophy, allowing drivers to enter any part of the corporate offices and any department. "It takes everyone in the company to create that family environment," says Freymiller. "It's not just driver managers or people within our operations department."
Freymiller and his four children who work at the company routinely visit with company drivers at lunch to listen to their concerns. "You wouldn't believe when you just go in and sit down and start a conversation with them the great things you'll see and learn from your drivers," he says.
When a driver comes on board with Freymiller, the company pays for their airfare to come into its office for orientation rather than bringing them in on a bus. "We want to appreciate these drivers and make life easier for them every step we can," says Freymiller. If a driver voluntarily leaves the company, Freymiller will fly them back home.
"Their life is hard enough out there on the highways," says Freymiller. "If I wouldn't take the bus, then why should I put a driver on a bus? I'm not satisfied with our driver turnover rate, but ours is well below the industry average because of things like this."