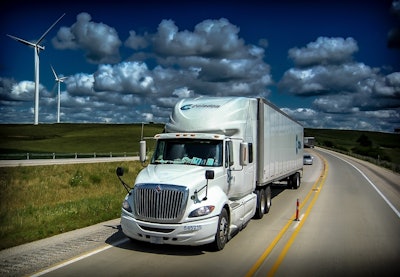 Lauren Howard surprised fleet executives at the 2017 CCJ Innovator of the Year summit in Duck Key, Fla., on Feb. 10, when she explained what the Celadon Group is doing for owner operators.
Howard is president of the Celadon Group's over-the-road truckload division. Celadon was recognized as the 2015 CCJ Innovator of the Year for the new technology and career path it created for its customer service department.
At the 2017 Innovator summit, Howard gave attendees recognized as innovators by CCJ in 2016 and in years past a reason to believe the owner-operator model is alive and well. Rather than scale back or retreat from the owner-operator model, as many fleets have done, Celadon has gone all in, she said.
Giving drivers control
A true independent owner-operator owns equipment, has a DOT number, and has freedom to book loads from any shipper, broker or carrier. A leased owner-operator rents equipment from a carrier and runs under its DOT number.
About 60 percent of Celadon's fleet are independent contractors of both varieties. Employee drivers comprise the other 40 percent.
In the eyes of tax collectors, leased owner-operators are more similar to employees than true independents since the carrier arguably has more control over them. One area where control might be an issue is the dispatch process.
Recognizing this risk, Celadon sought a solution that would give its leased contractors the freedom to choose more loads. Management began by outlining an IT project to send its contractors three load offerings with every dispatch, Howard said. The offerings would be optimally determined by software.
Then it found a better option.
Mobile load board
Last year, Celadon partnered with FreightRover, an Indianapolis-based startup that developed a cloud-based freight exchange marketplace. Several employees at the company, including President Michael Pecchia, had previously worked at the Celadon Group.
Owner operators can download the FreightRover app to their personal smartphone or tablet devices. After drivers enter basic profile information, FreightRover automatically validates the driver as an authorized contractor.
FreightRover is integrated with Celadon's IT systems and gives drivers a large selection of available freight from the company's asset and non-asset logistics divisions.
The app gives recommendations but drivers are free to choose any load they wish. Celadon sets a few parameters to help such as limiting driver visibility to loads that have deadhead less than 500 miles, Howard said.
"Ultimately, we have seen that owner-operators are benefiting more than what we could have done," said Howard, referring to Celadon's initial strategy to offer drivers an optimized choice of three loads. "They are getting a longer length of haul and a better rate."
Creating a freight market
Celadon currently uses FreightRover in a closed environment similar to a private load board. The company plans to use the Select Board feature in FreightRover, however, that will allow contractors to select loads offered directly by shippers and third-party carriers and brokers. Leased contractors can use Celadon's motor carrier authority.
Any of the above entities can sign up with FreightRover as customers. Celadon will be able to choose the companies it partners with to share load visibility with independent contractors.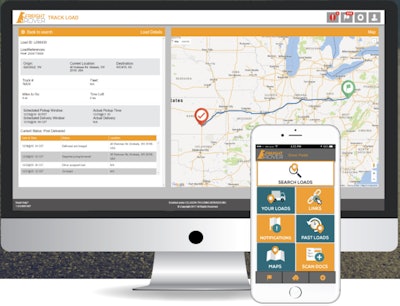 The app shows drivers the rate, availability and appointment time for loads from Celadon and other parties, says Pecchia. It also shows drivers the equipment requirements and deadhead miles from their current location.
When a driver selects a load, the system will tender it to them upon verifying that the driver has the right equipment and is not already dispatched on another load.
The platform gives Celadon visibility of the driver's load selection and load tracking updates.
Upon delivery, drivers scan their delivery paperwork using a feature in the app. Once the delivery is verified, Freight Rover releases funds to the carrier to initiate the settlement process, Pecchia said.
The platform accounts for pre-negotiated deductions applied in the settlement process. If a driver associated with Celadon pulls a load for a third party using a Celadon trailer, for example, the trailer rent is automatically withheld from the settlement, Howard said.
The app also captures the number of miles that drivers run for Celadon and other carriers for IFTA fuel tax reporting. This and other relevant data can be passed among parties, Pecchia said.
Celadon has seen a significant increase in driver retention from the FreightRover platform. Contractors that use the app have a 33 percent higher retention rate than those who do not, Howard said.