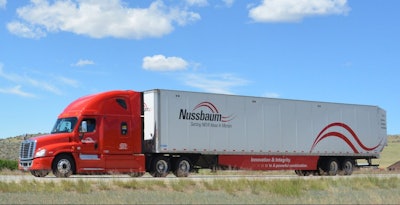 Nussbaum Transportation has been named the 2017 CCJ Innovator of the Year by Commercial Carrier Journal for its development of a new driver behavior measurement tool that has yielded impressive results in fuel efficiency and driver safety.
Since the Hudson, Ill.-based dedicated carriage and truckload carrier was originally cited in CCJ's June 2016 issue, its innovation is largely responsible for a stellar safety performance record that includes no preventable U.S. Department of Transportation-recordable accidents and no jackknife incidents or major loss-of-control accidents this winter. The 300-truck carrier also has reduced its score in the Compliance Safety Accountability Crash Indicator Behavior Analysis and Safety Improvement Category by more than 60 percent.
The announcement was made by CCJ editors at the 13th-annual CCJ Innovators Summit in Duck Key, Fla. The event gathers current and previous-year CCJ Innovators for three days of networking, presentations and idea sharing among some of the trucking industry's most forward-thinking fleets and leading executives. During the year, CCJ highlights one fleet each month as part of its CCJ Innovators program.
"On behalf of Nussbaum, we want to thank CCJ and Randall-Reilly for the 2017 CCJ Innovator of the Year Award," said Brent Nussbaum, Nussbaum Transportation's chief executive officer. "Nussbaum is blessed to have a great group of young, creative and talented people that continually set the bar each day. We're proud of their efforts and give credit to each of them for this award."
Nussbaum's behavior management tool was developed to remove the fairness issue that arises when comparing driver performance based solely on fuel economy statistics. The system captures real-time data from the engine control module, including G-force sensor data, time spent at different speed intervals and throttle actuation. It aggregates that information with following distance observations from recently installed onboard event recorders from SmartDrive to score drivers on a skills rating formula that measures smooth driving, speed management, throttle usage and space management.
"With our Behavior Measurement system, we finally have a way to reward drivers, not just for results, but for the skills that lead to those results," said Jeremy Stickling, Nussbaum Transportation's director of human resources and safety. "It has changed the way our drivers think about efficiency and safety, and enables them to analyze their professional abilities in ways not previously possible."
Nussbaum Transportation won the CCJ Innovator of the Year award in a class of other industry-leading fleets recognized in 2016 as CCJ Innovators including UPS, Modern Transportation, KLLM Transportation Services, Dayton Freight Lines, Progistics Distribution, Daryl Flood Relocation & Logistics, Roadrunner Transportation Systems, Covenant Transportation Group, CalArk International and OrTran. The CCJ Innovators program is sponsored by Freightliner Trucks, PeopleNet and Shell Lubricants.