CCJ Innovators profiles carriers and fleets that have found innovative ways to overcome trucking's challenges. If you know a carrier that has displayed innovation, contact CCJ Editor Jeff Crissey at jcrissey@ccjmagazine.com or 800-633-5953.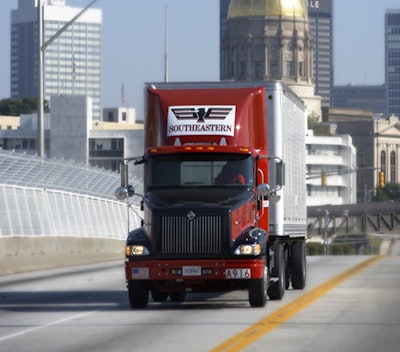 Companies across a wide variety of industries have come to realize over the years that it pays to invest in corporate giving and employee volunteering, and they understand how those community involvement efforts connect to their overall business.
A 2014 study conducted by the Boston College Center for Corporate Citizenship explored this trend. Key research findings revealed that community involvement contributes to several key business goals, including an improved reputation in the community and with customers, and the attraction and retention of employees – a critical factor for trucking fleets, considering their seemingly never-ending driver recruitment and retention efforts.
According to the study of 236 U.S.-based medium and large companies, nearly 90 percent of the firms surveyed that measured the connection between volunteer participation and employee engagement found a positive correlation between participation and engagement scores.
That's why, the study found, companies are increasingly tying their community involvement efforts to their business strategy and prioritizing social goals that are most relevant to their operating contexts. Southeastern Freight Lines (CCJ Top 250, No. 27) is no stranger to this philosophy and has embraced it.
The privately-owned regional less-than-truckload company specializes in next-day service in the Southeast and Southwest and operates 87 service centers in 14 states and Puerto Rico. SEFL has a network of service partners to facilitate transportation services in the remaining 36 states, Canada, the U.S. Virgin Islands and Mexico.
The Lexington, S.C.-based company is proud to boast its 99.35-percent on-time service in next-day lanes, attributing that success rate to a dedication to service quality and a continuous quality improvement process that began in 1985 and has been recognized by more than 400 quality awards received from customers and associations.
In addition, its Southeastern Logistics Solutions subsidiary provides expedited service and multimodal transportation services across the nation through strategic capacity partnerships.
Giving back
Five years ago, as part of its community involvement efforts, SEFL introduced its "Southeastern Serves" initiative. The program is dedicated to giving back to communities across the company's footprint by having associates of all levels get involved with providing for the needy.
In 2015, SEFL participated in more than 2,590 total hours of community service as part of Southeastern Serves, and the program continues to grow, Last year, the company contributed more than 2,800 hours of service.
"We are fortunate enough to share our commitment to providing quality service not only to our customers but to less fortunate individuals throughout the communities we serve," said Mike Heaton, SEFL's senior vice president of sales and marketing. "Through the Southeastern Serves program, we are able to give back and strengthen the communities who support us year after year."
In 2015, the company's Region II service centers, which include more than 20 facilities in Kentucky, North Carolina, Tennessee and Virginia, participated in a regional volunteer project assisting Operation Christmas Child, a Samaritan's Purse program. Together, the Region II service centers collected more than 300 shoeboxes for children across the country.
This year, 881 participants, including SEFL associates and their friends and family members, participated in Southeastern Serves projects ranging from volunteering at food drives and soup kitchens to providing school supplies and yardwork.
Last April, 35 volunteers from SEFL's service center in El Paso, Texas, cooked a homemade fajita dinner for families living at the city's Ronald McDonald House, which provides free or low-cost lodging and meals for families to stay close by hospitalized children. The 35 SEFL volunteers in El Paso were a combination of company associates and family members.
A month later, the company's service center in Greenville, S.C., helped The Pendleton Place – a nonprofit organization serving abused, neglected and abandoned children – revamp its playground, spreading mulch, repairing damaged equipment and creating a barrier so the mulch would not wash away.
SEFL volunteers in Greenville included leadership, pickup-and-delivery drivers, freight handlers and their family members and friends. The team enjoyed a great day of fellowship while helping the community at the same time, Heaton said.
Most recently, SEFL's Miami service center collected almost 1,700 pounds of food to donate to the Star of the Sea Outreach Mission, serving those in need across 34 locations from Key Largo to Key West.
"The opportunity Southeastern has to support so many deserving organizations and individuals throughout the year as part of the Southeastern Serves program is humbling," Heaton said. "We look forward to the new community service projects that await us in the coming year."
To kick off 2017, SEFL prepared 40,000 meals to be donated to the Harvest Hope Food Bank in Columbia, S.C., as part of Feeding Children Everywhere, an Orlando, Fla.-based nonprofit formed in the wake of the 2010 earthquake in Haiti. Feeding Children Everywhere since has mobilized more than 421,000 volunteers to package 62 million healthy meals for hungry children in 49 countries around the world.
Feeding Children Everywhere consults with local nutritionists and provides all of the materials and project setup to create an assembly line for volunteers to work together efficiently. SEFL's Harvest Hope project consisted of lentils, white rice, dehydrated vegetables and pink Himalayan salt.
"Southeastern places a high priority on giving back," Heaton said. "Feeding Children Everywhere allows us the opportunity to serve and engage employees in the cause, providing meals for those at risk in our local community. We encourage other businesses to get involved and make an impact on global hunger."
Helping its own
Heaton finds that community involvement initiatives such as Southeastern Serves helps build an environment of camaraderie and teamwork among SEFL employees in different departments of the company.
"I believe every opportunity to engage with the community and give back through service aligns with the Southeastern culture," he says. "Without fail, whenever a group serves the needy, a bond is formed, and alignment and teamwork is strengthened."
Heaton also feels the program instills a sense of company pride among drivers and assists with SEFL's retention efforts.
"We want employees of all levels to be engaged and have an opportunity to get involved," he says. "This instills a sense of company pride for our employees, knowing the initiatives we have in place and the good work we are doing to give back."