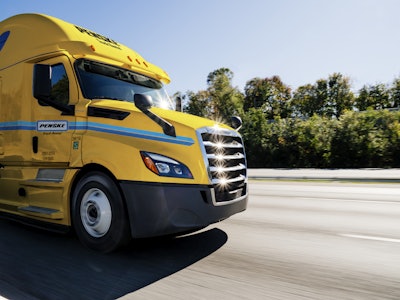 With 705 service locations, 8,000 technicians and 300,000 pieces of equipment, Penske isn't a typical trucking company.
For Penske Logistics, a provider of dedicated contract carriage and transportation management solutions, on-time service and efficiency are critical. At Penske Truck Leasing, customer uptime and reliability are paramount.
None of that is possible without a first-class maintenance operation. But maintaining a vehicle fleet from multiple OEMs ranging from Class 8 sleeper tractors to straight trucks and vans is a challenge even for a company of Penske's size. Compounding matters are the increasingly complex aftertreatment systems and electronics found in modern trucks and engines.
Vehicle maintenance for all Penske operating divisions falls to Penske Truck Leasing. Faced with the challenge of improving maintenance procedures to increase throughput, accuracy and consistency, the company looked for a better alternative to its paper-based preventive maintenance inspection process.
Ten years ago, the company began looking for a way to optimize its maintenance program by replacing a one-size-fits-all paper inspection sheet with a "Dynamic PM" process customizable to any make, model and year of truck or van in the Penske fleet.
"We want the right PM for the right truck at the right time," said Tony Popple, senior director of maintenance for Penske Truck Leasing. "Our paper form, just like anyone else's in the industry, was the same one used for a truck that was three months old as one that was 72 months old."
A dynamic leap
In 2012, Penske Truck Leasing was introduced to Honeywell Safety and Productivity Solutions, a company Penske Logistics was using in its warehousing facilities for a voice-directed and hands-free picking solution capable of a 35 percent increase in productivity and 99.9 percent accuracy.
A year later, Penske Truck Leasing formed a collaborative effort with Honeywell and systems engineering firm Vitech to re-engineer the technology to create a proof of concept for a hands-free and voice-directed solution for its technicians.
The partnership resulted in a unique system that requires each technician to complete a 30-minute session to allow the software to learn speech patterns.
At the start of a shift, the technician logs into the system on a Honeywell Talkman mobile device connected to a headset via Bluetooth. The system downloads the criteria for the specific vehicle the technician is inspecting.
During the inspection, the technician responds to voice prompts with a list of 72 words and numbers that
the system stores locally on the Talkman. The data is uploaded directly to Penske's service software over a secure Wi-Fi network, eliminating paperwork and providing complete documentation and regulatory compliance.
The proof of concept showed so much promise that Penske Truck Leasing continued development with pilot tests to overhaul its paper-based PM process with the new voice-directed inspection system.
In March 2016, the company began a rollout to every facility and technician across its maintenance network. The new system, fully deployed last December, delivered on Penske's two main objectives: a customizable PM procedure and an improvement in inspection quality.
The paperless and voice-directed PM process is tailored to each vehicle inspection based on year, make and model. But the ultimate benefit is its Dynamic PM capability — what Gregg Mangione, Penske Truck Leasing's senior vice president of maintenance, likes to refer to as "Penske's secret sauce."
Through data analytics of its PMs, Penske Truck Leasing can identify a date range for OEM-specific failure points and proactively service those components in the shop to prevent a failure on the road. Conversely, if data showed no defects for non-safety-related inspection bulletins, those were removed from the PM. As a result, Penske Truck Leasing has shaved an average of 20 minutes on each PM. "That doesn't sound like a lot, but with the volumes we do, it is," said Mangione.
As a vehicle ages, Penske Truck Leasing can add inspection points that in the past it wouldn't have because of the return on investment.
"We would have inspected maybe 20,000 tractors when we knew the issue only applied to 5,000 units,"
said Mangione of the old paper-based system. "I would have spent a lot more labor and money inspecting than I would have saved [from potential vehicle downtime]."
Further improvements
The ability to create customized PM inspections based on a vehicle's year, make and model is just the beginning of the granular approach Penske Truck Leasing plans to employ with its new system. It already is working to add new variables to drive further efficiencies, including climate and geography.
"We could have an account running in Minneapolis with the same
load also running in Phoenix," said Popple. "But those PMs on the same customer, equipment and application are different, because in Minneapolis you are going to be wary of corrosion, whereas in Phoenix you'll focus more on heat-related issues."
Vehicle application is another variable that could alter PM inspection procedures. "A tractor hauling mattresses is a lot different than a tractor hauling steel over mountain terrain, so we are going to look at those units differently," said Mangione.
Penske Truck Leasing also is working to outfit its mobile repair trucks with Wi-Fi hotspots to allow field technicians working at customer locations to use the voice-directed system.
"We do quite a bit of work in our customers' yards," said Mangione. "We are looking at the locations where they are doing the most mobile repair work and doing those installations as we speak."
Reaping the rewards
With 1.8 million voice-directed PM inspections under its belt since March 2016, Penske Truck Leasing already has realized major benefits in accuracy and inspection quality for its fleet and its customers' equipment. PM quality, which is defined as a vehicle that does not require a preventable shop visit between inspections, has increased from 82 percent to 89 percent — 60,000 fewer unplanned service visits annually.
"In today's environment with customers demanding uptime for their vehicles, that is critically important," said Mangione. "In the world of maintenance, we all are constrained for labor and shop capacity. It is a win-win for everyone to try and drive that improvement."