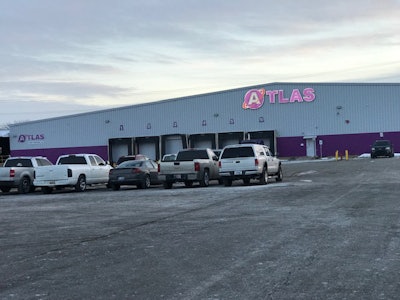 CCJ Innovators profiles carriers and fleets that have found innovative ways to overcome trucking's challenges. If you know a carrier that has displayed innovation, contact CCJ Editor Jeff Crissey at jcrissey@ccjmagazine.com or 800-633-5953.
Five years ago, Taylor, Mich.-based Atlas Trucking had a downtime problem.
Servicing a fleet of 71 trucks on the company's dirt lot, and using shipping containers for workshops and parts storage, was a slow and sloppy process.
"When it rained, [Atlas Director of Safety Marc Scibilia] and his guys were on their backs in a mud puddle fixing lights on a trailer or crawling around under a tractor," says Atlas' Senior Director of Transportation Jeffery Bronson. "It had just gotten to the point that it wasn't professional. It was dangerous."
The private fleet for Eaton Steel Bar Co., soon leased a small shop space about 5 miles from the terminal "and started doing service with a roof over our head on our trucks," Bronson says, adding local owner-operators and nearby fleets frustrated with the local truck service network then began to inquire about the carrier taking on their maintenance needs.
"When we went to outsource what we didn't want to do in-house, it was a 3 or 4 week wait just to get it looked at," Bronson says, "which in my world is totally unacceptable. It was actually getting to the point that I was leasing a couple tractors just to keep the company drivers creating revenue because I pay them whether they run or not."
While Atlas graduated its maintenance department to a roughly 4,000 square-feet, four bay shop, it was offsite and not large enough to take on the level of outside repair work that Bronson believed potentially available. He had his eye on a piece of property closer to the trucking company that would allow the carrier to expand service capacity, and last May the trucking, logistics and now service provider closed on the 11 acre site.
Atlas Fleet Services was born.
"Me and Marc looked at each other and said, 'What are we going to do with this,'" Bronson recalls. "'How do we offset our costs?' The answer is we service the public because there's a big need out there."
The "Garage Mahal"
Atlas Fleet Services opened its 73,000 square-feet, three-shift, 24-hour commercial repair facility in January in the shadows of its namesake truck fleet and its Eaton Steel Bar Co., parent.
Today, 15 technicians not only service the company's growing fleet of trailers and mixed trucks – now up to 130 units from various OEMs – but they also provide around-the-clock for-hire maintenance service for the trucks of their Detroit Metro area competitors, owner-operators throughout the region and handle overflow work from local dealerships.
The facility features 10 service bays, an alignment bay, a multi-purpose bay and has the capacity for 32 tractors. Minor repairs can be handled in Atlas' Rapid Assessment Bay in "a couple of hours," Bronson says.
The larger facility has slashed Atlas Trucking's downtime by upwards of 80 percent, "at least," Scibilia says. "We have so much more control now than we did when we worked out of the containers. Being that we were in a dirt lot, we couldn't do anything that required a sterile environment. We couldn't do transmissions and clutches. We couldn't do brakes."
With an investment of around $4 million, Bronson says Atlas Fleet Services wasn't looking to cut corners and wanted to get into the business "the right way."
"We could just service trucks with Atlas on the door and pay our bills," he says. "From the aspect of get everybody you can get and charge as high as you can charge, we don't have that mentality because we don't have to be like that for any reason. Our goal is to service the customer as best we can, charge a fair wage and hopefully they come back."
The company invested in multiple diagnostic platforms to accommodate a customer base operating everything from heavy-haul trucks to expediter vans, and hand-selected technicians and specialists to handle the work.
"We went out and bought the best equipment we knew to buy," Bronson says. "We're doing everything as first class as we know how to do it. When an owner operator comes in and hands you his keys, he's handing you the keys to his livelihood. If you screw it up, it's going to cost him."
But there's more to providing service than just turning wrenches, and a fleet providing public service has to go all-in in every conceivable way.
"We have a customer lounge that's extremely nice. We have leather furniture, a TV, whatever drinks you want, personal restrooms so the mechanics are not sharing a restroom with a customer," Bronson says. "It's the closest thing to a dealership experience without the cost of a dealership."
Diversification strategy
Bronson has worked to diversify much of Atlas' interests beyond simply hauling for Eaton Steel Bar.
The company's logistics arm has grown from handling primarily steel shipments for its parent company to a full 3PL service working with a variety of shippers and carriers to move freight across the U.S. and Canada with more than 500 customers.
"We have a sustained model here with Atlas Trucking and Atlas Logistics we've been constantly working so that most of our revenue is not all Eaton-based shipments," Bronson says.
Outside customers account for about 35 percent of Atlas Fleet Services' monthly revenue and that grows at rate of about 5 percent each month. Bronson says his goal is for outside service customers, which includes local dealerships, to eventually reach 70 percent.
Atlas' around-the-clock capability has lead local truck dealers to hand over much of their leasing and rental equipment maintenance, "because that allows them to extend their service without putting up any capital on their end," Scibilia says.
For the first two years, Bronson expects Atlas Fleet Services to account for upwards of 25 percent of the company's overall revenue and has a goal of growing it to more than a third.
Balancing customer service and competition
Atlas Fleet Services openly solicits new maintenance business from its competitors, which Scibilia says has caused some "strange looks" along the way, but he says there's enough freight to move for all parties to be successful, adding if he can convince a would-be customer to visit the shop he's certain Atlas can earn their business.
"We're trying to develop different relationships than I think anybody else in the industry. We're all in the same game" Scibilia says. "There's enough of it to go around. In fact, there's more than enough to go around."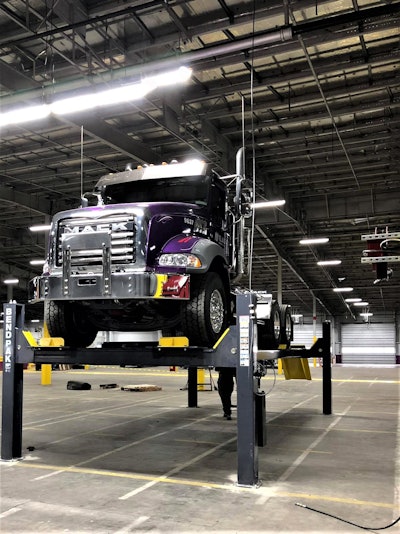 Bronson says the fleet services business doesn't weight Atlas Trucking with any priority over its public customers. In fact, they have gone to great lengths to ensure that customers wouldn't feel like there's any risk in their equipment being shuffled to the end of the line.
"We've been pretty proactive with our maintenance on the Atlas side, and we do keep a couple spares on-hand so owner-operators and the outside customers can take priority," Scibilia says. "If I can pull a guy off an Atlas piece of equipment that's not in dire need to put them on a customer piece of equipment I will, because I know that I've got spare Atlas equipment to utilize if need be."
"We try to push the Atlas equipment out of the way for the direct customer needs," Bronson adds.
The goal for everyone, Bronson says, is always 0-percent downtime, adding his company has cultivated a relationship with at least one local customer that allows them to email his service department when a truck has an issue on its route.
Atlas technicians on the second shift will pick up the tractor when they arrive for work and drive it to the shop for the second and third shift to address. In many cases, the repaired unit is delivered back to the lot and in service by the next morning.
"When this works out, they can literally go from whatever downtime they had using outside vendors to zero downtime," Bronson says.