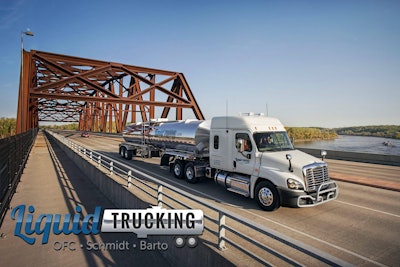 CCJ Innovators profiles carriers and fleets that have found innovative ways to overcome trucking's challenges. If you know a carrier that has displayed innovation, contact CCJ Editor Jason Cannon at jasoncannon@randallreilly.com or 800-633-5953.
Every time a trucking company loses a tenured driver, the institutional knowledge the driver gained from working for the company walks out the door.
As a tanker and hazmat carrier, drivers at Liquid Trucking have many safety and customer service procedures to learn to avoid accidents and spills at the thousands of locations they visit. Getting accurate information to drivers in a timely manner — like where to turn, what to avoid, who to ask for and what numbers to call at each customer site — had always been a challenge.
After looking at different technology products to address the need, in 2015 the owners of Liquid Trucking decided to invest in developing an app that would allow drivers to share location intelligence and access other digital tools they needed to do their jobs.
Click here to find out more and register for our virtual CCJ Symposium, May 27-28, where you'll hear from experts on:
COVID-19: The Insider Take on Transportation Disruption
The Essential Guide to Outperforming a Down Market
Disaster recovery: Lessons learned in the bounce back from near-ruin
On the Front Lines: How to Keep Drivers –and Keep Them Safe – in the Age of COVID-19
Breaches & Ransom! Why Hackers Think Fleets Are Easy Targets – especially during a pandemic
The app, DeliveRecon, was released later that year and gave drivers the ability to share their knowledge by using editable fields to update location information, such as addresses, phone numbers and instructions by adding text, photos, videos and audio clips.
The uploads are approved by a safety manager and enter DeliveRecon's database in the cloud. The app also has two-way integration with TMWSuite, the transportation management system Liquid Trucking uses from Trimble, to automatically export its customer locations to DeliveRecon and update the approved edits from drivers to location fields in TMWSuite.
With DeliveRecon, Liquid Trucking is able to capture and redistribute all of the information that previously walked out the door. When dispatched on a route, to see location information they simply tap a "Near Me" function to instantly view nearby customers, tank washes and site-specific instructions.
"We're letting the drivers essentially train one another," said Jason Eisenmann, human resources director. "Our newer drivers are able to hit the ground running."
DeliveRecon also has workflow tools for drivers to capture and index proof-of-delivery documents and file incident reports.
In January 2016, Liquid Trucking spun off a company, Epic Ideas, that developed a commercial enterprise version of DeliveRecon by partnering with Volano Solutions, an Omaha-based software development firm. Epic Ideas is offering DeliveRecon to the industry as a mobile platform that combines location-based mobile customer relationship management (CRM), automated workflow and connectivity features through a software-as-a-service.
A fluid business model
Liquid Trucking was born in 1994 when Roger Schmidt and Mike Beins started a new venture called OFC/Schmidt Liquid Services. Schmidt previously had founded a dry-van carrier in 1989 that by 1994 had grown to 10 trucks.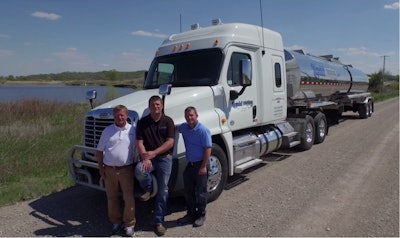 Beins had transportation and logistics experience from a global agriculture and food manufacturer, and Schmidt had expertise in managing equipment. Together they grew the tank line business from the ground up.
A pivotal moment in the business came in the early 2000s during a mad cow disease outbreak in Europe. The disease created a scare in the United States and shippers required carriers to washout trailers before they would load animal feed.
This event caused Schmidt to research trailer wash facilities by driving to locations nationwide and then starting construction on a state-of-the-art wash bay south of Omaha near the Missouri River in Plattsmouth, Neb.
The wash facility has a steam boiler, high-speed spinner and other tools and equipment. It is Kosher certified and has washouts for all food-grade and feed-grade commodities, chemicals and hazardous materials. OFC/Schmidt Liquid Services also built an onsite wastewater treatment plant.
With the state-of-the-art wash bays and water treatment plant, the company is able to haul any type of bulk liquid at any time, from food and feed-grade products to hazardous materials and chemicals, with a fleet of 180 tractors and 310 trailers.
Its fluid business model has quickly adapted to the economic disruption caused by the coronavirus pandemic. As freight volumes for fuel and ethanol commodities have declined, for instance, management shifted capacity to food-grade products and chemicals. Alcohol has been in especially high demand to manufacture hand sanitizer.
"The demand for the kind of freight we haul is not going to fall off much," said Josh Schmidt, general manager.
Rewarding drivers
In 2009, the Federal Motor Carrier Safety Administration was targeting hazmat carriers for enforcement prior to the agency rolling out the Compliance, Safety, Administration (CSA) program. As a hazardous materials carrier, Liquid Trucking decided to adopt electronic logs and in 2010 used the technology to improve driver pay and safety by creating an hourly pay system.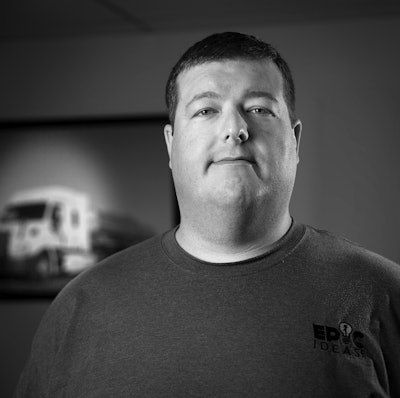 The pay system is performance-based and starts at $23.75 an hour. Drivers who have higher performance in the measurement areas of fuel, revenue and safety can earn up to $3 extra per hour after their first 13 weeks.
"We feel like we are rewarding the right areas," Josh Schmidt said. He credits the pay program for being able to attract and retain a higher caliber of drivers.
During the past five years, the company's driver retention rate has improved nearly 50% as management has been focused on increasing driver satisfaction and engagement.
Liquid Trucking uses an in-depth annual Driver Satisfaction Survey from Stay Metrics to sharpen its focus on areas of opportunity to improve the work experience. One area where survey results have proven useful is by scoring dispatchers on behaviors and skills that correlate with driver retention, Eisenmann said.
To increase driver engagement, Liquid Trucking also rewards them for their reconnaissance efforts. On average, the DeliveRecon app is getting 116 different location updates from drivers every month. The company is using a custom-branded online rewards platform from Stay Metrics and has a reward category for DeliveRecon updates, adding to other reward categories in safety, customer service, training and other measurable areas.
Over the last four years, the company has awarded 1.5 million points to drivers for DeliveRecon updates. Each point is worth half-a-cent, and the $75,000 spent is worthwhile for getting accurate data for all locations, said Josh Schmidt. During the present COVID-19 crisis, management has been getting an influx of changes from drivers such as pictures of posters, banners and handmade signs at customer locations with new delivery instructions, noted Eisenmann.
From 2015 to 2019, Liquid Trucking has seen, on average, a 43 percent drop in accidents and incidents every year, which Eisenmann credits to drivers using DeliveRecon and for the company's ongoing safety training and initiatives.
All hands on deck
Like most carriers, management of Liquid Trucking has added new procedures to protect employees during the COVID-19 crisis. Starting March 14, the company's office and shop doors were locked to restrict access to only employees whose jobs cannot be done at home, such as mechanics, drivers, the tank wash team and a handful of dispatchers.
All other employees work remotely. Additional steps to prevent contagion include setting up exterior handwashing stations and portable toilets, installing plexiglass around office cubicles and enforcing the 6-foot social distancing rule.
So far, disruption from the COVID-19 crisis has been minimal compared to a larger crisis that happened one year ago. In mid-March of 2019, heavy rains in Nebraska and other Midwestern states caused flooding of the Missouri River and its tributaries.
Liquid Trucking had 12 hours to prepare for the imminent flooding of its headquarters. The property remained under water for several days and reached 10 feet deep in some areas.
As president, Roger Schmidt said everyone at Liquid Trucking pitched in and did whatever was necessary, describing the company's management structure as flat when things need to be done quickly.
"We all kind of throw our gear on and do what we've got to do. Everybody gets involved, and it is really transparent to employees and everyone around us," he said.
Just as employees pitched in to help the company emerge from the flood, Josh Schmidt said they have all "been out there working their tail off" to keep the business running during the COVID-19 crisis.
When this economy starts to fire back up, which may not happen until the fourth quarter, "we believe it is going to have a huge bounce back, and we want to be ready when that happens," he said.
Editor's note: Liquid Trucking will be sharing more details about their disaster recovery experience from the flood of March 2019 during the CCJ virtual Spring Symposium on Thursday, May 28. To register for the free event, visit www.ccjsymposium.com