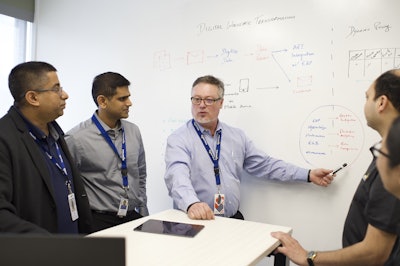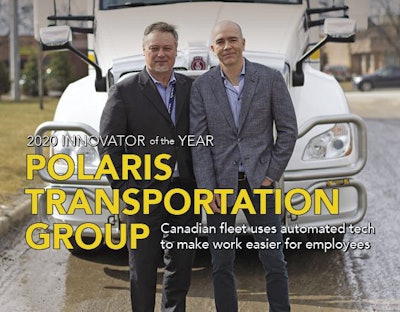 In 2017, Dave Cox began asking Polaris Transportation Group (PTG) employees a profound question to know their career path: "What do you want to do in life?"
He had just become the carrier's new president following the passing of his father Larry Cox, who founded Polaris in 1994. Both were big on investing in technology to be more efficient, scalable and competitive.
"The business situation was ready for change," he says, and he began to establish a new framework for PTG based on five pillars: Technology, Talent, Customer Centricity, Safety and Community.
PTG offers full supply chain solutions — transport, logistics, warehousing, distribution and technology — within a niche of next-day pickup-and-delivery service between the greater Toronto area and select areas in the United States. The company has a fleet of more than 120 tractors and 280 trailers that operates from C-TPAT certified facilities that include two warehouses in Toronto and a location in Ohio that offers truckload and less-than-truckload service.
Cox describes PTG, which transports more than 300,000 orders a year across the border, as an "American company headquartered in Toronto," with many customers, transportation partners and competitors in the United States.
In 2018, he hired Dave Brajkovich to fill a new position as chief technology officer. Brajkovich had been a technology adviser to the company since 2015 with experience in automating business systems in the financial, healthcare, manufacturing and banking industries.
As Brajkovich worked to bring new digital capabilities to PTG, Cox had a vision for employees in all aspects — from the office to the driver's seat. He wanted his people to use their skill sets instead of doing mundane work.
During the last two years, PTG has implemented robotic process automation (RPA), a Blockchain hyperledger for building communities, artificial intelligence and API-based system integrations to unlock human capital to focus on more valuable activities and careers than processing freight transactions.
"People are creative and want to use their talents," Cox says. Now, PTG employees are on track to becoming "Polaris engineers," who use advanced technology to make better operational and planning decisions.
For leading a digital transformation to increase employee satisfaction and deliver business results, Polaris Transportation Group has earned the distinctive honor as the Commercial Carrier Journal 2020 Innovator of the Year.
Click on one of the pages below to discover more details about the Polaris innovations:
About the award
Commercial Carrier Journal's editors recognize innovators throughout the year and select one for special recognition as the CCJ Innovator of the Year. Innovators considered for the current award were those recognized in the magazine in 2019.
Innovation in any aspect of the operation is eligible for recognition. To qualify, the carrier must operate at least 10 power units in Classes 3-8 and maintain a satisfactory safety rating, if rated. Selection of innovators for recognition is at the sole discretion of CCJ's editorial staff.
This year's award was announced and presented at the CCJ Innovators Summit, a networking event for current and prior-year CCJ Innovators held Feb. 5-7 in Key Largo, Fla. Representatives of the innovative trucking operations updated one another on their initiatives.
The CCJ Innovators program is sponsored by Freightliner Trucks, Omnitracs and Shell Lubricants. For more information on the program and links to previously recognized CCJ Innovators or to fill out the online nomination form, go to CCJInnovators.com, or contact Jason Cannon, CCJ editor, at 205-248-1175.