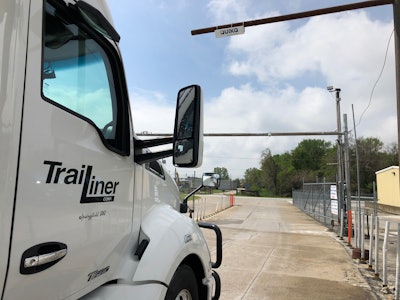 CCJ Innovators profiles carriers and fleets that have found innovative ways to overcome trucking's challenges. If you know a carrier that has displayed innovation, contact CCJ Chief Editor Jason Cannon at jasoncannon@randallreilly.com or 800-633-5953.
Operating errors can be quite costly for motor carriers, like when a driver misreads a trailer number and hooks up to the wrong asset. By the time someone notices the exception, a chunk of fuel, labor and revenue has been wasted and a customer service failure has, or is about to, occur.
As a refrigerated transporter, Trailiner has a lot of coast-to-coast business as well as traffic lanes from California to the Midwest. It frequently relays or splits long-distance loads. Drivers coming from one side of the country drop loaded trailers at its yard in Springfield, Mo., for a different set of drivers to pick up and deliver.
A time-sensitive load of fresh produce that was supposed to go to New Jersey but, due to a hookup error, is on its way to California might take a day or more to rescue and could result in a cargo claim. This type of mistake used to happen every once in a while, but "it doesn't happen anymore," said Amber Edmondson, president and chief executive of Trailiner, which operates 100 power units.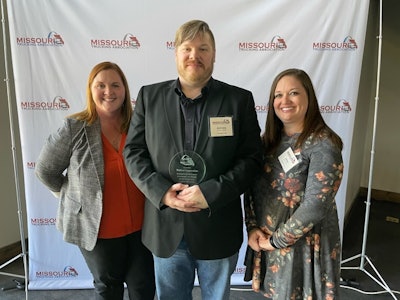 Preventing this and other types of errors, such as miscommunications that contribute to driver turnover, have been major focus points for Edmondson after she purchased the company in December 2018 from its founder, H.E. "Spook" Whitener.
The company's name carried over from a fleet whose operating authority Whitener purchased in the days of the Interstate Commerce Commission. Whitener incorporated Trailiner in 1982. Edmondson is Whitener's granddaughter and has been working at the company since 1999 when she was in college earning a business degree.
As one of the owners, Edmondson said the main goal for 2019 onward has been improving the work experience for drivers to reduce turnover.
"The best thing you can do is keep the ones you have happy," she said.
Trailiner's annual driver turnover rate was 53% at the end of 2018. The company has the advantage of a family work environment, but Edmondson set a new five-year goal to lower turnover to 25% or less. She also recognized that for Trailiner to win the recruiting battle it needed to appeal to a new demographic of people in the industry.
"Certainly, we have a great reputation in the industry and there's always things that you can do better," she said. "You have to look at things a little differently," she added. "I think overall our industry is getting more exciting all the time with the technology that is out there, and that's something we need to focus on to draw new people in."
Preventing dispatch errors
In the months prior to purchasing the company, Edmondson spearheaded the transition to a new transportation management software (TMS). The company selected a cloud-based platform from Ditat, and while getting up to speed with the new system, she spotted an opportunity to digitize a process that would ensure drivers never left the yard with the wrong trailer.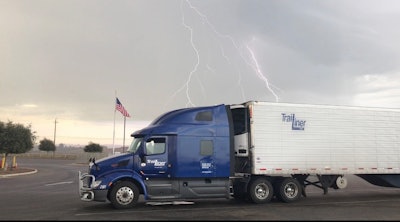 Trailiner had been using a card-less fueling system that has radio frequency identification (RFID) technology that initiates transactions at truck stop fuel terminals. Instead of requiring the presence of a card to facilitate the process, the system lets fleets install RFID tags in each of their vehicles and refrigerated trailers.
The tags activate fuel terminals at approved locations as the vehicles pull alongside them. Trailiner was also using a separate RFID system for the entry and exit gates at its Springfield headquarters. The gates opened for employees' personal vehicles and for tractors when the gate reader identified RFID tags.
With a new TMS system and with RFID tags on its tractors and trailers, Edmondson said "we had to kind of re-imagine" a new type of gate access system.
Trailiner purchased gate readers from its card-less fuel vendor to use at its yard. The devices would read RFID tags on its truck and trailers to identify assets that are entering and leaving its yard. Edmondson had the company's TMS provider, Ditat, develop custom programming to link the tractor-trailer dispatch assignment to the RFID system and the access controls of the gate system.
Office and shop employees have RFID tags on personal vehicles to enter and exit the gate. They can also enter a code. The access controls work differently for drivers. When a driver arrives at the exit gate, their truck and trailer have to match exactly what is in the TMS system for the exit gate to open.
[Related: Montgomery Transport uses image-based load securement app to improve driver training]
Drivers have to wait about 10 to 15 seconds for the integrated system to verify the match. If the gate doesn't open, drivers call the office to correct the mistake.
The integrated gate system also prevents theft of equipment and valuable freight at Trailiner's yard. The company hauls consumer healthcare items like baby formula and pharmaceuticals. "If somebody were to make their way onto our property, they certainly wouldn't be able to leave with one of our trailers," Edmondson said.
Creating consistency
For Trailiner to achieve its five-year plan for driver retention, Edmondson wanted to modernize the fleet's technology to simplify the work for drivers and provide more consistency in all aspects of the job.
In October 2019, Trailiner started to use an online learning management system (LMS) from Luma to better train and communicate with drivers as well as office and shop employees, Edmondson said.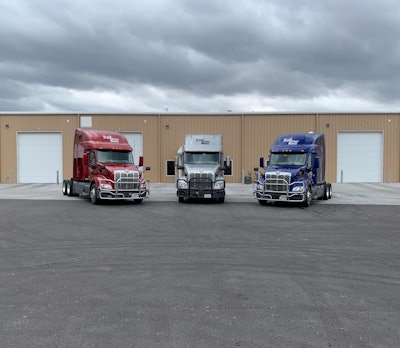 Using the platform's customizable, mixed-media training content has increased driver engagement, "so that they are actually retaining the information that they're getting fed," Edmondson said. The consistency of the orientation training also helps set the right expectations with drivers "about what the job really is," she continues. "And as long as we're all on the same page with that, there's a lot fewer surprises down the line."
Drivers are able to complete orientation training at home with a tablet, smartphone or computer before they come to the office. When they arrive, Trailiner introduces them to each department, shows them around the property, and covers remaining items. Two or three hours later, drivers are leaving the office with their first load, said Anthony Meloy, orientation and onboarding manager.
Trailiner has implemented other technologies to improve the driver experience. A driver app from its TMS provider is installed on the company's in-cab mobile platform to streamline driver workflow and improve operations, maintenance and safety processes.
Trailiner also uses a driver feedback tool from WorkHound that "helps keep our foot on the pedal" to make continuous improvements and respond to driver needs, she said.
Directing communications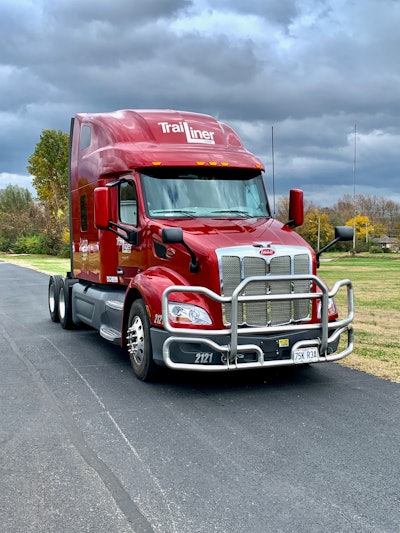 To help improve the consistency and quality of driver communications, Trailiner holds live online weekly meetings with drivers and office staff. The meetings take place on Wednesdays at 9 a.m. and 2 p.m. Drivers and staff members participate by using a video conferencing tool in the Luma platform.
[Related: Fleets go digital to hire, train drivers remotely]
Meloy said the meetings focus primarily on safety items, such as fleet and industry trends. The meeting also covers news and discussions about new technology or changes the company is implementing, and how these changes will benefit drivers, such as saving them time.
Between 25 and 35% of drivers attend the live meetings each week, Meloy said.
As part of the effort to improve driver communications, Meloy said he and other managers are focused on using information captured from various technology the company uses to give drivers positive reinforcement.
Trailiner uses gamification tools that show drivers where they stand for completing assigned training and for ongoing performance and safety results.
"The newer generation [of drivers] eats that up," he said.
The company has a "Heads Up Driver of the Month" award for employees who take evasive action to prevent accidents. The company reviews critical event footage from its camera system to determine the winner.
Trailiner also uses a scorecard provided by its in-cab mobility system that gives drivers points and rankings for behaviors such as harsh braking and engine idling. Management is currently investigating other possibilities to expand the use of driver scorecards by combining data from multiple systems.
"For the longest time, trucking was only able to see the bad things," Meloy said. "We are trying to find something to see the good things."
These and other efforts are moving the needle. Last year, the fleet's driver turnover rate fell to 39%. The unexpected turn of events of the COVID-19 pandemic did not shift the focus away from the goal to reach 25% turnover or less by 2023, Edmondson said.
"Everybody in the whole company is responsible for driver retention," she said.
The CCJ Innovators program is brought to you by Comdata, Omnitracs and EOX Vantage.