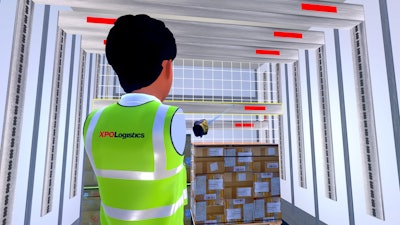 CCJ Innovators profiles carriers and fleets that have found innovative ways to overcome trucking's challenges. If you know a carrier that has displayed innovation, contact CCJ Editor Jason Cannon at jasoncannon@randallreilly.com or 800-633-5953.
XPO Logistics (CCJ Top 250, No. 6) kicked off the new year with a successful six-week-long pilot of its virtual reality (VR) training for less-than-truckload (LTL) employees in North America. The solution integrates XPO software with Oculus for Business headsets, and the company plans to scale its new-age training solution across its LTL operations in the months ahead.
The company's use of virtual reality for LTL training follows its deployment of augmented reality at key logistics sites, where headsets guide employees during inventory picking. In LTL, VR is used to train XPO cross-dock workers on the optimal method of loading freight for delivery.
"Our North American LTL cross-dock operations load about 25,000 trailers daily," said Mario Harik, XPO Logistics' chief information officer. "VR is an efficient way to ensure great outcomes for our customers and the XPO employees who serve them."
XPO's LTL training creates a virtual cross-dock environment to demonstrate effective loading procedures that protect freight from damage and ensure operator safety – coursework that previously bounced between a classroom and loading dock.
"The typical training would have been a classroom setting: How to load the freight, how to secure it, how to properly strap it and do all these kinds of things, and then you go on the dock where you have staged trailers where you can do the work," Harik said. "What we did is we carried over this whole experience in virtual reality. You see a dock. You see a loaded trailer. You can look around and move around as if you're on a forklift and you effectively load pallets in a virtual trailer."
Harik noted as the users load the virtual trailer, they have to follow the procedures spelled out in their safety training, like proper strapping and use of dunnage.
Through the training curriculum, employees learn how to make the best use of their time and the company's fleet while taking safety into account, and Harik said XPO has seen VR knowledge retention exceed that of "the old-fashioned way."
"People retain virtual reality training more than they actually do in a real-world setting because in a real-world setting you're going to be looking around, you're interacting with people," he said, "versus when you are in a VR setting we are focusing on the important areas – the simple things – like making sure you're strapping the pallets because that's going to secure the freight. VR allows the user to focus on the important settings versus facing distractions."
Physical training also requires a lot of space and re-staging for each trainee, which can be time consuming and limit the number of people that can go through training at any given time.
"When using the VR experience, we can repeat the process as many times as needed," Harik said, adding it also eliminates the need to continuously reset and unload training trailers.
The virtual experience is cast on an external display, allowing a trainer to see what the user is seeing and correct any improper procedures. If the trainee doesn't follow proper procedures, the system and trainer will guide the user to the proper procedure or solution.
"If you don't follow the proper procedures of how and when you go into a trailer, or when you go out of a trailer, the system will automatically correct that and let you know that you're deviating from the proper way," Harik said.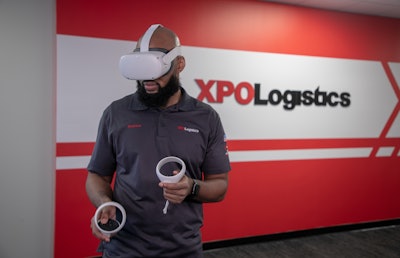 The platform integrates XPO software with Unity 3D programming. The virtual environment was built over a period of nine months in-house alongside dock operators in order to replicate the real-world environment as accurately as possible.
The training itself isn't pass/fail. A trainer is ultimately responsible for determining if the trainee is ready to handle live customer freight, but Harik noted XPO is in the process of developing a scoring system based on the efficiency and safety of each trainee, which will identify top learners. He hopes scoring and ranking users could ignite a competitive and cooperative fire within dock operators.
"It's about gamifying the experience ... but it's more about the collaboration on the dock and people coaching each other, as well," he said. "That's the intent of the scoring so far: just figuring out who is learning well and how can we replicate how well they're learning."
With the initial VR pilot complete, XPO has identified potentially significant benefits for its LTL business, including higher productivity, lower waste and fewer errors in cross-dock and driver operations; enhanced safety and efficiency, due to the elimination of training-related travel and fewer in-person interactions overall; better knowledge retention through a repeatable 3D experience that enables the employee to master key tasks through repetition; and shorter ramp-up times for new employees to reach target productivity levels.
Harik said VR training has made the cross-dock training quicker, but noted the company has been conservative on how long people train versus having them handle customer freight.
"We want to make sure our customers' freight is always well-handled, so we haven't shaved off time of the training with the VR solution," he said, adding the company was satisfied with taking its win from higher retention and outcomes for now.
XPO's first venture into VR training came through Logistics 360, taking VR users into the company's warehouse operations. Harik said the company was able to build an experience that allows the user to go to any warehouse in the world, but it was used mostly at customer events to demonstrate what a warehouse might look like. It has since added a VR recruiting component for prospective employees and XPO expects to expand its use of virtual reality into other areas of its supply chain business as Harik sees its potential as near limitless.
"I'm bullish on it," Harik said of training in virtual environments. "I think it's going to be the way of training of the future where you get to visualize the whole experience end-to-end. We believe there will be a long tail of things we can do in terms of training using VR."