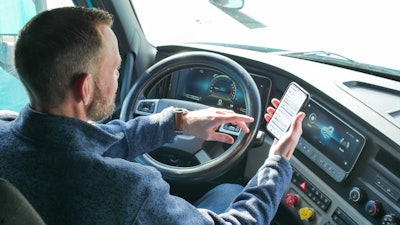 GP Transco
CCJ Innovators profiles carriers and fleets that have found innovative ways to overcome trucking's challenges. If you know a carrier that has displayed innovation, contact CCJ Chief Editor Jason Cannon at jasoncannon@randallreilly.com or 800-633-5953.
A robot remotely controlled by an employee who could not attend a GP Transco (CCJ Top 250, No. 163) meeting makes its way into the board room in Illinois to take a look and say hello.
It's this kind of unique embrace of technology that strives to put people at the center that led GP Transco to emerge early on with their own Transportation Management System (TMS).
OpenRoad TMS first hit the road five years ago and has since yielded an impressive ROI of roughly 480% for the dry van carrier while improving driver retention and building trust among customers.
"Over the past five years, we have spent $2,300,000 on the development and maintenance of the system, and the system brought $11,200,000 to the company," said Sergey Bort, GP Transco's vice president of marketing and strategic business development.
"To put this into further context, we save roughly 1.7% per every dollar of revenue due to OpenRoad TMS, at the current level of development," Bort continued.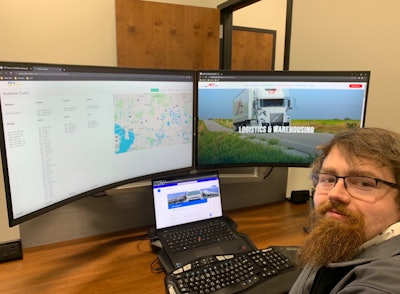 OpenRoad initially rolled out without much fanfare according to GP Transco CEO Dominic Zastarskis.
"3PLs were there to fill the market with technology," Zastarskis said, "but I think we've proven that trucking companies can do that as well and they can be really successful while doing that."
One of OpenRoad's more popular achievements is its live shipment tracking which often gives GP Transco a competitive advantage.
"Right now, even Amazon doesn't have live shipment tracking," Zastarskis said.
The omniscient feature keeps all interested parties updated on truck location without having to regularly pick up the phone. That's a nice touch for all concerned, especially drivers.
"[OpenRoad] stops brokers and customers from bugging GP and the driver," said Cody Von Stein, logistics coordinator and carrier compliance manager at Westside Transport in Cedar Rapids, Iowa, which frequently partners with GP Transco.
"The amount of updates that a driver receives is absurd," Von Stein continued. "They don't need to get bugged as much as they do. And every phone call is a distraction for that driver. He's driving. Yes, hands-free headsets are a wonder of the world, but it's still a distraction if he can't understand what you're saying or if there's some phone connection issues."
Focusing on drivers
For OTR drivers like Sean Andel, who's been driving for GP Transco the past four years, every minute and every mile counts. To that end, Andel looks to his OpenRoad app as a more convenient and faster way to do business on the road.
"It's a one stop shop, whereas I worked for a couple other companies and we had to go to another app or another email to get our settlements, our load information and our truck information," said Andel, who's been driving trucks for 17 years.
"I mean, this thing tells you everything," Andel continued. "It tells you all your truck information, your VIN number, all your permits (different states require different permits), it shows you your pay weekly, monthly, yearly and total since you've been here. You can track your loads and get all your load information through this app."
Making drivers' lives easier and safer is a big motivator for GP Transco.
"We're as paperless as possible in terms of the driver being able to scan bills of lading, receipts and other things on their OpenRoad mobile app," Bort said. "That's a huge time saver for the driver, and the way I see it, the more a driver can concentrate on driving and the less they have to worry about side tasks, the safer and more productive they are overall."
OpenRoad has also helped GP Transco to more closely monitor driver satisfaction, which helps with retention.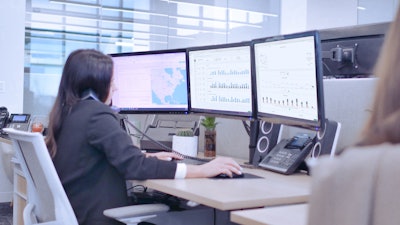 "We had a situation where we had a spike in turnover and we were not getting accurate information during the exit interviews, so we quickly developed in the driver app a feature where the driver looks at the statement and submits driver satisfaction feedback that we gather and then we can make decisions accordingly," Zastarskis explained.
Drivers can quickly leave feedback or provide more details if they wish. Russ Grudnistyjd, GP Transco's product manager in charge of OpenRoad development, said after drivers open their settlement statement they are asked to rate their week by selecting smiley face icons. The more faces selected, the better their week.
"The driver clicks on it and right away we get the feedback," Grudnistyjd said. "If the driver wants to provide more information, we'll ask some questions, but we don't ask them to fill out a complicated form or anything like that."
OpenRoad has led to an annual turnover reduction of 10% to 15%, which saves the company roughly $180,000 per year, Bort said. Workflow automation through OpenRoad has also led to a 10% reduction in office staff, which has added to up an annual savings of $650,000.
"Through further automation, we should be able to add trucks to our fleet without adding employees at the current rate," Bort said.
GP Transco's fleet currently sits at 530 trucks and 750 trailers.
Customers embracing transparency & trust
Trust can be challenging to come by at times in the trucking industry. That's where OpenRoad can help bridge the gap by providing critical information to customers, shippers and carriers alike.
While live shipment tracking typically ranks tops, Bort said customers also favor OpenRoad's geofence-driven status updates, HOS information sharing and shipment delay prediction.
When asked if OpenRoad helps lead to greater trust, Andrew Melendez, senior account executive at Echo Global Logistics, a Chicago-based 3PL and GP Transco shipping partner, didn't hesitate to answer.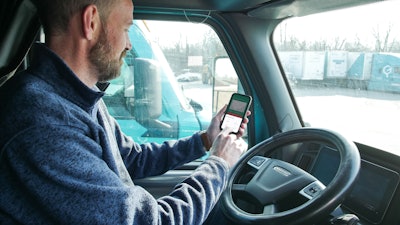 "Yes, absolutely," Melendez said. "Everything in this business has to get documented. If it doesn't, you're kind of in trouble because you can say, 'Oh, this guy's been in detention. How come you didn't email me so I can push the shipper or the consignee?'"
Having access to OpenRoad data has helped Melendez to allay shipping concerns and maintain customer confidence.
"I try to document everything possible because I know how everyone is and how they work and where," Melendez continued. "They could be at a Walmart and they're waiting in line and Walmart could say, 'Hey, he didn't check in at this time.' But he really did. Look at this. He was just in line because you were so busy he couldn't check in."
With data analysis and application getting a bigger seat at the table, Grudnistyjd said GP Transco will be hiring more software engineers to join their current staff of 12.
"Our plan is to double the team in the next 12 months," Grudnistyjd said. "That machine learning aspect will require some resources because we have some ideas and everything is on a piece of paper, but we need to make it real along with testing and everything else. I mean, right now this animal is getting much more complex."
The CCJ Innovators program is brought to you by Comdata, Freightliner Trucks, Omnitracs and Valvoline.