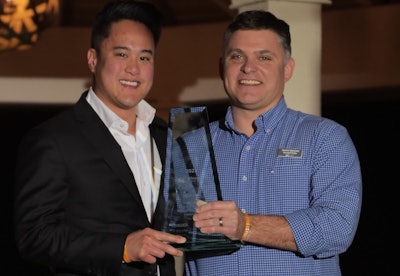 Commercial Carrier Journal has named JLE Industries its 2022 CCJ Innovator of the Year for its deployment of data science that can identify applicants with the highest probability of being successful within the company and its ability to triage driver frustrations early, which allows management to intervene before it leads to driver turnover.
The Pittsburgh-based flatbed carrier is a two-time Innovator. CCJ first recognized JLE Industries in 2018 for developing DriverOS, which has since evolved into a full enterprise resource planning (ERP) system for making decisions and streamlining workflows in load planning, dispatch, safety, fleet maintenance and other areas.
Early last year, JLE made a significant update to DriverOS by adding a mobile app loaded with features to decentralize load planning. The platform gives company drivers and owner-operators their best individual load options by accounting for preferences, goals for earnings, home time, work habits and more.
Getting the right loads to the right drivers is important, but the company puts similar emphasis on ensuring it's hiring the right people.
Tim Tran, vice president of systems and technology, said the carrier generates 95% of its driver applicant leads in house, "so we can constantly test creative ways to optimize our content and control the messaging," he said. Leads are cycled through JLE's direct personal contact system, where a talent onboarding specialist will reach out within 10 minutes of a lead submission, and its automated technology‐driven system follows up via email, text and phone.
Each candidate is scored in real‐time based on data from their application, as well as modeling against current personality fitness tests (PFT) in the fleet.
"Our proprietary recruitment model ranks candidates into quartiles based on the probability of exceeding a minimum retention probability with JLE," Tran added. "Each candidate is then given a TalentClick behavior and safety personality assessment, looking at the motivational fit and coachability of the PFT."
Once onboarded, JLE monitors calls between the carrier and drivers for signs of potential frustration – what the fleet calls proactive issue resolution – and the tech stack scores conversations against a given driver's average. For example, Tran said a driver may average saying "and" seven times in a normal conversation. The system will flag an instance of them grossly exceeding that number as a case where they potentially have an issue with dispatch or the JLE team, and management can reach out to the driver to check in.
Another data element that DriverOS offers is a survey drivers receive after they complete loads to help match future loads. The app asks drivers to rate their satisfaction with the shipper and receiver and provide other feedback.
Being a tech-forward fleet has helped the carrier drive down its average driver age, which currently sits at around 45 years old, Tran said – about five years younger than the industry average.
"This younger generation just loves this technology," Tran added.
JLE was selected by CCJ editors as the 2022 CCJ Innovator of the Year at the 18th annual CCJ Innovators Summit in Key Largo, Florida. The event gathers current and previous CCJ Innovators for three days of networking, presentations and idea sharing among some of the trucking industry's most forward-thinking fleets and leading executives. During the year, CCJ, a national leading business magazine for truck fleet executives, highlights one fleet each month as part of its CCJ Innovators program.
JLE Industries was in a class of other industry-leading fleets recognized by CCJ editors throughout 2021 including Werner, Titan Freight Systems, XPO Logistics, Montgomery Transport. Trailiner, Regional Express Carriers, UniGroup, Prime, DapeCon, Long Haul Trucking and NFI Industries.
The CCJ Innovators program is sponsored by Comdata, Freightliner Trucks, Solera | Omnitracs and Valvoline.