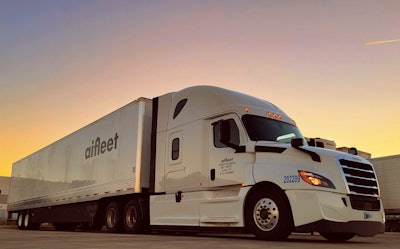 CCJ Innovators profiles carriers and fleets that have found innovative ways to overcome trucking's challenges. If you know a carrier that has displayed innovation, contact CCJ Chief Editor Jason Cannon at [email protected] or 800-633-5953.
aifleet bills itself as "a tech-first carrier, rebuilding trucking from the ground up" with advanced technologies and data science routing.
Based in Austin, Texas, the 40-truck dry van truckload carrier launched last year taking aim at inefficiencies in the trucking sector, where driver utilization is below 50% and driver turnover is more than 90%.
aifleet founder and CEO Marc El Khoury noted the driver shortage is a symptom of the low utilization across the industry, adding his company is building "a new kind of trucking company – one where drivers are proud to work and where technology reduces inefficiencies and powers innovation."
Technology may be the motor carrier's great enabler, but El Khoury holds his company culture – one where the driver is near the top – in the highest regard.
aifleet's company driver force are guaranteed a base minimum pay and offered incentives based on mileage "and everyone has health benefits," El Khoury said. "Everyone is guaranteed home time every single week." El Khoury said 100% of his driver force makes more than the guaranteed minimum salary of $67,600.
With benefits that include a per diem and paid vacation days, the company also lets drivers choose when and where they spend their 48-hour home-time every week.
"We actually like to tell them, 'If there's anything specific you want to visit next weekend, you can either go home or you can just tell us where you want to be, and we'll get you there.' That is a big part of our business model," he said. "We know where the freight is across the country. Our technology allows us to pretty much be wherever we want at any period in time. So that's a benefit that we offer our drivers. You can either be home or you can be wherever you want to visit next week."
Machine learning muscle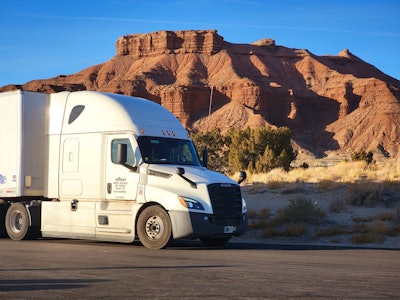 The muscle behind aifleet is a proprietary algorithm that's at the center of all the carrier's operations seeking to eliminate "as much dwell that we can on a driver's journey end-to-end, from home-to-home," El Khoury said. "We need technology and a business model that is obsessed with driver happiness. And so, right now, our technology is very driver-centric. It adjusts based on driver preferences as well. You know, not all drivers want to haul the same kind of freight. Not all drivers want to go to the same cities that other drivers want. So this is what our technology does. It's very focused on our drivers and we'll continue to learn as we hopefully continue developing it and continue investing it."
A recent Massachusetts Institute of Technology (MIT) Freight Lab study estimated that drivers lose upwards of 40% of their drive time tied up in delays, but El Khoury said that's not the case at aifleet.
"Utilization is the source of all the inefficiency in trucking and that is what we are solving. If every truck driver in America drove anywhere near an aifleet driver, you would have a massive driver surplus out there," he said, adding that the carrier's technology stack helps drive a revenue per truck per week upwards of $8,000. "Getting a high revenue per truck is really about booking the right load that goes to the right place at the right time. That is what our technology does. It allows us to learn over time. What is the right rate that we should pick? Getting a load from Customer A, even if it's the same exact lane, doesn't mean you're going to get the same exact rate with Customer B. Different customers – different lanes – have different pricing in the market. It's not a very efficient market from that perspective. So, part of our technology is to learn who can give us the specific rate in a specific lane."
The company's technology automates order flow and load planning, and AI technology pick loads based on what's best for the given driver and will generate the most revenue for the truck. The probability of a reload at a specific destination is also an important factor in load selection, El Khoury said.
"When we are arriving, what load will we have to haul next? It's really about making sure we are efficient and eliminating wait times for the driver. We never take a load unless we have a guaranteed reload," he said. "When we plan a driver, we plan them home-to-home – or Monday through Friday – depending on their specific requirements. While we may not book the entire journey on day one, we always know what we're going to do the following day. That is a big part of our business model."
El Khoury said too many fleets focus almost entirely on empty miles and deadhead, "and that, for us, that is just only one component of the efficiency in the system that allows us to make sure that drivers are not sitting," he said. "Our drivers call themselves runners. The other day, we put something on Facebook saying, 'Hey, look. Check out this article about aifleet.' And one of our first drivers said that 'You have to tell folks that you are running at aifleet. We don't sit. We drive 500 miles every single day.' We're proud of that. We are a company for some of the best drivers out there because our technology enables us to get that level of efficiency."
Improving rates (freight and turnover)
Driver turnover at aifleet is so low, El Khoury said he had to come up with a way to accurately describe it.
"We stopped liking to say zero because we know at some point it will happen. So we like to say under 10% because we have never lost a driver to another fleet," he said. "We know it will happen so we don't want to say zero, but we have never lost a driver to a different fleet."
As much as aifleet's algorithm leans on driver preferences, it's freight rates that pay the bills. El Khoury said the carrier's platform is always watching the spot market for opportunities to capture better rates, regardless of what the posted rate may be.
"Even though in the spot market you can see average rates, that does not mean that every customer will give us those rates. Some will give us higher rates. Some will give us lower rates," he said. "Our technology is just learning over time. So we're able to learn maybe a digital broker is a little bit more generous than a traditional broker sometimes on which lane. That is what we are continuously learning so that we can optimize our routes a little better."
El Khoury said drivers are partners in load planning from the day they join the company. "We have very long conversations with them and those conversations continue throughout their tenure at aifleet," he said. "Someone who tells us at the beginning, 'Just please let me avoid the Northeast' may change their mind at some point and say, 'Actually, I want to visit my granddaughter in Portland, Maine.' So those kind of conversations are always there.
"Now we are a trucking company. We are a business. We don't offer folks 100% flexibility, and they don't want 100% flexibility," El Khoury added. "Many drivers tell us when we are recruiting, 'I'm looking for a company that just works in Texas and Louisiana, back-and-forth.' We are very honest. We say that we are not the right trucking company for you because we are in the business of making you as much money as possible and we can't do that if we are very constrained geographically for the majority of our other drivers. They're our partners and those are kind of the conversations we have with them on a week-to-week basis, if not a day-to-day basis, that then feed directly into our technology."
The technology and its algorithm plays an important role in decision-making but El Khoury said its not always the determining factor.
"If we keep assigning loads on the driver based on an algorithm without putting in driver preferences into the algorithm, that is not the recipe for having a happy team," he said, adding the company also solicits feedback from its drivers on particular customers. "We've actually learned a lot from our drivers in terms of where to go, where to avoid, and our algorithm today reprioritizes some facilities if we are constantly being detained there. [Drivers] understand what we're doing. They may not go into the detail of our algorithm on a day-to-day basis, but they know that we utilize the technology to help them maximize their success, help them maximize their revenue, and they are a partner in this."
The algorithm tries to predict the probability of getting a given rate from a specific broker based on that broker's history, and looks at similar rates offered by other brokers in similar lanes.
"We don't select the lane, we select a specific load. Our algorithm doesn't tell us, 'Hey, just go to San Antonio.' It tells us this C.H. Robinson load takes you to San Antonio – and this is where obviously there's some analysis – if the posted rate is $2,000 and the DAT rate is $3,000, is there any flexibility? And so we we always have to learn what is the best rate on that load?
"But when you look at DAT you think, 'Alright, there's only one price between the two points,' but then when you actually look at individual loads you find a very wide variety of posted prices," he added. "As a carrier, should we take the posted rate? Should we negotiate a little higher? Should we negotiate much higher? That is part of what our technology teaches us to do over time."
The tech stack, El Khoury said, helps inform aifleet when to push back on rate, when to take the load outright, and when to pass entirely.
"Very few folks just tell you, 'My posted rate, I cannot go a penny above," he said.
If the rate is fair, El Khoury said the carrier will quickly book the load. "We're also in the business of making sure that our customers are making money. We're not there to squeeze rate out of everybody else. That is actually the least important part of our business model," he said. "We don't want to throw away margin, but where we get the most margin is by keeping our truck rolling. That, for us, is more important than calling Uber Freight and saying, 'I really want $100 more on this load.' That that is not as important than just waiting two days to get the rate that you want."
aifleet in December closed a $21 million Series A funding round, the proceeds of which will be used to scale the carrier's operation, expand driver benefits and further the company's sustainability efforts, El Khoury said.
The CCJ Innovators program is brought to you by Comdata, Freightliner Trucks, Omnitracs and Valvoline.