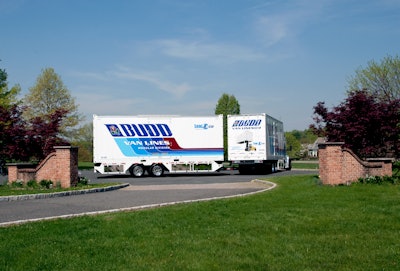 CCJ Innovators profiles carriers and fleets that have found innovative ways to overcome trucking's challenges. If you know a carrier that has displayed innovation, contact CCJ Chief Editor Jason Cannon at jasoncannon@randallreilly.com or 800-633-5953.
Household goods moving is a labor intensive, high-touch operation, and if the shipper isn't moving directly and immediately into their new forever home, carefully unloading their entire life into a warehouse – and storing it for weeks or months at a time before re-loading it into a truck for final transport – is a delicate logistical dance.
Dave Budd founded Budd Van Lines in 1975 with five trucks and after nearly 40 years in the business kicked off a plan that would allow his company to move equal tonnage but faster, easier and safer.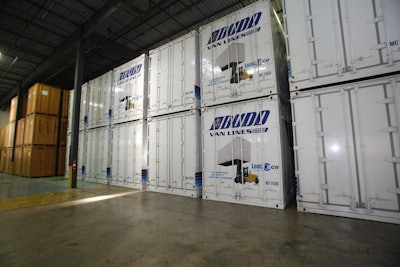 Budd found a partner in Kentucky Trailer willing to roll the dice in what at the time was a wild idea: essentially an articulated intermodal container-like system the company called Load It Once.
The rig consists of two 28-foot pup-containers, each capable of holding upwards of 15,000 pounds, with one affixed to a straight truck and another on a trailer behind. The entire configuration is modeled after EPA guidelines for fuel efficiency and aerodynamics.
Of the fleet's 150 trucks, 34 are currently Load It Once equipped, and two more are planned by year-end (28 full tractor trailers and eight regional straight trucks).
"The real patent is in the fifth wheel, where the fifth wheel is behind the straight box as opposed to active tractor," said Budd Van Lines Senior Vice President Gary Grund. "It gets into areas that you can never get into with a tractor trailer, like a cul-de-sac, for example. The end box follows it around the cul-de-sac."
Grund said the rear box trailer can be disengaged from the truck, allowing Budd to more efficiently operate shuttle services in locations when getting the full rig to the home is impossible.
"Let's say we go into a neighborhood where we can't get a tractor trailer or we can't even get this full truck. Our drivers are typically renting U-Haul, and they may have to transfer the goods from the house to the trailer parked a hundred yards away or up to a mile away depending where they are," he said. "With [Load It Once], we can disengage the back trailer and take the front part of the truck right up to the residence. What that's doing for our clients is we're saving them money. Let's say a shuttle for that move costs something like $1,700. We don't have to charge $1,700 because we don't have to go out and transfer the goods for the front part of the truck."
It's also a more neighbor-friendly configuration for densely packed suburban areas.
"A traditional tractor trailer could block two or three driveways. I've watched the drivers disengage the back part – they've backed it even into the driveway sometimes – and they just have the front part of the truck in front of the house so we're not blocking any other driveways."
Loading the trailer – or unloading the house – is still done the old-fashioned way with a strong back and sweaty brow. Where the Budd Van Lines' secret sauce starts to shine is when the driver starts to pull away.
"We're taking all the goods, putting it into the container, sealing it right in front of the customer and giving them a seal number. And then when it comes back to the warehouse, it's lifted off with a very large forklift, and we never touch the stuff again until it delivers out to the final residence," Grund said. "So it's a lot safer."
Turning days of labor into hours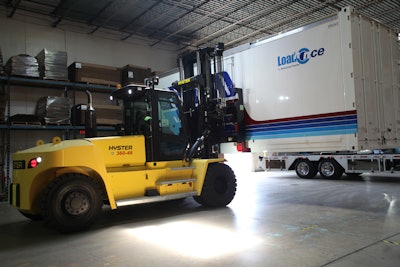 Grund notes there are six steps of handling when household goods come into storage. Because Load it Once slashes the number of times movers have to touch a homeowners' items, it virtually eliminates damage claims in an industry with claim rates of nearly 98%.
"In the past, what happens is all your goods, we would have to offload from the truck, remove all the furniture pads, inspect it, put on warehouse pads and put it into vaults," he said. "The same thing happens on the way out; once the shipment's deemed to come out of storage, we'd have to go into those vaults, remove all the pads, inspect it again, put on new pads, and then put into truck. We've eliminated all that."
Efficiency-wise, Grund said the system allows his company to perform the same amount of work in a few minutes that previously took several days. A full HHG's trailer shipment (30,000 lbs.) would traditionally take four men eight hours (32 man hours) to offload at the warehouse and another 32 man hours to reload the truck when the goods come out of storage. With Load It Once, Grund said Budd offloads containers in 20 minutes, and it takes another 20 minutes to reload it out of storage.
"In 40 minutes we are doing what would have taken two full days with four men," he said. "(That's) a 96% efficiency improvement."
Budd Van Lines' average load is 14,000 pounds, and its average haul is 1,000 miles. Because drivers are also responsible for moving and handling the furniture, the amount of on-duty not driving time Budd Van Lines has saved, Grund said, is exponential.
"The two days gained by the driver allows him or her to legally cover more shipments in a year. A typical Budd driver handles 40 to 50 moves a year. Load it Once drivers are handling 70 to 80 shipments," he said. "I watched this one time two summers ago; I had to see a driver at like 7:00 at night, and I walked back to the warehouse, and we had five of those trucks lined up, and I'm going to hang out and watch this. We transferred 122,000 pounds of goods in an hour and a half. That's almost two weeks of labor.
"So with the hours of safety, we're allowing our drivers to handle a lot more shipments and take the legal amount of rest in order to do so. We're going to handle that entire shipment with the same driver from start to finish. Our drivers have to pack every move they haul. So the family is going to get to know the driver in California, he's going to haul across the country, and then he sees the same people at his destination, and he was the one responsible for handling all the goods so he knows where everything goes," he added. "It's just logical; it makes more sense. If I pack a kitchen, I know this is the China set; when I deliver it, I'm like, 'Okay, I know where the China box is. I know how expensive it is. I'm going to take care of that for their family."
The CCJ Innovators program is brought to you by Bendix, Comdata, Freightliner Trucks, SkyBitz and Valvoline.