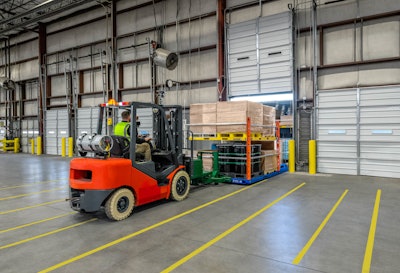 CCJ Innovators profiles carriers and fleets that have found innovative ways to overcome trucking's challenges. If you know a carrier that has displayed innovation, contact CCJ Chief Editor Jason Cannon at jasoncannon@randallreilly.com or 800-633-5953.
Supply chain snarls happen when goods can't quickly get from beginning to end, but there are numerous baked-in delays often shrugged off as a cost of doing business.
Trailers are typically unloaded piece-by-piece, requiring dozens of trips in and out of the trailer and the touching of various pallets multiple times. Then there's all the manual work inside the trailer, placing load bars and securing pieces of freight, and all of it happens while a driver is waiting and the truck is parked – a process fraught with congested docks, damaged freight and driver dwell time, which increases processing times, customer claims and detention fees.
Just before the pandemic, when supply chain inefficiencies shined brightest, ArcBest (CCJ Top 250, No. 18) kicked off a pilot aiming to improve freight handling, reduce damage and enhance working conditions in its own facilities – a multi-piece suite of hardware and software that modernizes and transforms how freight is loaded, unloaded and transferred, called Vaux.
Vaux enables the contents of a trailer to be unloaded in a handful of seconds and offers total visibility into freight movement within warehouse facilities, on the dock and over the road, creating efficiencies and orchestrating seamless warehouse operation.
The name Vaux, said ArcBest Chief Innovation Officer and President of ArcBest Technologies Michael Newcity, was inspired "by one of nature's most incredible flyers: the Vaux's swift. A swarm of these birds demonstrates an amazing synchronized movement," he said, "and that's exactly what this technology does."
The Vaux Freight Movement System consists of the Vaux MP and MP Coupler, which enables freight handling operators to load and unload full trailers quickly. They connect to warehouse operations through Vaux OS, a suite of proprietary software that includes warehouse orchestration, operator fulfillment and MP Tracker.
Modular platform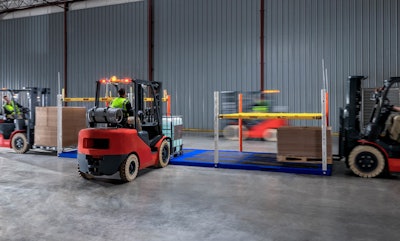 The process of loading and unloading a trailer is non-standard and can be messy, if not haphazard, depending on the type of freight.
The Vaux MP is a customizable mobile freight platform that fits inside a trailer and can be loaded outside the trailer. Two 26-foot long MPs will fit inside a standard van, or one MP per pup trailer, each with a load capacity of 25,000 pounds. Each platform can be outfitted with a shelving system that allows for the stacking of freight.
The MP is moved into and out of a trailer and around a warehouse using a standard forklift equipped with an MP Coupler, a patented device that enables a standard forklift to move the MP safely. The MP is moved out of the trailer in one swift movement, alleviating the need for multiple forklifts to enter trailers to work freight, reducing touches and damage and improving working conditions.
The MP Coupler allows for a tight turn radius, enabling freight handling operators to move MPs to the optimal location in the warehouse, relieving dock congestion and allowing for efficient loading and unloading. With 360-degree access, freight handling operators can perform swarm processing, pulling product from the MP in seconds and unloading entirely in minutes.
The coupler is affixed to a forklift that might be rated at 5,000 pounds, for example, but the coupler handles weight distribution between the 5,000-pound forklift and potentially up to 25,000 pounds on the Vaux MP.
"The second thing the coupler does is it engages the wheels on the rollers on the MP. You don't want to put 25,000 pounds on a piece of equipment in warehouse or on a pallet where you've got rollers that don't actuate. That'd be very dangerous," Newcity said. "That's the beauty in the design of this. This is not just some simplified sled. There is a tremendous amount of engineering in the actual MP device ... and there's a lot of engineering design in the coupler because it has to handle the weight differential.
"Consider what this means for shippers with hundreds of trailers to load and unload each day," Newcity added. "The ability to pull an entire shipment off a trailer in one movement is groundbreaking, and with customizable mobile platforms (MPs), those with freight that can't be stacked can now move fully loaded trailers for a more sustainable operation, not to mention the efficiency gains the software offers."
ArcBest didn't have to look far to find a pilot test parter. ABF trialed the Vaux Freight Movement System in 2019 with the goal to not only test the technology but also to refine it.
"We always knew, even before we began that pilot, that we were going to bring this to market, and we already saw the application with our shipping customers, our freight customers, our logistics customers," Newcity said. "We felt like the best way to refine it would be to trial it internally, and we've done that in Indianapolis, and we've done that in Kansas City, and we're about to open up one more location in Salt Lake City."
The technology
The Vaux OS software stack acts as "the brains of how you'd load and unload," Newcity said. It integrates with existing warehouse management systems (WMS) to orchestrate movements and assign tasks based on work prioritization, and its tracking capabilities offer detailed visibility into operations. Vaux OS gives warehouse supervisors real-time insights into freight moves, enabling better decisions that improve dock utilization, reduce costs and impact sustainability, Newcity said.
The software is driven by bar coding technology with tie-ins to a customer's warehouse management system or warehouse execution system. Newcity said the software links into that system through APIs, "and you're able to move inventory, like say off a rack in a warehouse, and relocate it, where either the WMS recognizes or our software recognizes that it's associated with a particular MP.
"The other thing; we're not just talking about 'It's on the MP.' It's 'What location is it on the MP," Newcity added. "If you think about things like space optimization; the software has intelligence built into it. If the software understands the scope of shipments – the scope of freight that needs to go on a particular MP – it can actually sequence labor. It can sequence a next-best-move algorithm. It can actually give out instructions about, 'Load this piece in this location, (and) load this piece in this location,' so it can build out and optimize a load that is at full capacity."
He said that efficiency compounds with each MP that's added into the flow.
"Say, for example, you had three or four or five of these on a dock or in a warehouse or a distribution center, and you've got 50 pieces of freight you're loading out. The software is going to look at those 50 pieces, and it's going to say, 'Load it this way.' Think about that. Think about the number of permutations that it would take for someone to actually think about the best way to load out," he said. "You may be in a situation where three MPs have gone onto the dock and they've got freight on them, and some of that freight needs to stay and some of it needs to go into the warehouse. And then there's stuff in the warehouse that needs to go on the MPs. This creates an opportunity to actually load and unload these three MPs at the same time, and the software coordinates all of that activity."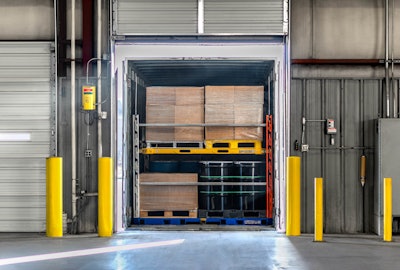 That granular level of detail allows for the sequencing of delivery based on where a given item is located on the MP.
"If you've got a partial load, you don't need to unload the whole thing," Newcity said. "I'm going to sequence the delivery and the movement of freight in my network in such a way where I don't have to unload the entire contents of a van or a trailer through all that labor."
The MP Tracker enables full visibility into MP movement both in the warehouse and on the road, giving shippers more visibility and control.
"There's a tracking technology that is GPS and cellular enabled built into the MP," Newcity said. "It's got a one-year battery life, and when that freight is associated with the MP, as long as it's on that MP – whether it's on the road or sitting inside the warehouse – you've got 24/7 tracking."
Newcity said the level of speed, efficiency and visibility Vaux offers is game-changing for companies facing supply chain challenges such as congested docks, damage, throughput issues and a need to operate more sustainably. ArcBest is currently partnering with customers across various industries, including manufacturing, automotive and retail to continue testing and learning in those environments. However, with a customer base of roughly 40,000, Newcity said it could take several years before the full potential of the Vaux Freight Movement System is realized.
"A lot of those customers, they're operating privately. They're operating their own complicated logistics environments that involve distribution centers, that involve private networks ... so we're working with those customers right now," he said, adding that ArcBest, to-date, has been selective in which companies it seeks pilot partnerships, but early feedback has been positive. "It's kind of a measured pace."
The CCJ Innovators program is brought to you by Bendix, Comdata, Freightliner Trucks, SkyBitz and Valvoline.