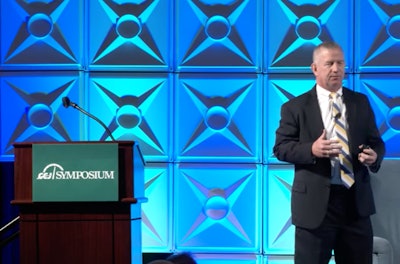 Once courtrooms began to re-open following the COVID outbreak last year, one of the first verdicts was against a trucking company. Despite being hailed as heroes in the depths of the pandemic, the verdict topped $52 million.
Just last week, two trucking companies – AJD Business Services and Kahkashan Carrier Inc. of Canada – were hit with a $1 billion verdict in the 2017 wrongful death case of an 18-year-old in Florida, according to First Coast News.
Since 2011, trucking verdicts over $10 million occur about every other month, said Rob Moseley, Founding Partner, Moseley Marcinak Law Group, speaking at the CCJ Symposium in Birmingham, Alabama.
Technology creates data, and Moseley said carriers will be held accountable for knowing what the data says and reacting to it – even if you don't.
"Every time there's another bell or whistle on the truck, there's more data created," he said, adding that data collection systems include the truck's electronic control module (ECM), collision avoidance, roll stability, event recorders, and electronic log, among others. Moseley noted that on a recent accident investigation, he watched as an expert investigator plugged into seven different locations on the truck to retrieve data.
Moseley said it's key that fleets understand what data is being collected by the truck and designate someone to look at it and interpret it.
"You're held legally responsible for what that data shows and for what you should have known about what that data was showing you," he said. "After an accident, one of the first things we do is we download the ECM on your vehicle. For the most part, what I see is very passive management of what's on that ECM. What normally happens is the trip (odometer) that's on the ECM is 300,000 miles or the life of the truck, so you get all of this data about this truck that's been running in your fleet for all of this time and what you see is top speed is 92 miles an hour on February 3. You see all this data that until the accident happens you don't know it's there."
Moseley said trucking companies often enter a courtroom at a disadvantage with regard to public perception, making cameras and video footage a key defense component considering that passenger cars are at-fault in upwards of 80% of all accidents involving a truck.
"Why would we not want to capture that information because we're not winning 75% to 80% of these cases," he said. "There's a lot of reasons for that. Sometimes our drivers just aren't real good at telling the story, but cameras are great at telling the story."
When incorporating video as a defense, Moseley said camera angles are important. "I want to see the driver. I want to see that driver is alert and awake," he said. "Forward-facing is good. Rear-facing – I'm a big fan of rear-facing."
Moseley noted that he's "not a huge fan of recording a driver 24/7, because I really don't want to see what that driver did more than 30 seconds before the accident."
Having the video data is important, but Moseley said what the fleet does with it is even more-so.
"We have to review them. Somebody has to watch these," he said. "And then we've to coach."
The most important part comes last. "We've got to delete," he said, adding that a hoard of old video files can be used against a driver and fleet, even if the footage is unrelated to an accident. "Let's don't make our good drivers look like bad drivers. Let's get rid of this stuff. After we coach the driver, maybe for a reasonable period of time to show that the driver has learned the skill that we just coached on, we can get rid of it. Once it's no longer useful for the active management of your driver you should get rid of it."
Moseley added that it's also important to work with the camera supplier to ensure that once the fleet's file is deleted, it's not backed up anywhere else.
Also, never email videos. In many cases, Moseley said fleets don't have an IT policy that automatically deletes emailed files over a given period, in which case "anything you email is in your email forever," he said.
Moseley recommends carriers implement data management policies that provide "systematic and orderly ways of getting rid of data that's no longer legally required or necessary for the active management of the driver," he said, adding that a fleet's transportation management system needs to be consistent with this policy. "I would bet 90% of [fleets] are on a TMS that has a page called a driver screen or a driver master or something like that – there's a page for the driver's information – and it is populated by whoever wants to put comments in there about that driver. And that stuff stays in there forever. It never disappears. If a dispatcher's had a bad day with a driver, they might put something in the driver's 'permanent record' and it's there when that driver's been in an accident, and that's not going to help."