The trucking industry in mid-2021 faces unprecedented demand from consumers and shippers, a driver shortage that looks like it could get worse, and the persistent challenges of a mutating COVID pandemic that continues to create problems across the supply chain.
But, despite the tremendous headwinds and unpredictable challenges, the trucking sector has continued chugging along as it always does, according to data from FTR Intelligence CEO Eric Starks.
Starks presented at CCJ's annual Symposium at the Ross Bridge resort in Hoover, Alabama, last week, and shared the following insights on the economic outlook for the trucking industry.
More Symposium coverage: The California contractor conundrum: 'It's a waiting game, with a lot at stake'
Predictions for freight volumes/rates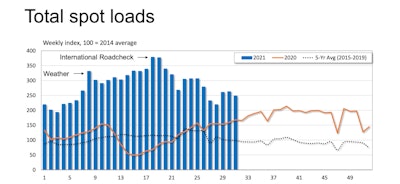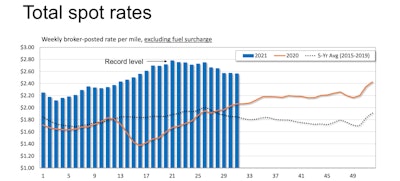 Total load volume slipped slightly during the week ending August 6 as modest drops in dry van and flatbed were partially offset by a small uptick in refrigerated load postings. Spot volume trends are essentially performing in line with seasonal expectations, but they continue to remain at highly elevated levels, according FTR and Truckstop.com data. For a more detailed analysis of last week's figures specifically, read here.
The current performance is better than some of the results seen during the second half of 2018 – the last time that the market was running at extremely elevated levels. As the charts above show, both volume and rates now stand at least one-third higher than in 2020 and nearly double the five year average, underscoring how hot the freight market is currently.
Continued disruptions stemming from materials shortages, production volatility, port congestion, and chronic problems with rail service, which is hurting the competitive intermodal segment, boosted volumes and rates FTR said of the first week in August. Meanwhile, purchasing due to robust job growth, strong consumer finances, and additional stimulus in the form of advance payment of child tax credits is keeping a floor on volume and rates, Starks said.
"We see rates coming down from its peak after the Roadcheck, but having said that, we're still at such high levels. There's so much demand out there," said Starks. "This picture is a bit distorted because it includes all freight components but where we're seeing some weakness here is in flatbed."
Starks and FTR have long predicted a slowing of rates from a peak around late July, and he sees the new data as falling in line with that prediction.
Starks expects the spot rates to eventually move into the contract segment, which CCJ has previously reported as seeing a boost from high rates.
"If we look at the contract market, this will continue to move higher. The peak in the spot market is moving people into contract at very high levels," said Starks.
Not enough trucks to go around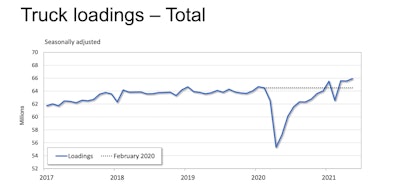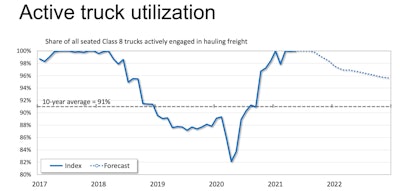 Starks said that from a pure volume perspective, the economy has now surpassed pre-pandemic levels and should grow steadily, "albeit at a relatively moderate pace for loadings at least through the balance of this year."
As far as active truck utilization goes, there's simply not enough working equipment around.
"We're seeing roughly, in all practicality, 100% utilization of all equipment that has a driver sitting in there," said Starks. Essentially, with every single truck and driver booked, the carriers keep pricing pressure on shippers, a trend which Starks expects to last for some time.
"We will not be getting back to the historical average of just above 90%. Traditionally, when we get to that that 90% range, then we are in equilibrium, and neither person has pricing pressure," he said, "but this tells us that the carrier will still have some pricing pressure as we move into 2022."
But despite truck utilization literally maxing out, Starks expects major road blocks to adding more trucks and drivers to the market and that pressure transforming the very composition of carriers.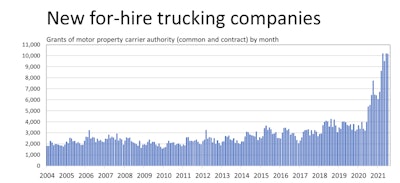 FTR also tracks the rate at which new for-hire trucking companies open up, and it's exploded during the pandemic. But while these new companies, which are not tracked on the Bureau of Labor Statistics jobs numbers, may explain a "driver shortage," they don't actually add capacity to the market, according to Starks.
"We've seen [the number of new for-hire trucking companies] jump dramatically, and we're seeing more and more trucking companies come into the fold," said Starks. "However this does not mean there's more capacity. If you find a driver and a truck is sitting there empty, that can add capacity. Or, if you build a truck, and then you put it into service with a driver. But the building of the trucks hasn't happened. We've seen huge orders, but we haven't seen production."
So while the industry is "seeing a shift in what the carriers look like with more and more of the owner-operators moving into this arena," there's no additional capacity to be found, according to Starks.
When will new trucks, freight capacity arrive?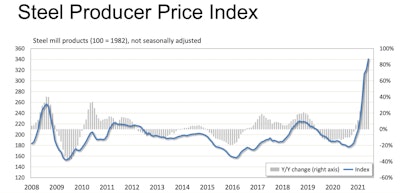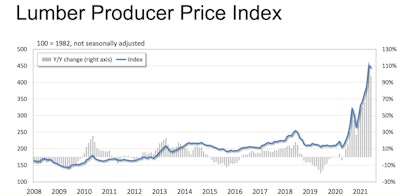 Prices for industrial manufacturing inputs like lumber and steel have jumped so significantly that prices for new manufactured goods, like trucks or cars, aren't just going up, manufacturers are outright refusing to take orders.
"They can't price and slot for next year until they have better certainty" on pricing, Starks said.
As soon as OEMs open up order boards for tractors and trailers, Starks anticipates slots to fill immediately. However, this will depend on certain supply chain deadlocks opening up and COVID restrictions easing.
Freight industry labor woes continue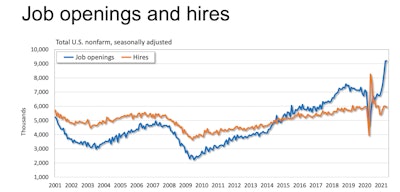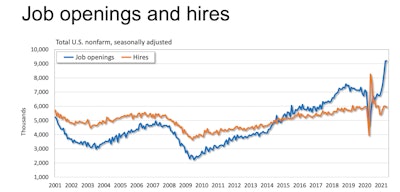 Truck drivers have found alternative forms of employment attractive, as work in construction, manufacturing, or at home improvement stores won't require them to spend nights away from home. While some fleets have had success in granting drivers better perks or letting them select their own loads, Starks acknowledged that like other labor sectors, trucking should expect to see wages climb to attract more people back into the work force.