A full, downloadable list of the 2016 CCJ Top 250 is available at CCJtop250.com. There you can also find listings broken down by revenues or number of trucks, tractors, trailers or drivers, and by type of haul and geographic region.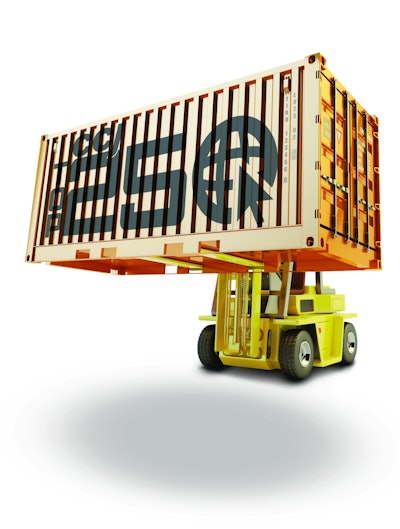 In most respects, 2015 was a good year for carriers. Trucking failures were nearly nonexistent. According to Avondale Partners, only 4,405 trucks were removed from operation last year, a dramatic slowdown from the 29,780 the year before.
But rising costs, the looming electronic logging device compliance date at the end of 2017 and other regulatory pressures could spell a return to elevated failures this year.
According to the American Trucking Associations, truck tonnage rose year-over-year in 2015 vs. 2014, but grumbles of softer freight volumes and rate reductions threaten profitability going forward.
Click here to see the full CCJ Top 250 listings for 2016.
As small carriers continue to grapple with wave after wave of federal regulations, they often contend that the industry soon will be comprised only of the biggest fleets in North America, claiming it is too hard to remain profitable in such a business-averse environment without the economies of scale the largest carriers enjoy.
Even within the relatively small sample size of the CCJ Top 250, a closer look reveals that the "haves" and the "have-nots" are separated largely by size.
The first 10 companies in the CCJ Top 250 list to self-report or publicly disclose revenues for both 2014 and 2015 averaged 15 percent growth, with only two of the 10 reporting a drop in revenues year-over-year. Conversely, the last 10 companies in the CCJ Top 250 list to self-report revenues for both years averaged 1 percent growth, with five of the 10 reporting a loss in revenue year-over-year.
When you divide the entire CCJ Top 250 list in half for those self-reporting revenues in 2014 and 2015, 54 percent in the top half reported an increase in revenue compared to only 39.3 percent of carriers in the bottom half.
Top 250 by the numbers
Even though more than half (53.3 percent) of all companies that self-reported or publicly disclosed annual revenues for both 2014 and 2015 saw a decline in revenue, the CCJ Top 250 as a whole turned in 3.8 percent revenue growth year-over-year.
After a 7.8 percent increase in revenues from 2013 to 2014, the Flatbed/specialized/heavy haul segment saw the biggest dip in revenue as a group in 2015 at -5.2 percent compared to 2014. Both the Tank/bulk commodities and Motor vehicles segments also experienced declines in revenues, -4.6 percent and -4.4 percent, respectively. Carriers in the General freight and Intermodal groups reported the biggest increases in year-over-year revenue at 17 percent and 13.6 percent, respectively.
The number of power units in the CCJ Top 250 also grew year-over-year, with fleets totaling 679,267 trucks and tractors in this year's ranking compared to 650,568 last year, a 4.4 percent increase. All segments added power units except General freight and Household goods, which dropped 1 percent and 2.1 percent, respectively.
This year's CCJ Top 250 companies have a total of 751,548 drivers (both company drivers and independent contractor drivers) compared to 723,933 last year, good for a 3.8 percent increase year-over-year.
Mergers and acquisition activities slow
Compared to previous years, there wasn't a great deal of activity in mergers and acquisitions in 2015. The most notable acquisition last year, and perhaps the last decade, is XPO's
$3 billion purchase of Con-way (No. 6 in last year's CCJ Top 250) and its truckload, less-than-truckload, multimodal, logistics and freight subsidiaries. XPO has been consolidating at a frenetic pace since it entered the trucking industry in 2011, moving from No. 12 in last year's list to No. 3 this year. Last year, it also purchased last-mile provider UX Specialized Logistics and drayage company Bridge Terminal Transport.
XPO isn't alone, however. Daseke, another newcomer to trucking, continued its acquisition of flatbed companies in 2015, acquiring Bulldog Hiway Express in July and Hornady Transportation and its 230 power units a month later.
Other notable mergers and acquisitions involving CCJ Top 250 companies include:
Truckload assets of Tango Transport (No. 112 in last year's CCJ Top 250) purchased by Celadon (No. 32).
Taylor Express acquired by Celadon.
Stagecoach Cartage acquired by Roadrunner Transportation Systems (No. 34).
Pegasus Transportation acquired by CRST (No. 23).
Towne Air Freight acquired by Forward Air Corp. (No. 39).
Some of the companies in the 2016 CCJ Top 250 have been acquired since the beginning of the year and won't be appearing in next year's list, including LTL and final-mile provider Watkins & Shepard (No. 133), which was acquired by Schneider in June.
Ranking methodology
CCJ 's ranking of companies is a blended scale based on a combination of revenue, total power units and number of drivers rather than a ranking simply by revenue. Companies considered for inclusion in the CCJ Top 250 were ranked from high to low by revenue, power units (weighted based on the type of power unit as discussed below) and drivers and assigned a rank in each category.
The numerical rank stored in each of the three fields was added together (revenue rank + vehicle rank + driver rank) to provide a rank sum. This sum then was ordered to provide the overall ranking assigned to each carrier, with the lowest sum receiving the highest rank.
A number of carriers failed to report actual 2014 revenue. In order to be included in the blended ranking, they were assigned – for blended ranking purposes only – a calculated revenue figure determined by multiplying the carrier's total number of power units by the average of the bottom 50 percent of revenue per power unit performers for the companies in that carrier's primary segment.
Calculated revenue is discounted by using the average of the bottom 50 percent of performers so that carriers failing to report revenue are not given an undue advantage in the ranking. Calculated revenue almost always will differ from actual revenue, of course, but the effect on the blended ranking likely is slight.
The power unit ranking, which represents an investment as much as a physical-count measure of trucking assets, takes into account the difference between tractors and trucks. The assumption is that a for-hire carrier with 1,000 tractors has a greater investment in equipment than one with 1,000 straight trucks. For the purpose of the blended rank only, a truck was weighted at half the value of a tractor.