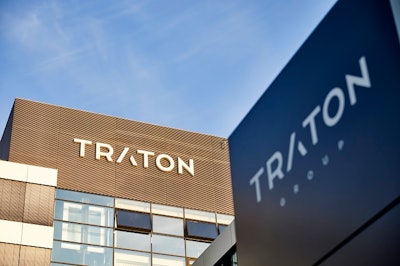 Ending a dance between the two companies that has spanned nearly five years, Navistar stockholders Tuesday approved Traton's takeover bid at their annual meeting.
Traton, Volkswagen's commercial truck arm, will acquire all the outstanding common shares of Navistar for $44.50 per share – a deal worth about $3.7 billion. The transaction is expected to close late this spring. 
Dialogue between Navistar and Volkswagen – which also operates the MAN and Scania business units in Europe and abroad – began in 2015 on opportunities to synergize and strengthen each company, culminating in Volkswagen's investment. Volkswagen previously held 16.8% of the maker of International Trucks, a stake it acquired as part of a procurement joint venture the two companies entered into in 2016.
In January 2020, it offered $35 a share to acquire the rest of the company. In September, Traton bumped its offer to $43 per share. A month later, Navistar countered an expiring "take it or leave it" letter from Traton with a higher, and final, asking price of $44.50. 
Traton CEO Matthias Gründler earlier this year said combining the two companies will enhance each's "ability to meet the demands of new regulations and rapidly developing technologies in connectivity, propulsion and autonomous driving for customers around the world. Navistar has been a valuable partner, and we are confident this combination will deliver compelling strategic and financial benefits, create enhanced opportunities for both Navistar and Traton, and best position us to drive sustained value in the evolving global commercial vehicle industry."
Traton and Navistar each also hold a minority position in self-driving tech company TuSimple. Traton, as part of the partnership, was slated to develop self-driving trucks for the European market. Navistar was to co-develop SAE Level 4 self-driving trucks targeted for production by 2024.