A round up of trucking's people news and headline makers for the week of August 22.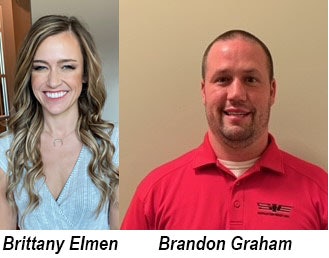 PGT adds to its West Coast team
PGT Services (CCJ Top 250, No. 103) has named Brittany Elmen its Director of West Coast Sales where she will help build its customer and carrier base and helping clients expand their operations to the East.
Over the next year, PGT Services expects to expand its reach throughout the U.S., building teams in the South, Southeast and Midwest in addition to the eastern and western offices.
"Our goal with the expansion is to get closer to our customers and potential customers," said Justin Burgh, Vice President of PGT Services. "Having teams based in every region will not only give us a better reach, but a better understanding of the market in those areas. We are excited to have Brittany Elmen leading this opportunity in our West Coast market."
Elmen may be the first PGT Services team member in the Western expansion, but she isn't new to the region. She started her career in the West, gaining both flatbed transportation experience and building her West Coast contacts. Now, her goal is to expose existing contacts as well as new customers to PGT Services, leveraging her expertise and Western connections.
SEFL names new service manager for South Charlotte
Southeastern Freight Lines (
CCJ
Top 250
, No. 31) has promoted Brandon Graham to service center manager in South Charlotte, North Carolina.
Graham has more than six years of experience at Southeastern, starting his career at the West Atlanta service center in Georgia as a front line leader. He has served in various leadership positions during his time with the company, including outbound supervisor, operations manager, assistant service center manager and, most recently, service center manager in Montgomery, Alabama.
"Brandon is a confident leader that values the usefulness of a positive, inclusive work environment in promoting productivity and innovation," said Kim Shore, regional vice president of operations for Southeastern Freight Lines. "We look forward to bringing his unique perspective and team mindset to the existing work culture at the South Charlotte service center."
Graham, his wife, Kalyn, and their two sons are excited to relocate to South Charlotte and continue serving the Southeastern team in this new capacity.