Trucking news and briefs for Thursday, Aug. 5 2021:
Meritor inks electrification partnerships with Hino and Hyliion
Meritor, on Wednesday announced electrification partnerships with Hino and Hyliion
Hino will evaluate and test Meritor's Blue Horizon ePowertrain for its development path to zero emissions vehicles (ZEV) and will provide electric drivetrain sub-systems for Hyliion's Hypertruck ERX electrified powertrain for Class 8 trucks.
Meritor has long been key supplier for Hino Motors Manufacturing North America for dressed axles on its medium-duty truck models. With this new collaboration both companies look to expand advanced, electrified drive systems to further zero-emissions development.
Examples of Meritor's electrified solutions include its all-electric, fully integrated, ePowertrain for medium- and heavy-duty commercial vehicles. It is designed to provide efficiency, performance, weight savings and superior space utilization.
Hyliion's powertrain system will feature Meritor's Blue Horizon 14Xe ePowertrain integrated drive axles as the standard position propulsion and regeneration hardware on Hyliion vehicle upfits. Hypertruck ERX provides a practical, clean, long haul powertrain solution capable of operating in all-electric mode.
"Being selected as a long-term partner to power the Hypertruck ERX is extremely exciting," said Chris Villavarayan, CEO and president of Meritor. "We pride ourselves on providing innovative technologies and this is a perfect fit for such a game-changing vehicle."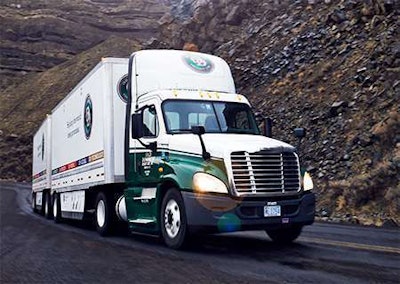 Old Dominion expands in six markets
Old Dominion Freight Line, Inc. has added new service centers in Benicia, California, Phoenixville, Pennsylvania, and Kenosha, Wisconsin, bringing its total count to 248 service centers, and relocated and/or expanded three more facilities in Colorado Springs, Milford, Connecticut, and Warren, Ohio. In the past 10 years, OD has spent $1.7 billion in expanding its service center network equating to a 50 percent increase in door count during that period.
Chip Overbey, senior vice president of strategic development at Old Dominion Freight Line (CCJ Top 250, No. 10), said the six new and upgraded facilities target some of the fastest-growing regions in the U.S.
Old Dominion opened the 20-door Benicia facility to expand coverage in-between its San Francisco and Sacramento service centers.
The 55-door Phoenixville facility opened in response to rapidly growing freight volume across Pennsylvania and covers an area between its Philadelphia facility and other OD service centers in the middle of the state, simplifying a region that was previously serviced out of four different centers across Pennsylvania, New Jersey, and Delaware. Its 40-mile service area is expected to grow, and its prime location between major Pennsylvania Routes 76, 422, and 100 – as well as its extra land with space for 30 more doors – positions it well to tackle increasing customer demand.
Old Dominion opened the 103-door Kenosha facility as southeastern Wisconsin saw major business growth. The company previously serviced the area out of its Milwaukee service center but needed a facility closer to its growing number of distribution, manufacturing, packing, and pharmaceutical companies. The center's location is just two miles from I-94, and has available space for an additional 51 doors.
Each service center is constructed or renovated with best-in-class facilities to improve operations. Old Dominion's recent investments to add doors, upgrade its fleet and service center vehicles and hire additional drivers will allow it to manage ongoing capacity challenges as the economy rebounds post COVID-19.