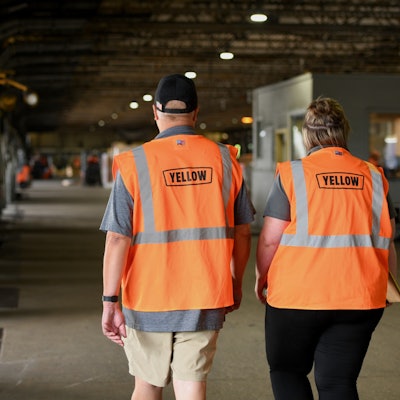 Yellow Facebook
Yellow Corp.'s pending bankruptcy is a move that has long seemed inevitable, one that shuts the doors on a company just short of its 100th anniversary and ends a tumultuous 15 years.
The No. 6 carrier on CCJ's Top 250 ranking of for-hire carriers, Yellow has been off and on the ropes financially since at least 2009, yet it had managed to narrowly avoid bankruptcy multiple times. It's pending closure, affecting nearly 30,000 employees, is among the largest in U.S. history with regard to headcount.
Yellow last week said it is looking to sell its third-party logistics business, Yellow Logistics, Inc., and is currently engaged in "active and ongoing" conversations with multiple suitors. The motor carrier is just three years removed from having received a $700 million lifeline from the Treasury Department as part of the Coronavirus Aid, Relief, and Economic Security (CARES) Act – a loan the government in June said the company – then YRC Worldwide – shouldn't have received.
Yellow managed to side-step a work stoppage July 24 that likely would have been its undoing, but in the end the threat of a strike proved to be enough. The possibility of stranded freight spurred a mass exodus of shipper customers into the arms of the company's competitors.
The Teamsters union, representing roughly 22,000 Yellow employees, said it was notified Sunday of Yellow's plans to cease operations and file bankruptcy.
Union's role in Yellow's downfall
Yellow in 2022 kicked off a makeover of its network. Dubbed One Yellow, the goal was for the company to emerge as a lean "super-regional carrier." Phase 1, integrating the linehaul networks of YRC Freight and Reddaway in the Western region to support both regional and long-haul services, was completed last year with approval from the International Brotherhood of Teamsters (IBT). However, IBT threw up a roadblock over Phases 2 and 3, which included the alignment of operations in the Northeast, Midwest, Southeast and Central regions set to take place this year.
Yellow has maintained the delay in rollout has cost the company in excess of $137 million since late last year. The carrier in June filed a lawsuit against IBT to recoup the damages, and last week said the union shouldered blame for Yellow's precarious financial state.
The inflexibility that comes with a unionized workforce was problematic for Yellow in competition with its non-union peers. However, numerous concessions made by its IBT members – including pay cuts and reductions in benefits over the years – are at the very least a contributing factor that enabled YRC/Yellow to hang around as long as it did.
Impact on the used truck market
Yellow owns roughly 14,000 trucks, many of which are daycab. The sleepers in Yellow's inventory, however, are likely very desirable.
"It looks like roughly 2,000 of Yellow's trucks were model-year 2022 and 2023, which is a positive because there are few of those trucks currently available in the marketplace," said J.D. Power Director of Specialty Vehicles Chris Visser. "Most or all of these newest trucks should be absorbed by other fleets without much impact to values."
The supply/demand relationship for daycabs is much better than for sleepers, a market that is teeming with high-mileage, worked-hard pandemic-era equipment. Three- to five-year-old sleeper trucks brought an average of 5.7% less money in June than May, and 33.4% less than June 2022. The first six months of 2023 averaged 30% less money than the same period of 2022. Monthly depreciation in 2023 is currently averaging 3.4%.
Daycabs continue to hold their value substantially better than aerodynamic sleepers in 2023, according to J.D. Power. Since late in 2022, late model daycabs have brought roughly the same money as sleepers of similar age and mileage.
"That still leaves a substantial number of [Yellow's] somewhat older trucks," Visser said. "If most of those trucks are liquidated in the open market over a relatively short period of time, the minimal depreciation daycabs are currently enjoying could accelerate."
Celadon – another major trucking bankruptcy – had around 2,800 trucks in service when it went bankrupt in late 2019, and those trucks started hitting the market in mid-2020, coinciding with the start of the pandemic bubble in used truck prices.
"Pandemic demand probably masked any downward pressure on values from the wave of bankruptcies in 2019-2020," Visser added. "Yellow's inventory will be liquidated into a market that is just starting to get back to normal after the post-pandemic correction. So, that recovery could be somewhat prolonged or delayed."
What's in store for the market?
Yellow is the third largest LTL carrier in the U.S. and handled 27,430 tons per day in the first quarter this year – down 13.3% from the same quarter last year – and it makes up roughly 10% of LTL capacity.
"Go back a decade, and Yellow handled around 57,000 tons a day," said Jason Miller, supply chain professor at the Eli Broad College of Business at Michigan State. "In other words, it is half its former size. Given excess capacity in the LTL sector right now, [Yellow's bankruptcy] will not seriously impact the economy. It is highly likely a good share of Yellow's volume has already been diverted to other LTL carriers."
Indeed, Old Dominion Freight Line (No. 10) President and Chief Executive Officer Marty Freeman last week noted, "we're currently talking to new customers every week," although that strategy is neither new nor specific to former Yellow customers, he added.
"We have over 500 salespeople and part of their job is to bring on new business. So they're out there having discussions about onboarding new customers every week," he said. "We show them where we have capacity, our terminal network and so forth. So, those are just ongoing discussions."
Similarly, Saia's (No. 21) July volume is up 5% and its tonnage up about 2.5% over June. Historically these numbers fall month-over-month.
"We've seen business levels up more favorably in the last two weeks," Saia President and CEO Fritz Holzgrefe said Friday. "This is a unique opportunity in a disrupted time that we can show customers that this is what you get with Saia: differentiated, high-level service. We think that if we execute on that well this [marketshare] will come to us over time."
Premium service levels come with a pricing premium. Yellow is a low-cost operator, so the biggest shock to the supply chain is likely to come to shippers who didn't have a rate book on other LTL carriers.
"If you have a low-price competitor exit the market... as that gets shifted around, customers that have service expectations naturally, I think, will gravitate to Saia because I think we're doing a great job. For us, it doubles down our responsibility to make sure that we're paid for that high level service; capturing those charges. The customer gets a lot of value for that. What's really important for us is to find the freight that makes the most sense for Saia. As we pick up freight and it makes sense over time, we'll keep it."
While average LTL rates including fuel surcharges have been trending down, Miller said with a loss of Yellow, "I would expect to see the [Producer Price Index] show an upward bump because freight will get reallocated from a low cost carrier like Yellow to higher cost carriers, and much of Yellow's freight may not fit as well into the other LTL carriers' networks, and hence command a price premium."
Loads that might be a weird fit for carriers with better options from which to cherry pick will most likely slide to the spot market, but how sizable that influx may be is not known. What we do know: even with the threat of a Yellow union strike hanging over July 24, little changed on the spot market week of July 16-22.
"The spot market's kind of been bumping along at its normal rate," said Truckstop.com Chief Relationship Officer Brent Hutto, adding he expects the same going forward, even with Yellow's demise official. "If we would see it anywhere, it would be in what's called truckload partial, and we didn't. You think about Yellow's size, if anything moved meaningfully in the spot market, we'd see it."
The most likely outcome for shippers is that they would aggregate LTLs into partial or full truckloads, said DAT Chief of Analytics Ken Adamo. Traditional spot market players aren't likely willing to hit multiple docks, and Adamo said current spot market rates make the split financially digestible for shippers with limited options, and that would lead to a lift in volume.
In terms of the dry van spot market, Miller said an important thing to keep in mind is that national LTL shipments tend to move long distances. For example, going back to 2014, YRC's average shipment was roughly 1,300 miles.
"As such, if we see a substantial influx in very long distance dry van spot market [truckload] moves, we will likely see a jump in rates. In comparison, the regionals' shipments are roughly 400 miles," he said. "Thus, the question right now is what percent of Yellow's freight that has been diverted already to the other LTL carriers is regional versus national loads? To the extent we have seen more diversion of regional freight (leaving more national shipments to be covered by dry van spot market moves), the greater the spot market bounce (since those longer distance moves will require more capacity to haul)."
DAT's Adamo noted that late summer into early fall is a slower period for shippers ahead of fall peak. While there's never a good time for a company to go under, if there's a good time for this freight to get dumped into the market Adamo said right now is probably it.
"Timing is everything in logistics," he said. "There's enough lead time until we get to the real redline this fall to get this all sorted out."
Even though Yellow's exit from the market isn't expected to cause significant stress, Adamo said that doesn't mean it's going to be easy.
"It's a billion pounds of freight that needs to be reconfigured and redistributed," he said.