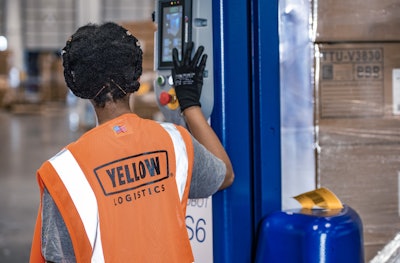 Yellow Logistics Facebook
Yellow Corporation on Thursday said it is exploring the sale of its third-party logistics business, Yellow Logistics, Inc., and is currently engaged in "active and ongoing" conversations with multiple suitors.
Yellow Logistics was launched by then-YRC Worldwide in 2018 as HNRY Logistics and was re-branded Yellow Logistics in 2021, the same year YRC changed its name to Yellow.
"Over the past several years, we have received a great deal of interest from the investor community about Yellow Logistics," a company official told CCJ Thursday night. "It's been one of the fastest growing 3PLs in the industry. We felt that this was an opportune time given the maturity of the company, and the strategic advantages available to a variety of different investors."
Yellow Logistics President and Yellow Corporation Chief Commercial Officer Jason Bergman said Yellow Logistics is one of the fastest growing 3PLs in the industry "and has been since its inception," and "has proven to be a strategic and reliable partner to its customers and providers."
Yellow Corp., is currently struggling to remain financially afloat as a possible July 24 union strike that ultimately didn't happen chased many of its shipper customers to other providers during a time the company was attempting to remake itself to improve efficiency, cut costs and refinance its debt.
Yellow continues to seek a deal with the International Brotherhood of Teamsters (IBT) labor union that would allow the company to proceed with its regional overhaul and facilitate its debt service, but the clock is ticking. Yellow, according to IBT, has previously told the union it would run out of cash by August without a union-backed approval of its network makeover – approval the carrier still does not have.
Yellow Logistics is a customer-specific logistics solution provider that specializes in truckload, residential, contract logistics, engineered solutions, distribution, and warehousing and is operated through an independent, non-union subsidiary of Yellow.
"Our deep knowledge of moving freight in multiple modes and knowing how to execute on these solutions reliably and within customers' budgets adds value and strengthens their supply chains," Bergman added. "We are enthusiastic about our team's ability to help customers accelerate growth for their portfolios."
Yellow Logistics continues to operate with the full support of the Yellow organization, the company said, and has pledged "to service our customers, protect our vendors and Yellow Logistics employees."