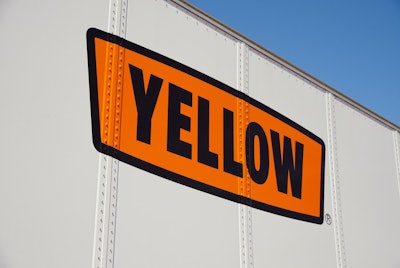 Yellow (CCJ Top 250, No. 6) pushed back Wednesday afternoon on reports of its pending financial demise, saying the company continues to seek a deal with the International Brotherhood of Teamsters (IBT) labor union that would allow the company to proceed with its regional overhaul and facilitate the refinancing of its mountainous debt.
"Yellow's talks with the IBT are ongoing," the company told CCJ via emailed statement. "As previously stated, in keeping with the fiduciary responsibility of the company's executives, the company continues to prepare for a range of contingencies."
Yellow, the nation's third largest less than truckload (LTL) carrier, declined to answer whether or not there's any significance to Monday, July 31 – the date the company reportedly has earmarked to file bankruptcy, or if there is any significance currently with regard to anything happening or formally planned for Monday. Yellow, according to IBT, has previously told the union it would run out of cash by August without a union-backed approval of its network makeover – an approval the carrier still does not have and has maintained that it does not need.
The motor carrier is just three years removed from having received a $700 million national security loan from the Treasury Department as part of the Coronavirus Aid, Relief, and Economic Security (CARES) Act – a loan the government last month said the company – then YRC Worldwide – shouldn't have received.
Yellow managed to avoid a work stoppage this week that likely would have been the nearly 100-year-old company's undoing, but with a strike looming overhead for several weeks and the possibility of stranded freight, many shipper customers began to seek services through other LTL providers.
"[Current LTL capacity] can absorb most of Yellow's volumes," said Jason Miller, supply chain professor at the Eli Broad College of Business at Michigan State, "but there is an important phrase here: aggregate. When we start getting down to the individual shipper level, things are going to be much more challenging for some shippers relative to others."
John Luciani, COO of LTL Solutions at A. Duie Pyle (No. 67), told CCJ last week that "a sudden and prolonged shipment count increase at 10% could cause some short-term pain," but otherwise felt carriers in the space could handle the boost in volume.
"There are some shippers that have a lot of exposure to Yellow. I've talked to industry contacts where 40% of LTL spend for this shipper is with Yellow," Miller added. "A shipper like that is going to have some major disruptions because chances are your ODFLs, your Sias, your Estes, your ArcBest, etc., they're not going to be able to absorb all of your freight. Even if you've got them as secondary carriers in your routing guide, they're not going to absorb all of it. So you're going to face the disruptions. You may be having to rely on some really small partial TL spot shipments to get stuff to customers in time."
Miller theorized that a failure of Yellow within the next two weeks, "will be a rough August for some shippers, possibly even into a rough September. But you give this a little bit of time, we will be able to work through this," he said. "Again, this is not 2021. If we would've had a failure of Yellow in 2021, when there was zero excess capacity in the industry, then you would've had a nightmare scenario. Let's say we'd have a failure in the end of July, early August, we would probably see the LTL sector running fairly smoothly by October-ish. So it would take some time, but we would get those volumes absorbed."
Yellow started last year a makeover of its network. Dubbed One Yellow, the goal was for the company to emerge as a lean "Super-Regional Carrier." Phase 1, integrating the linehaul networks of YRC Freight and Reddaway in the Western region to support both regional and long-haul services, was completed last year with union approval. However, IBT threw up a roadblock over Phases 2 and 3, which included the alignment of operations in the Northeast, Midwest, Southeast and Central regions set to take place this year.
Yellow has maintained the delay in rollout has cost the company more than $137 million over the past nine months. The carrier in June filed a lawsuit against IBT to recoup the damages, and last week said the union shouldered blame for Yellow's precarious financial state.