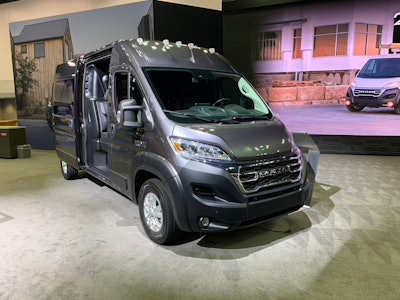 Tom Quimby
Poland. The central European nation continues to make headlines for welcoming refugees from their war-torn neighbor Ukraine.
The NATO member might also be making auto news before too long as Ram scrambles to find additional cargo van production capacity to help meet strong demand.
"I can't build them fast enough," Ram CEO Mike Koval told Commercial Carrier Journal at The Work Truck Show this past week in Indianapolis where Ram unveiled their refreshed 2023 ProMaster.
"Honestly, I'm looking all over the planet to find one more ounce of capacity," Koval continued. "We have a plant in Poland that I'm considering, but it's the demand both from the retail consumer and especially from the large fleets that is white hot."
How hot? While 2021 truck sales for Ram rose only 1% from 2020, van sales for ProMaster and the smaller ProMaster City shot up 25% and 40% respectively.
The huge demand for last-mile delivery vans bolstered initially by dramatic increases in online shopping during COVID still looks promising to Koval today.
"I don't think this is a flash in the pan," Koval explained. "I think the outlook is strong and steady. It's a healthy segment. And true, it might have been spurred on or triggered or fast-forwarded from the pandemic, but you know, how many times does Amazon show up to your house every day?"
J.D. Power also acknowledged a strong interest in the cargo van market backed by ecommerce that's grown beyond COVID lockdowns.
"Customers with a pressing need for cargo vans will obtain them however they can," said Chris Visser, J.D. Power's senior analyst and product manager of commercial vehicles. "Online buying is popular because efficiency and trust has improved in recent years."
GM, which brought their new all-electric BrightDrop vans to Work Truck Show, also sees van demand growing in 2022.
"Demand in the full-size van segment has been at been at an all-time high for the past 2 years, and demand is expected to continue growing," a representative with GM Fleet said.
One of GM's van models, the GMC Savanna, enjoyed a 17% jump in sales last year over 2020. However, their sibling brand Chevy saw demand for Express drop 19% during that same time.
Ford took the biggest hit last year with Transit and Transit Connect sales both falling 24% from 2020.
Meeting commercial vehicle demands has been challenging for OEMs given ongoing supply chain constraints. Ram however was able to pivot and increase its van sales last year while other brands saw their numbers fall.
"By taking advantage​ of high demand and a robust market, we're able to repurpose a line and invest in supplier capacity to increase to three shifts," a company spokesman said.
Overall, commercial van sales in 2021 were lower than the previous six years according to the National Truck Equipment Association (NTEA) which also expects sales to pick up this year.
"Commercial vans are struggling a little bit," Steve Latin-Kasper, NTEA's director of market data and research said during a commercial vehicle overview and forecast presentation last week at The Work Truck Show.
"They [van sales] made it to just about 200,000 [units sold] maybe a little more than that in 2021 and we expect that to continue growing in '22," Latin-Kasper continued.
For Koval, who was visibly excited to talk about Ram ProMaster's growth, seeking additional capacity at FCA's plant in Bielsko-Biala, Poland, will mean shifting from marching orders the plant received in December 2020 from parent company Stellantis, according to Reuters, to produce the electric Jeep, Fiat and Alpha Romeo. Whatever the avenue, Koval appears very intent on getting an even bigger share of the market this year particularly as orders pile up for their refreshed 2023 Ram ProMaster.
"Really over the last couple of years, we've seen the last mile delivery service really expand exponentially," Koval explained. "And we believe that the appeal of our new roof and with the refreshed interior and best in class cargo capacity and roof height will further broaden Ram's appeal to not only fleet commercial customers, but also retail customers as well."
Editor's note: CCJ reached out to Ford as well for comment but did not hear back from them in time for publication.