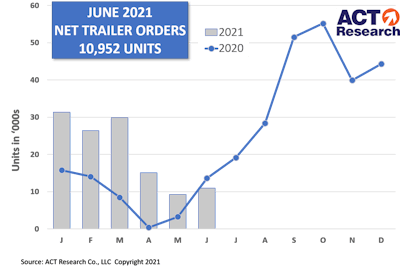 New trailer orders last month totaled 10,952 units, up 18% from the previous month but down almost 20% versus June last year, according to preliminary data released Thursday by ACT Research.
The final figure aligns with preliminary estimations released earlier this month. Before accounting for cancellations, new orders of 13,100 units in June were up more than 7% versus May, but down 19% from the previous June.
"Despite sequential improvement, net orders continue to be diminished by a 'pause' in order acceptance at several OEMs," said Frank Maly, Director–CV Transportation Analysis and Research at ACT Research. "However, that pause was not universal, as reefers surged 90% from a very lackluster May."
Without the support from reefer carriers, Maly said total industry volume could easily have posted a net order decline to close the quarter. The industry also posted the first year-over-year decline in net orders since May of 2020, the end of the COVID-induced order retrenchment last year, he added.
"The ratio of trailer orders to truck orders (shown in the graph below) is an indicator of the degree of impact the order pause is generating. Normally ranging around 1.5, the trailer/tractor net order ratio started Q2 just below 1.0 and plummeted to approximately 0.65 at quarter's end." Maly said. "This is an indication of pent-up demand that likely will be quickly addressed when order boards officially open for 2022."