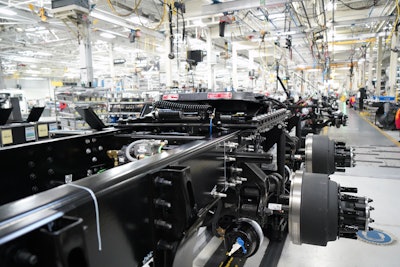 Truck and trailer manufacturers are desperately trying to increase production rates but are struggling to overcome a myriad of obstacles, according to ACT Research.
Truck and trailer builds are hampered by raw material and labor shortages that have dragged on since the U.S. began crawling towards a post-pandemic economic recovery. Commercial vehicle demand, medium-duty, heavy-duty and trailer backlogs are essentially filled into 2022, according to ACT, with backlog-to-build ratios well above traditional ranges and inventories below traditional thresholds.
"Material and component supplies, as well as staffing issues, continue to generate headwinds for U.S. trailer OEMs," said Frank Maly, director of CV Transportation analysis and research at ACT Research. Some indications are that staffing challenges may be easing slightly, he added, and that the upcoming end of supplemental unemployment benefits could further improve workforce availability. "That said, pricing and availability of components and materials are resulting in higher trailer prices and a build-up of red-tag units, with the volume of these units expected to continue growing during the upcoming months."
Maly said concerns over future availability and pricing are major factors in the trailer OEMs' unwillingness to accept future orders, which is causing uncertainty about the timing of the "official" opening of the 2022 orders. "In turn, meaningful pent-up demand is occurring due to the reluctance to accept dry van and reefer orders at this time, with the average industry backlog-to-build ratio extending to the end of Q1'22, at June 2021 build rates," he said. "How coordinated the timing of that opening by the OEMs is a second major question. While order volumes have remained low, there is no question that negotiations have continued. Once orders are again accepted, expect a flood that could consume a significant portion of the remaining 2022 production slots."
The unknown, Maly said, is how quickly OEMs will be able to ramp production, which will correspondingly impact their pace of order acceptance. "We already have orderboards that extend into Q2'22 on average," he said. "For reference, remember the order surge that occurred in late 2018, which immediately pushed commitments through Q3 of the next year. A similar pattern could well be in the offing. Of course, pricing, which is still under development, will also have a major impact on that order pace."
July net U.S. trailer orders of 8,128 units fell nearly 26% from the previous month, according to ACT, and were almost 58% lower compared to July 2020. Before accounting for cancellations, new orders of 9,500 units were down more than 27% versus June, and 53% lower than the previous July.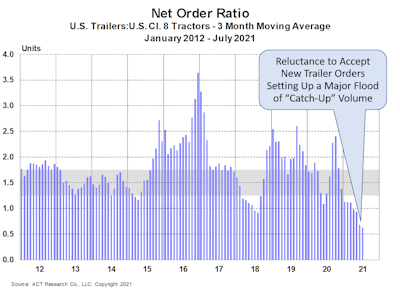 Truck builds in the same boat as trailers
The truck business isn't fairing any better and faces similar headwinds despite fervent demand.
"Historically, strong orders starting in Q4, the accumulation of large backlogs and growing lead times [called BL/BU ratios] are a recipe for production rising sharply at this point in an industry up-cycle," said ACT Research President and Senior Analyst Kenny Vieth. "There are growing pains at the start of every cycle, as the supply chain lurches unevenly into higher build rates, but this pandemic recovery cycle has been beset with extraordinary global issues that have amplified traditional ramp-up challenges from steel supplies to domestic staffing to semiconductors."
ACT highlighted that there's not been a noteworthy change in trajectory of macro datapoints that influence commercial vehicle demand. Except for the COVID Delta variant asterisk, economic strength is broad-based and concentrated in goods-related economic activity. However, Class 8 build rates tumbled in July.
"The Class 8 market saw build rates take a big step backward in July, as OEMs took down days and weeks to compensate for component shortages, especially semiconductors," Vieth said. "During the month, Class 8 production fell to a 15-month low, as build per available day dropped materially below trend."
Builds of class 5-7 trucks also slid in July, but Vieth said that was more in line with expectations. Like Class 8, the medium duty decline was also the lowest since May 2020's COVID-shutdown-related output. "Additionally, we have heard/read that the heavy-duty OEMs are taking semiconductors away from their medium-duty products to maximize the value of the chips," he added. "Some large players in the MD space are doing the same thing, using chips that would have been destined for cars and pickups to maintain Classes 5-7 output."
Vieth said he doesn't expect the semiconductor shortage to be rectified this year, adding "there are reports of supply improvements, but those have not yet translated into higher build rates."
If spot rates are any guide, steel supplies also remain tight, he added. "As well, keeping and growing staff amidst demographic challenges during a pandemic is no easy feat. Add to these other anecdotes suggesting an entire vehicle worth of parts are in short supply, from tires to foams and plastics and more. Added together, these points continue to make clear that supply-chain constraints, rather than fleet/consumer demand, are the primary drivers of vehicle production in 2021."