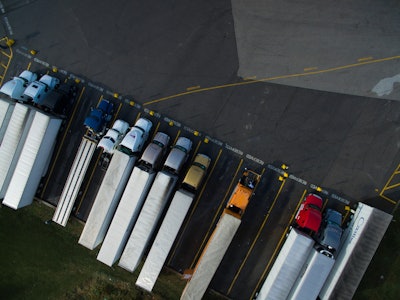 Data from Truckstop.com and FTR Transportation Intelligence for the week ended August 6 show a market that continues to hold steady.
Total load volume was down slightly as modest drops in dry van and flatbed were partially offset by a small uptick in refrigerated load postings. Spot volume trends are essentially performing in line with seasonal expectations, but they continue to remain at elevated levels, according to Truckstop.com and FTR data.
The current performance is better than some of the results seen during the second half of 2018 – the last time that the market was running at extremely elevated levels. Spot rates were essentially flat week over week. Rate are down from their recent peak but remain quite strong compared to the same period last year.
The market is bolstered by continued disruptions stemming from materials shortages, production volatility, port congestion, and chronic problems with rail service, which is hurting the competitive intermodal segment. Meanwhile, purchasing due to robust job growth, strong consumer finances, and additional stimulus in the form of advance payment of child tax credits is keeping a floor on volume and rates, the firms said.
Although spot metrics on average are weaker in the second half of the year, that decidedly was not the case in 2020. Especially for dry van and refrigerated volume, year-over-year comparisons will narrow sharply in the coming weeks, Truckstop.com and FTR forecast. In the latest week, total load postings were about 49% higher than the same 2020 week but about 152% above the five-year average (2015-2019). The Market Demand Index eased very slightly to 139.2, and is at its lowest level since immediately before the weather-related spike in spot metrics in February.
Load posting volume on Truckstop.com dropped 8% last week and Outbound Tender Rejections continues to drop, but both metrics remain elevated. The daily high point for last week was 989,000, according to Truckstop.com. Normal load volumes are 400,000/day.
Rates remained the same at $2.98/mile – the 48th week above $2.40. The five year average is $2.23.
Van rates increased 2 cents to $2.72. Flatbed decreased 2 cents to $3.00. Reefer increased 5 cents to $3.27.