Trucking news and briefs for Tuesday, Aug. 31, 2021:
Ida storm fallout will put pressure on fuel prices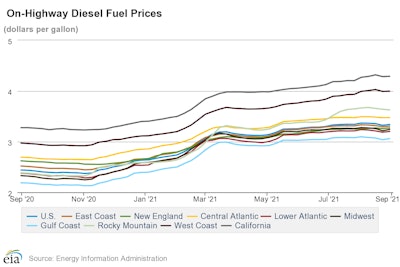 The national average price of on-highway diesel reached $3.34 last week, up a cent-and-a-half from the week before, but is likely to face additional pricing pressure this week as the remnants of Hurricane Ida cut a path across the Southeast. The storm has already left more than a million people in Louisiana and Mississippi without power and likely taken about 13% of U.S. refining capacity offline, according to AAA. There were nine oil refineries in Ida's path; at least four were believed to have shut down operations ahead of the storm.
"Until the power is restored, it's too early to know the full impact of any damage Ida caused on the oil and gas industry, but motorists regionally can expect price fluctuations leading into Labor Day weekend," said Jeanette McGee, AAA spokesperson. "Typically, a category 4 storm could mean three plus weeks before refineries are back to normal operations, while offshore production is more likely to resume this week."
As a precautionary measure, Colonial Pipeline announced on Sunday that they shut down two main lines that run from Houston, Texas, to Greensboro, N.C.. The company added that following an infrastructure inspection after the storm, the pipeline would be back to full service. Gas prices nationally, especially in the southeast and east coast, will see minimal impact at the pump if the pipeline is down for a matter of hours versus days.
Penske Truck Leasing piloting software to support EV charging
Penske Truck Leasing is working with with Stem, Inc., a developer of artificial intelligence (AI)-driven energy storage services, to pilot its Athena smart energy storage software and operate an advanced battery storage system. The project includes a 350 kilowatt (kW)/800 kilowatt hour (kWh) battery system powered by Stem's Athena at Penske's heavy-duty truck charging positions in Ontario, California.
Penske previously collaborated with Stem and other suppliers in designing and implementing the electric vehicle (EV) charging infrastructure, noted Penske Vice President of Facilities Sean Yentsch. "We then used Stem's Athena smart energy software to optimize the electricity requirements associated with charging commercial electric trucks," he said. "We've been pleased with the initial results, and we continue to evaluate expanding the use of this AI-driven energy storage system as new charging positions equipped with supplemental battery storage are established."
Stem's Athena predicts when the charging site's electricity demand will spike and uses the supplemental stored energy via on-site batteries at optimized times to drive off-peak electricity savings and minimize utility peak demand charges. Since starting the pilot, smart energy storage has driven a 40% decrease in Penske's site peak energy consumption.
Stem collaborated with Penske and its other suppliers in project execution, including optimizing energy tariffs, utilizing energy storage to secure funds from California Air Quality Resources (CARB) as well as securing incentives from California's Self Generation Incentive Program (SGIP).
DOE project to feature Kenworth T680 Next Gen
Kenworth is participating in an advanced research demonstration project that will add wireless fast charging to Class 8 battery electric vehicles. Wireless charging at a 1-megawatt rate will enable battery electric vehicles in regional haul routes to fully charge the batteries in 30 minutes or less.
This program is funded through an $8 million cost-share project funded by the Vehicle Technologies Office of the U.S. Department of Energy (DOE). The project includes Kenworth, WAVE (Wireless Advanced Vehicle Electrification) and Utah State University. Kenworth will provide a T680 Next Generation battery electric vehicle with a traction motor rated at 420 kW and 560 hp, battery capacity of 660 kWh, and target range of at least 170 miles before requiring a recharge.
The T680 Next Gen will operate in a two-shift operation to and from Seattle and Portland, Oregon, with regional deliveries en route combined with local in-city deliveries to exceed 400 miles daily.
Kevin Baney, Kenworth general manager and Paccar vice president, said the project offers an opportunity to foster important advancements that extend Class 8 battery electric vehicle range and reduce recharge times.
WAVE's high-power wireless chargers have been used in mass transit applications since 2017. The company is working with power electronics researchers at Utah State University to design a 1-megawatt, wireless inductive charging solution for a designated facility in both Seattle and Portland. Seattle City Light and Portland General Electric will be involved in the respective site installation in their cities. The project expects to complete the installations in 2022.
"At the megawatt power levels required by Class 8 EVs, there are significant advantages to eliminating mechanical movement and human contact associated with current charging technologies," said WAVE CEO Michael Masquelier. "The work we are doing with Kenworth and Utah State University will help enable fleet operators to extend the range of heavy-duty EVs, making the industry's zero emission goals more attainable."