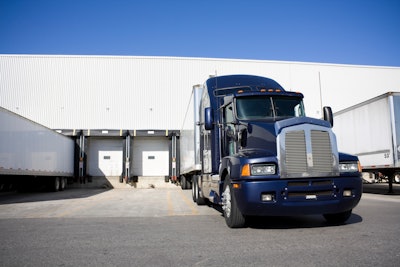 Truckload volume surged and spot and contract freight rates hit new highs in August as logistics managers stare down their most challenging peak shipping season yet.
The DAT Truckload Volume Index (TVI) rose to 231 last month, up 2% from July and 17% higher year over year. The Index is an aggregated measure of dry van, refrigerated ("reefer") and flatbed loads moved by truckload carriers and an industry-standard indicator of commercial freight activity.
"Shippers and logistics managers who would normally be gearing up for peak shipping season have encountered one test after another in terms of their ability to manage transportation pricing, capacity and supply chain disruptions," said Ken Adamo, chief of analytics at DAT Freight & Analytics. "There's no easy path through this freight environment."
Spot van, reefer rates set records
The national average rate for van loads on the DAT One load board network rose 3 cents to $2.76 per mile (including fuel surcharge) in August, surpassing the previous high in July. The monthly average spot van rate has increased 40 cents since January and 72 cents year over year.
Refrigerated and flatbed spot rates topped $3 a mile as a national average for the fourth consecutive month. The reefer rate was $3.15 per mile, up 1 cent compared to July. The flatbed rate averaged $3.08 a mile, a 4-cent decline with demand tapering off seasonally.
Spot load postings increased 12%
The number of loads posted to the DAT network jumped 11.9% in August while truck posts rose 1.5%, pushing van and reefer load-to-truck ratios higher. The national average van load-to-truck ratio was 6.5, meaning there were 6.5 available loads for every van posted to the DAT network, up from 5.8 in July. A change in the ratio signals a shift in pricing.
The reefer load-to-truck ratio increased from 12.6 to 14.9 driven by late-summer harvests and grocery stocking ahead of Labor Day. The flatbed ratio was 44.1, virtually unchanged from July as construction, agriculture, energy and other flatbed-intensive industries experienced seasonal declines.
Contract rates, fuel prices rise
Contract rates for all three equipment types increased month over month. The national average contract van rate was $2.81 per mile, up 5 cents compared to July, while the reefer rate was $2.94 per mile, a 4-cent gain. The average contract rate for flatbed freight inched 1 cent higher to $3.30 per mile.
The national average price of on-highway diesel was $3.35 a gallon in August, the highest since October 2018. At 35 cents per mile for van freight, the average fuel surcharge was unchanged compared to July but 15 cents higher year over year.
Load postings fell last week
The number of loads posted to the DAT load board network from Sept. 5-11 fell 18.5% week over week as Labor Day cut into the workweek. The number of trucks posted declined 7% compared to the previous week. Spot rates continued to set records, however.
Data from Truckstop.com and FTR Transportation Intelligence for the week ending Sept. 10 reflects little more than the fact that the week included the Labor Day holiday. Spot volume during the week fell by the largest degree since Christmas week last year, and truck postings fell by the most since extreme winter weather in February. Daily volume data suggests that the only issue was the lost day of productivity and that volume for the current week likely will show a sizable rebound.
The national seven-day average spot line-haul van rate according to DAT was $2.50 per mile (line-haul rates do not include a fuel surcharge), up 5 cents week over week and a new high. The average reefer rate increased 3 cents to $2.83 per mile, also a record. The average flatbed rate gained a penny to $2.64 per mile, 10 cents lower than the all-time high set during the week of June 20. Flatbed rates typically decline in the late summer as construction and other heavy-hauling activities taper off.
With fewer loads posted, the national average van load-to-truck ratio dipped from 7.0 to 6.2 last week, meaning there were 7.0 available van loads for every van posted on the DAT network. The reefer ratio fell from 18.0 to 12.6 and the flatbed ratio slipped from 51.2 to 42.6.
Lane of the week: Inland intermodal congestion has pushed more shippers to the spot truckload market. Outbound dry van loads from Los Angeles averaged $3.18 a mile last week, up 10 cents in the last three weeks, and line-haul rates from Los Angeles to Phoenix, a key lane for retail and e-commerce freight, averaged $4.26 a mile, 42 cents higher than the same week last year.