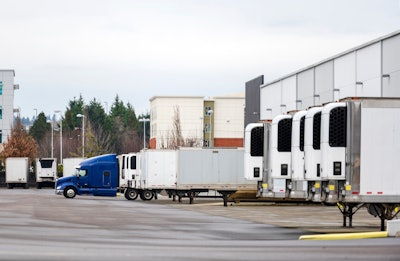 The number of loads posted to the DAT load board network rose 17% from Sept. 13-19 compared to the holiday-shortened Labor Day week, in line with expectations.
The number of equipment posts increased 15% over the same timeframe. Spot line-haul van and refrigerated rates remained elevated as shippers work to move freight through congested supply chains, especially in port markets. The national 7-day average van rate topped $2.50 per mile last week and the reefer rate was $2.86 a mile — all-time highs for both equipment types.
The overall number of loads moved on DAT's top 100 lanes by volume rose 23.3% and the number of loads out of Los Angeles alone surged by 41% week-over-week. Rates from Los Angeles to Stockton jumped 41-cents to an average of $4.32 a mile (excluding fuel), $1.18 a mile higher than this time last year.
Increased produce imports across the southern border and domestic harvests helped keep reefer capacity tight last week. The reefer load-to-truck ratio increased from 12.6 to 13.6 as a national average.
The 7-day average line-haul rate for flatbed freight was $2.64 a mile for the third consecutive week. Two weeks after Hurricane Ida made landfall, load volumes into the Gulf Coast region fell 2% and spot rates appeared to settle at pre-storm levels. Nationally, the flatbed load-to-truck ratio increased from 42.6 to 46.8.
Truckstop.com, FTR data says spot volume see post-holiday rebound
Data from Truckstop.com and FTR Transportation Intelligence for the week ending Sept. 17 confirms that most of the reduction in load availability during the prior week resulted from the Labor Day holiday. Spot volume rebounded sharply in all segments, and total volume exceeded that recording during the week prior to the holiday. However, flatbed was the only segment to see higher volume than in the week preceding the holiday as load postings exceeded the week ending Sept. 3 by nearly 12%.
Refrigerated load postings in the latest week were nearly 15% below the level in the week prior to Labor Day, but refrigerated posted record volume during that week. Specialized volume was about 9% below the same 2020 week, which is notable as this is the first time this year that any segment's spot volume was significantly lower than the same 2020 week. (Specialized volume also was 0.2% lower year over year during Labor Day week.) Daily volume during the week was highly stable, suggesting that volume in the current week might change little.
The decline in spot rates of 5.6 cents was the largest in five weeks. Rates including fuel were nearly 22% higher than the same week last year, although that is the tightest prior-year comparison since January. Total refrigerated rates are about 28% higher, and total flatbed rates were about 22% higher than the same 2020 week. The comparisons are tighter for dry van and specialized rates, which were about 16% and 12% higher, respectively, year over year. Dry van faces a strong comparison period as rate growth in the summer and fall last year was sharper than it was for other segments. The issue for specialized is weaker rates. Specialized rates are down about 9% from late June's record level.
The increase in truck postings was only about half the decline of the holiday week, and the Market Demand Index (MDI) rose to 155.2 – up 21.8 points as load availability increased 25.9% and truck availability rose 8.3%. Compared to last year the MDI is up 58.8 points, or 61%.
Last week, market rates fell 1.9% to $2.96. Compared to last year, rates are up 21.3%
Total spot volume jumped 25.9% to exceed the volume recorded during the week prior to Labor Day. Van MDI increased 42.7 points to 211.7 as load availability rose 23.9% and truck availability fell 1.1%. Compared to last year the MDI is up 92.2 points, or 77.2%.
Last week, van rates declined 2.9% to $2.78. Compared to last year, rates are up 15.1%. Refrigerated MDI increased 29.2 points to 181.4 as load availability rose 22.3% and truck availability increased 2.6%. Compared to last year the MDI is up 121.4 points, or 202.4%
Last week, refrigerated rates fell 2.4% to $3.44. Compared to last year, rates are up 26.1%. Flatbed MDI rose 24.5 points to 200.1 as load availability increased 29.8% and truck availability rose 13.9%. Compared to last year the MDI is up 77.9 points, or 63.8%
Last week, flatbed rates declined 0.8% to $2.90. Compared to last year, rates are up 23.2%