Trucking news and briefs for Wednesday, Dec. 1, 2021:
Driver availability improving, ACT reports
The latest release of ACT's For-Hire Trucking Index, with October data, showed a decrease in volumes, pricing and productivity, with capacity up slightly and with a lower but still-healthy supply-demand balance.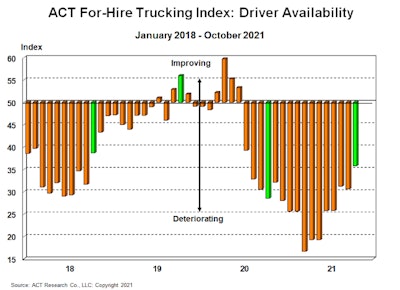 Despite the decrease and uncertainty around the pandemic, ACT Research Vice President and Senior Analyst Tim Denoyer said the outlook for freight volume remains positive
"While the pandemic continues to cast uncertainty, the freight volume outlook remains positive," he said. "In spite of the supply-chain constraints, retailers have managed to stock up ahead of the holidays, the consumer balance sheet is strong and massive restocking demand remains ahead."
Denoyer noted that driver availability improved considerably in October.
"The most critical survey takeaways this month revolve around the driver market, with the Driver Availability Index improving considerably in October, as it became clear that most fleets will be exempt from proposed federal vaccine rules," he added. "The large fleets who train the vast majority of the industry's drivers would be impacted by the mandate, though it appears only driver schools and team drivers will fall outside of the exemptions. We see ongoing supply-chain turgidity limiting capacity growth, but the pace of hiring is gradually improving, which will be key to the rate trajectory."
Regarding the supply-demand balance, Denoyer noted, "We continue to see a slower-than-normal rebalancing in US trucking markets, featuring record rate increases. Equipment capacity is tight as Class 8 tractor and trailer sales are constrained by parts shortages, leaving immense unmet demand. With some structural driver issues likely to outlast the pandemic and a generally positive freight outlook, we do not expect the market to loosen quickly."
Peterbilt deploying augmented reality tools for service techs
Peterbilt Motors Company will have deployed 200 of its patented ARTech augmented reality tools to dealer locations by March 31, 2022, the company announced Tuesday.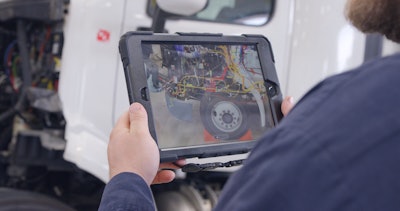 A proprietary software designed to innovate dealer service and improve customer uptime, ARTech utilizes three-dimensional and augmented reality views of chassis-specific Peterbilt trucks, along with existing service systems like Paccar Solutions Service Management to help dealer service technicians quickly visualize major truck systems and instantly access related technical documentation and diagrams via an Apple iPad.
"We analyzed technicians' pain points and focused on key technologies required to put all of the correct and pertinent data from multiple databases in one single location at their fingertips," said Peyton Harrell, Director of Dealer Development for Peterbilt. "The result is our ARTech tool, which transforms 2D technical information into a 3D image by placing full-scale objects on top of the real environment. This technology provides technicians a type of X-ray vision to help improve diagnostic and repair times. Dealerships who are using ARTech in their service bays have reported a 15-20% improvement in service repair times."
Augmented reality, with its related software, hardware and architecture, is well-positioned to fill the void between the technical data from engineers and the service technicians that need the data to troubleshoot and perform repairs. It also allows the technician to explore and understand the objects in the most efficient way for them.
Peterbilt's rollout of ARTech builds on the expanding comprehensive suite of uptime services offered on its vehicles and supported through the fastest-growing dealer network in North America.
Aon, CarrierHQ partner for Last Mile Delivery insurance program
Aon plc, which providses a broad range of risk, retirement, and health solutions, and CarrierHQ, an Indianapolis-based Insurtech firm focusing on usage based commercial insurance programs, on Tuesday announced the launch of their Last Mile Delivery insurance program.
The program provides operators in the last mile delivery space with custom, affordable and continuous coverage solutions eliminating the uncertainty of frequent policy renewals while also providing much-needed flexibility by only charging a premium when vehicles are in use.
Customers are provided a user interface and application process that is curated by a dedicated and experienced team ensuring that the customer experience and support is one of the best in the industry.
The program expands upon the Small Fleet Advantage program developed by CarrierHQ in partnership with Aon ,which is the trucking industry's first and only commercial trucking insurance program to support 100% online quoting, buying, and binding of policies that offer monthly in-term adjustments based on driving data and is one of the fastest growing commercial trucking programs in the market.