Trucking news and briefs for Thursday, Jan. 27, 2022:
Trucking volumes dipped while pricing soared in Q4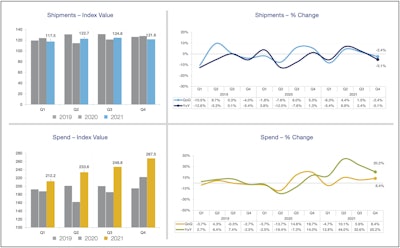 Tight capacity and early holiday shipments let to a 5.1% slowdown in freight volume in the fourth quarter of 2021, according to a new report from U.S. Bank.
The U.S. Bank Freight Payment Index released Wednesday revealed that the cost to ship goods via truck continued to grow strongly in the fourth quarter of 2021, jumping 20.2% compared to the last three months of 2020. Meanwhile, a lack of available trucks and drivers, as well as a decision by many retailers to acquire more holiday inventory earlier than usual, led to a 5.1% contraction in the number of shipments in the fourth quarter compared to the same quarter of 2020. 
"The freight trucking industry faced familiar challenges as we closed out 2021: a lack of available drivers, trucks and trailers. This is increasing costs for shippers and making it more difficult for carriers to haul more freight," said Bobby Holland, U.S. Bank vice president and director of Freight Data Solutions. "The rising cost of diesel fuel in the fourth quarter – up nearly 10% compared to the previous quarter – also drove up costs for those shipping goods by truck."  
For full year 2021, shipments were down 0.5% compared to all of 2020 and 4.5% compared to all of 2019, U.S. Bank added.
American Trucking Associations Senior Vice President and Chief Economist Bob Costello said that the lower shipment volume in the fourth quarter was partly due to anxious retailers acquiring more of their holiday products in the third quarter.
The larger issue, though, is capacity. Costello noted that ATA data shows that carriers who primarily haul contract freight operated roughly 5% fewer trucks in 2021 compared with 2020. 
"In 2021, we moved about the same amount of goods via truck freight in the U.S. as we did in 2020, but it cost more than 25% more to do so," said Costello. "The demand for trucking services continues to be high, but until driver shortages, as well as various supply chain challenges – such as those that are causing new truck and equipment shortages – are improved, capacity will be constrained."   
Barr-Nunn increases driver pay
Barr-Nunn Transportation, a subsidiary of Knight-Swift Transportation (CCJ Top 250, No. 4) is committing to providing its company drivers a pay increase through 2022 due to ongoing supply chain issues and the impact of COVID-19.
The added compensation, which the company calls Supply Chain Disruption Compensation, will be 6 cents per mile for all drivers on mileage pay, and $10 per shift for all shift and shift load pay drivers.
The added pay is in addition to all other compensation Barr-Nunn offers. Barr-Nunn has been a Certified Top Pay Carrier for 17 consecutive years.
"As news outlets continue to report a supply chain crisis, and the impact of COVID-19 continues to impact our country and our drivers, there has never been a more important time to provide additional support to our drivers," said Jeff Blank, director of recruiting for Barr-Nunn Transportation. "This substantial added compensation, is intended to not only provide further support to our drivers, but to our customers as well, as we work together to keep so many needed and important goods moving effectively and efficiently."