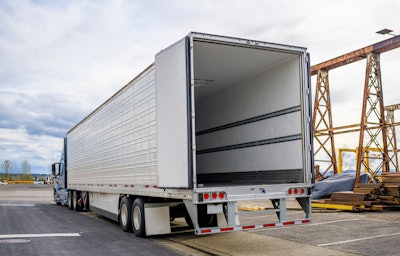 U.S. net trailer orders surged 40% in March – reaching 37,901 units, according to ACT Research – as fleets clamored for dry vans.
A 71% sequential surge in dry van net orders accounted for 96% of the total industry month-over-month gain, noted Frank Maly, director of commercial vehicle transportation analysis and research at ACT Research. "On a year-over-year basis, net orders were up 28%, with a similar story to the monthly results. Dry vans, joined by reefers, provided more than the full market improvement, while the other eight trailer categories totaled [1,100] lower on a year-over-year basis."
March order totals were the highest since December 2020. Most of the major OEM's registered sturdy numbers showing significant increases versus the past six months, according to FTR. March's strong order total is expected to raise backlogs over the 200,000-unit mark for the first time since May 2021.
With OEMs rapidly filling available 2022 production slots [both dry van and reefer backlogs-to-builds stretch into December at current build rates], Maly said he expects orders and production to travel in lockstep until 2023 order books officially open. "When that occurs," he said, "fleets likely will rush to formalize commitments that are already under discussion and negotiation."
Don Ake, FTR's vice president of commercial vehicles noted that March's order mark signaled a break in a holding pattern on orders that had been in place since the supply chain tightened.
"The fact they have the confidence now to enter more orders may indicate that supplier deliveries are showing improvement, and labor shortages are abating," he said, adding it's uncertain if this level of orders can be sustained. "However, it does signal an expectation that build rates could increase later this year. Because OEMs had their output limited by the supply chain, we estimate that pent-up demand for trailers could be as high as 100,000 units. It will take an extended time for OEMs to catch up with fleet requirements once the supply chain opens up."