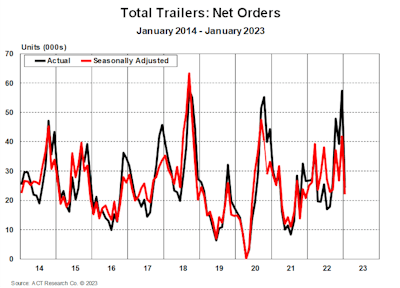 After averaging around 8 months since August 2021, January's trailer backlog-to-build ratio increased to 9.9 months, after averaging, thanks to a lower build rate, according to to this month's issue of ACT Research's State of the Industry: U.S. Trailers report.
With four additional build days in January versus December, build was 4% higher month-over-month. However, build per day decreased from the previous month's unit-per-day rate, according to Jennifer McNealy, ACT's director of commercial vehicle market research & publications. The industry is essentially committed into the beginning of the fourth quarter this year.
"OEM conversations continue to suggest supply-chain constraints, including labor, are likely to remain a limiting factor to production in 2023," McNealy added.
At 24,300 units, 2023's first month of net orders was nearly 58% below December's intake surge, but only 9% lower than what was received in January of 2022. Lower orders of both van types – as well as flatbeds, McNealy said – was offset somewhat by increased placement for lowbeds and tanks, with orders for dumps virtually unchanged.
"Demand overall remains strong, and cancellations are low, but we are hearing that some orders are being made to replenish dealer stock, rather than going directly to fleet customers," she said.