Trucking news and briefs for Thursday, Feb. 23, 2023:
Freight volume ticked up in January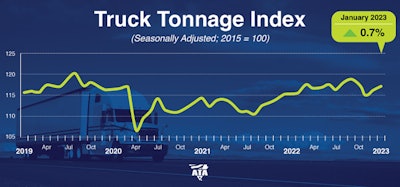 American Trucking Associations' advanced seasonally adjusted For-Hire Truck Tonnage Index rose 0.7% in January after increasing 1% in December. In January, the index equaled 117.1 (2015=100) compared with 116.2 in December.
ATA recently revised the seasonally adjusted index back five years as part of its annual revision.
"Tonnage has increased nicely in the last couple of months," said ATA Chief Economist Bob Costello. "I suspect that some of the gain is attributable to capacity coming out of the network, especially those carriers that primarily operate in the spot market and/or bought expensive used equipment in the last couple of years. This would push more freight to contract carriers, which dominate this index."
Costello added that it's possible freight bottomed out and is now slowly rebounding. "So, the gain is likely a little higher demand and a little less supply," he noted. "Despite the increases in December and January, tonnage is still off 1.4% from its recent high in September."
Compared with January 2022, the SA index increased 1.5%, which was the 17th straight year-over-year gain. In December, the index was up 0.9% from a year earlier. In 2022, compared with the average in 2021, tonnage was up 3.5%.
The not seasonally adjusted index, which represents the change in tonnage actually hauled by the fleets before any seasonal adjustment, equaled 112.7 in January, 0.4% below the December level (113.2). In calculating the index, 100 represents 2015. ATA's For-Hire Truck Tonnage Index is dominated by contract freight as opposed to spot market freight.
Truck driver's HOS exemption request denied
The Federal Motor Carrier Safety Administration has denied truck driver Wayne Moore Jr.'s request for an exemption from the hours of service regulations.
Moore, who requested the waiver at the end of November, was seeking a five-year exemption from the 10-hour off-duty rule, the 14-hour driving window, the 30-minute break requirement, and the 70-hours-in-eight-days limit. He did not ask to drive more than 11 hours in an on-duty period.
In denying the request, FMCSA echoed other recent HOS exemption request denials, saying that Moore did not explain how he would maintain a level of safety equal to or greater than the current regulations.
"Although Mr. Moore stated that he would be responsible for ensuring that he has adequate rest and that he has an excellent driving record and no HOS violations, those representations do not provide a basis from which the agency could conclude that the proposed exemption would provide an equivalent level of safety," FMCSA said.
The agency has previously denied similar requests from owner-operators Lee and Lisa Schmitt, as well as operator Ronnie Brown III.
Another driver seeks split-sleeper flexibility
FMCSA will begin accepting comments on another truck driver's hours of service exemption request on Thursday, Feb. 23. Driver Matthew Killmer is seeking a waiver to allow him and other truck drivers to shorten the required seven-consecutive-hour sleeper-berth period to five hours to accumulate the required 10-hour rest period under split-sleeper rules.
Current regulations allow drivers to split sleeper-berth time into 8/2 or 7/3 segments to satisfy the 10-hour break requirement, as long as driving time before and after each rest period, when added together, does not exceed 11 hours or exceed the 14-hour on-duty limit.
Killmer, in his request, said in the current 10-hour break and 8/2 and 7/3 sleeper-berth splits FMCSA has not "considered the serious amount of lost time" a truck operator experiences on a weekly basis. "Already commercial vehicle operators face lost time from family, hardships with safe parking, lost income/revenue and much more. The 5/5 sleeper-berth split may not alleviate some of what they face, yet it will effectively help them in safe truck parking and lost income/revenue."
Comments on Killmer's request will be accepted for 30 days beginning Thursday, Feb. 23. Comments can be made at www.regulations.gov by searching Docket No. FMCSA-2023-0013.
FleetForce opening six new driver training schools in Florida
FleetForce Truck Driving School announced Tuesday it has finalized a massive market expansion totaling six new FleetForce programs in Florida, with testing and training set to begin as early as March.
The new programs include the establishment of six new training sites in partnership with community colleges in Fort Lauderdale, Fort Myers, Niceville, Daytona Beach, Ocala and New Port Richey. FleetForce also has two other existing sites in the works at schools in Lake City and Gainesville, which are anticipated to launch this year.
Together, the training sites will be able to produce more than 3,000 new truck drivers annually, the company said.
"Truck driving remains at the core of our country's economic abilities, and we see evidence of the growing need for new drivers every day," said FleetForce owner Tra Williams. "We're excited to show what can be done to meet this tremendous need. Thanks to our new locations, there'll soon be an influx of highly trained professional drivers on the road. That's going to be a huge help to Florida industries, in addition to the U.S. supply chain and economy."
Tradepoint Atlantic plans new trans-load warehouse at Port Tampa Bay
Tradepoint Atlantic, a 3,300-acre global multimodal logistics hub and industrial center, announced this week that Port Tampa Bay's Board of Commissioners approved a lease agreement with Tradepoint Tampa for 35 acres of land to build a new trans-load warehouse distribution facility.
Under the terms of a 40-year lease agreement, Tradepoint Tampa will design, construct and operate an approximately 500,000-square-foot facility for the trans-loading of cargo between ocean containers, trucks, and rail cars. The new facility will be located on Hooker's Point, adjacent to the port's container terminal, which is also being expanded with additional paved storage, cranes and a new gate complex, as well as the port's on-dock cold storage facility.
"We are delighted to welcome Tradepoint to the Port Tampa Bay family," said Paul Anderson, Port Tampa Bay President and CEO. "Our market is booming with Florida now the fastest growing state in the U.S., and the Tampa Bay/I-4 Corridor region the fastest growing area of the state. This new facility will provide greater efficiencies and capacity for our beneficial cargo owner customers."
Tradepoint Tampa is the latest phase of expansion for Tradepoint Atlantic and owner Redwood Holdings, the companies responsible for the development of one of the largest global logistics hubs in the country at Sparrows Point in Baltimore County, Maryland.
"We see huge opportunities at Port Tampa Bay and are excited to be making this investment, which will drive cargo, create jobs, and generate economic growth throughout the state," said Kerry Doyle, Tradepoint Atlantic Managing Director. "We share the Port's strategic perspective and look forward to a long-term and successful partnership."