Trucking news and briefs for Monday, June 14, 2021:
Trucking conditions surpassed previous record high in April
Following a record-setting month in March, FTR's Trucking Conditions Index (TCI) for April hit another record-high of 16.82, surpassing March's record of 16.27.
Although most market factors were not quite as strong in April as they were in March, a reversal of March's higher diesel prices improved overall trucking conditions, FTR says.
The relief in fuel costs was short-lived, but FTR expects solid freight demand coupled with high-capacity utilization and robust freight rates to keep trucking conditions strong in the near term and at least in positive single digits well into 2022 and perhaps beyond.
"We have yet to see signs that the driver capacity situation is changing, and May's weak payroll jobs data for trucking is one indication," said Avery Vise, FTR's vice president of trucking. "Over the next few months, one potential constraint – generous unemployment benefits – will end. While those benefits likely contribute to the hiring challenge, we are skeptical that their demise will fundamentally change the dynamic. Given robust competition for labor – job openings in the economy are at an all-time high – trucking's capacity challenge could linger longer than usual. One signal we are watching closely is the spot market. If rates and volumes begin to ease, that could indicate a balancing of freight demand and route guide capacity."
FTR calculates its Trucking Conditions Index using five major conditions in the U.S. truck market – freight volumes, freight rates, fleet capacity, fuel price, and financing.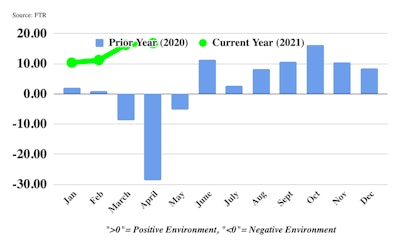 Lighting manufacturer asks FMCSA to allow pulsating lights on all trucks
Truck light manufacturer Intellistop is petitioning the Federal Motor Carrier Safety Administration to allow carriers to install the company's lighting module, which pulses the rear clearance, identification and brake lamps from a lower-level lighting intensity to a higher-level lighting intensity four times in two seconds.
Current regulations require all exterior lights to be steady-burning, except for turn signals, hazard warning lights, amber warning lights or flashing warning lights on tow trucks and oversized loads.
If granted, Intellistop's waiver would allow carriers to install its module on all commercial motor vehicles, including flatbed trailers and straight trucks.
FMCSA is requesting public comment on the petition, which can be made at www.regualtions.gov by searching Docket No. FMCSA-2021-0048 for 30 days beginning Monday, June 14.
NTTC names new leader
National Tank Truck Carriers has named Ryan Streblow the organization's president and Chief Executive Officer. Streblow previously served as NTTC's Executive Vice President.
"We are extremely excited to have Ryan at the helm of our organization.", said NTTC Chairman of the Board Kevin Jackson. "He has contributed to the success of NTTC since coming onboard in 2016, and recently lead our organization through an incredibly challenging time over the past 9 months as Interim President. His experience in the industry, leadership, and vision are key to the future evolution and growth of our organization."
Prior to being appointed president and CEO, Streblow was brought on at NTTC as the Vice President of Sales & Marketing in 2016 with a focus on driving membership and financial stability. In the spring of 2019, he was elevated to Executive Vice President where he retooled the association's approach with membership and industry engagement.